FRANKFURT AMERICAN ELEMENTARY SCHOOL No. 1
Frankfurt/Main, Germany
My Graduating 8th Grade Class, 1956
Mrs. Louise Junk, teacher
bottom (links)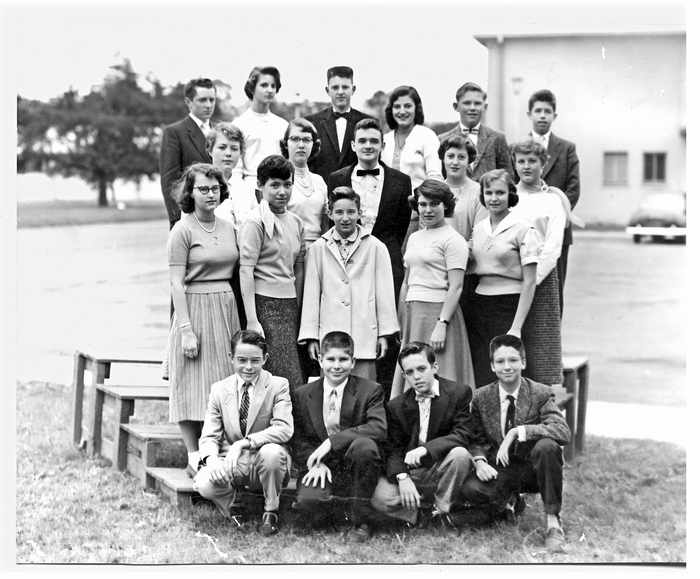 Click photo to enlarge.

Thanks, everybody, for signing my photograph on the back.

1. Jon Kimmel
2. (woman)
3. George Szilvasy
4. Roswitha Salmela
5. Hugh Crell
6. Christopher Mabley
2nd ROW
7. Bonnie Greenwood
8. Karen Cavalier
9. (guy) (Peter Des Rochers?)
10. Pat Moorman
11. Sarah Vaughn
3rd ROW
12. Beverly West
13. Linda Lagasse
14. Jerry Nelson
15. Susan Radl
16. Jackie Le Compte
4th ROW of GUYS on BOTTOM
17. Bill Georgeson
18. John J. Peattie Jr.
19. Ralph Hess
20 Robert Ekleberry

It may have just been an Army base,
but we grew up overseas and we're different.



Thanks to everyone, especially Jim Selander, from Jerry Nelson. Comments to jerry-VA at speakeasy dot net OK, yes, the white jacket I am wearing must be something from Mom (blush). But I got a suit the next year. By then, all you guys had moved on to Elvis and blue jeans. Can't win 'em all ...
--jerry

top
of this page (8th grade)
Graduating Freshmen in 1957
(high school)
resources
for Ffm alum of the early years
The Significance of
IG Farben AG
for Chemistry, Literature and Jews
home of entire Website
Rev 29May09 6Jun09 29Jun09