WE ALL GOT DEFRAUDED. WHO VOLUNTEERS TO CALL CUSTOMER SERVICE and report back to the group?

"For those of you that have not been able to talk to a person, here is the customer service number in California:
***1-408-376-7425*** Please note that if you select option 2 for customer service you will be disconnected after being told to click the live link on their website. So here is the trick, dial 3 for the operator and then ask the operator to transfer you to customer service. You will then be transferred to the General Support hotline. Expect to wait up to 45 minutes."


Posted 2006-06-23 10:02:41by kingma [suggestion: use a speaker phone, keep working at your desk]




http://www.oreillynet.com/pub/wlg/7079




ANOTHER EBAY PHONE 1 800 717 3229 for Ebay

"Try calling Ebay at 800 717 3229 and if this doesn't work report them to the FTC it worked for me.I got my money from Paypal"


Posted 2006-05-14 21:12:53 by codybuoy on




http://www.oreillynet.com/pub/wlg/7079




Suggestion if you go to:
http://www.oreillynet.com/pub/wlg/7079
This is a huge page on which many frustrated people have posted their stories. To find the particular quote reprinted here, search locally on the page (not a Google search of the Web) by going to the Toolbar EDIT menu and selecting "Find in this page." In many browsers, CONTROL-F will get you the local, in-page search at once.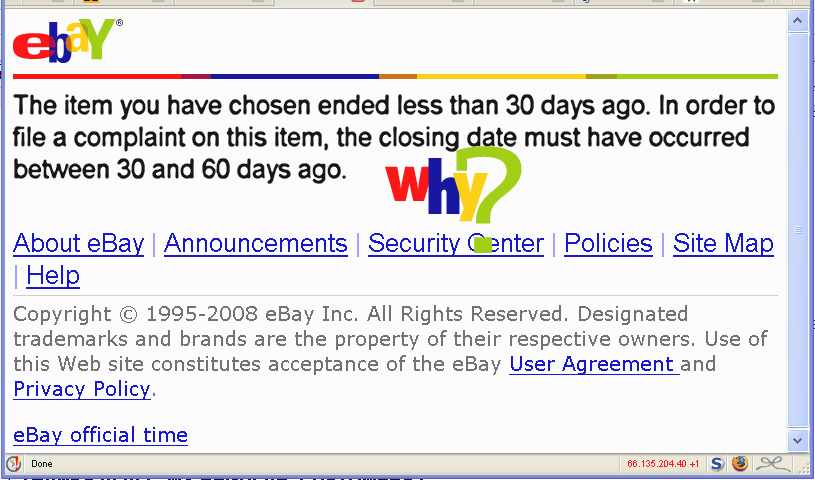 victims negative feedback
LIST OF 285 FRAUDULENT SALES:
1st half
2nd half
widespread unhappiness with eBay
is all over the Web
try to phone eBay (this page)
give up, use a competitor
home for victim's support page
home for this Website
revised 5Mar2008 wait 30 days