WHY THIS FRAUD IS SO CLEVER
OK, maybe it's not so clever, but I gave positive feedback before I noticed anything wrong, and I'm looking for a little sympathy.
FALSELY REPORT THE PHYSICAL SIZE
The drive falsely reports its size if you ask for PROPERTIES by right-clicking on its drive letter in a window such as MY COMPUTER. Ditto if you ask for FORMAT (below).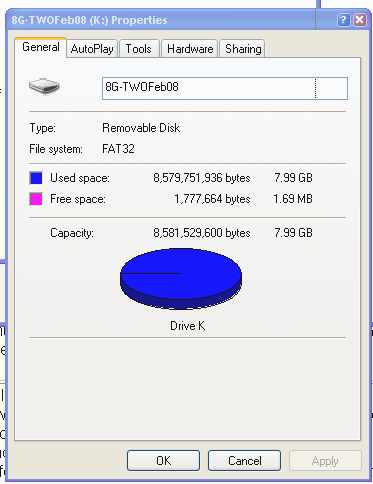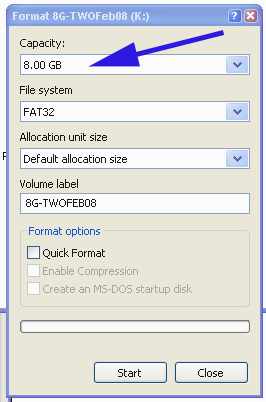 (left) Drive right-click PROPERTIES and (right) drive right-click FORMAT report false size.
FALSELY LOOKS LIKE COPYING IS WORKING
What's clever is the ability to fake writing to memory that is not there. Copying: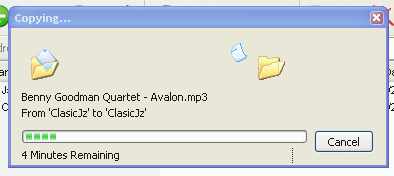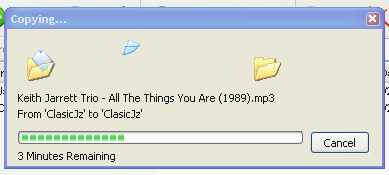 FALSELY CREATES DIRECTORIES OF FILES THAT ARE NOT THERE


See, it copies 8 GB of songs until it is full. You'd give them positive feedback, wouldn't you? See, here are all the files. Or at least here are their names in the folder's directory.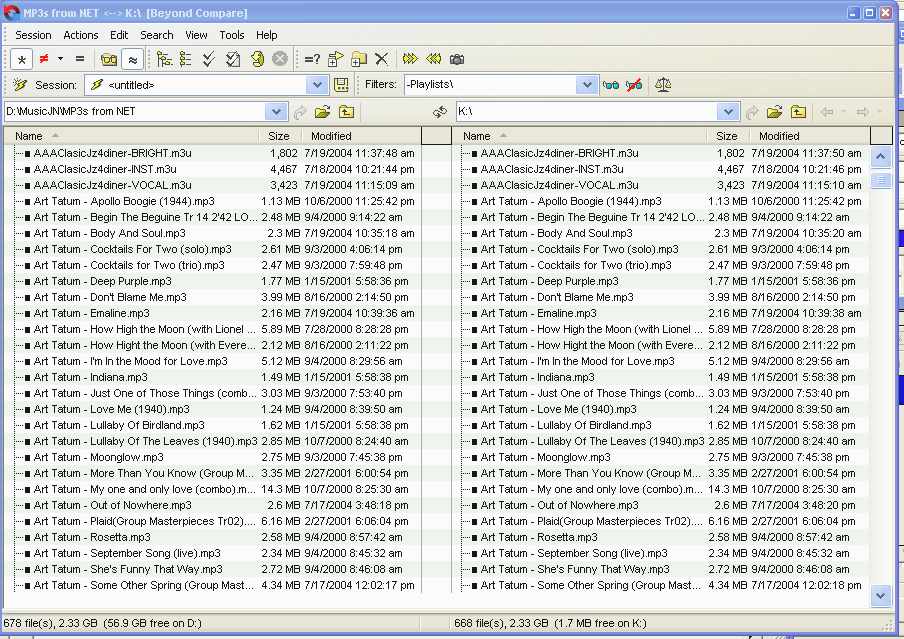 Above we are looking at some classic jazz tracks on the hard drive (left panel of the screenshot above) which have been copied to the fraudulent thumb drive on the right. The list of files in the two places match--the names and file sizes are listed correctly. But we are using a powerful comparison utility. That utility is
BeyondCompare
and I can't say enough good things about this shareware program gem. So let's turn on some of that power.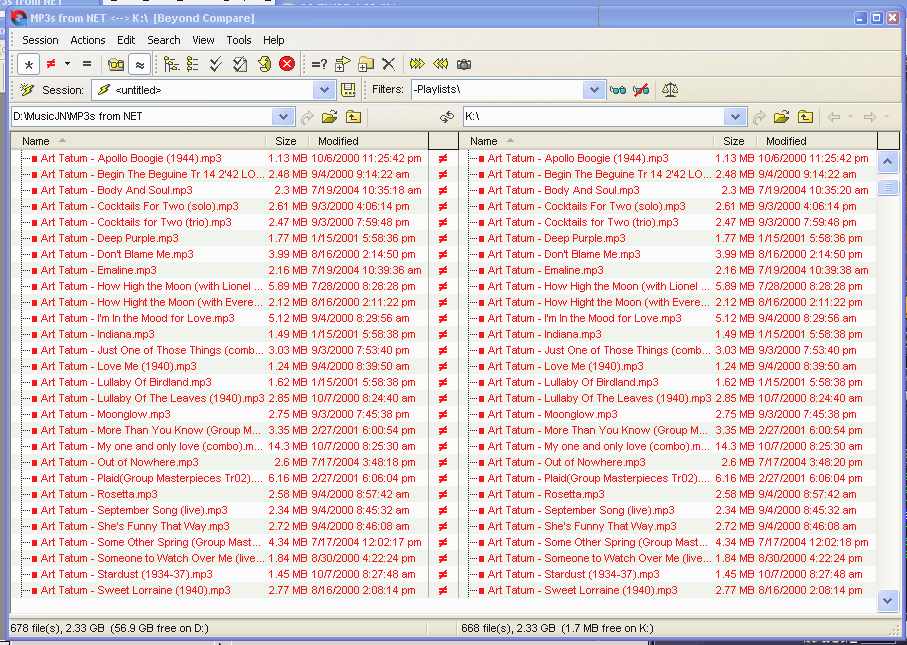 Here are those same classic jazz tracks copied from hard drive (left) to fraudulent thumb drive (right). We have asked the BeyondCompare utility to compare the files and not just their names. A CRC (
Cyclic Redundancy Calculation
) checksum is calculated for each file, for the original on the hard drive and for the copy on the thumb drive. None of the files match (red; "not equal" symbol in middle).
The files are missing completely, or have small corrupted fragments of data (music) in them. They don't play, and the garbage continues from "A" for Art Tatum through "B" for Benny Goodman that we saw being (seemingly) successfully copied in the COPYING
. . .
screen shot above.
Because I had already put about about 3.5GB on it, practically nothing from this additional folder copied successfully. Thus, the actual capacity of the thumb drive is actually a bit under 4 GB.
To reproduce this result, copy more than about 3.5 GB of data onto the drive. Any files you add after that will look like they are copying, and will generate nice matched directories (the black ones), but the data are not there (red).
CREATES BOGUS FILE NAMES TOO
To look like a full 8 GB drive, the files in the directories must always add up to 8GB. The fraudulent firmware sometimes does some creative accounting to get the totals to come out right: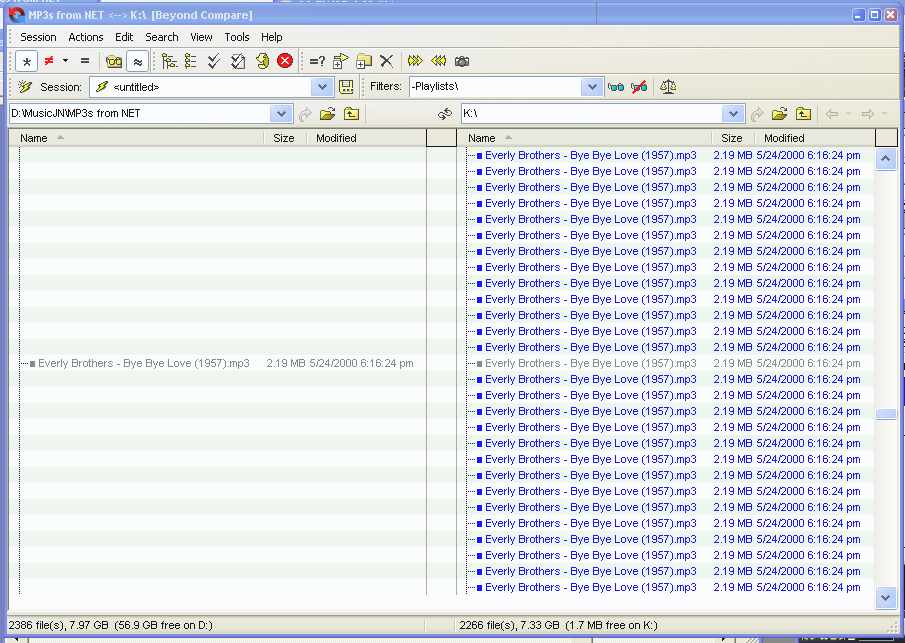 Above, one of the music tracks on my hard drive (left) has been copied multiple times by the fraudulently modified firmware of the thumb drive to create enough files in the directory (right) to add up to 8 GB. That's why the PROPERTIES photo (above, first one) looks correct -- 8GB, all accounted for.
But this directory is a fantasy -- that music is not stored anywhere, and no operating system would permit even two files of the same name to occupy any folder's directory. The operating system (Windows, whatever) was kept in the dark here, while the thumb drive corrupted its directories all by itself.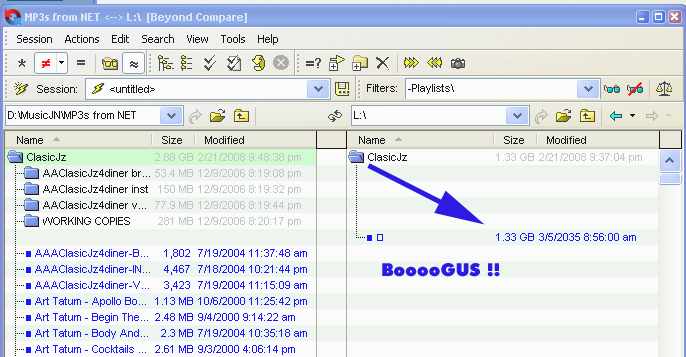 The fraudulent firmware seeks to maintain a fictional directory of non-existent files whose declared lengths add up to 8GB. Sometimes strange 1-character file names of strange lengths are created. The characters can be non-alphanumeric.
WHERE DO WE GET THE SPACE TO MAINTAIN THE DIRECTORY?
The user thinks he is adding data to a drive that ran out of physical memory gigabytes ago. The user infers all is well because COPY runs and the DIRECTORY builds up. But even just a directory needs storage space. Where will the fraudulent firmware turn to get this space if the drive is actually full at just under 4GB and now the user now wants to add a thousand or two additional files to fill the remaining 4GB? The answer is a disturbing one.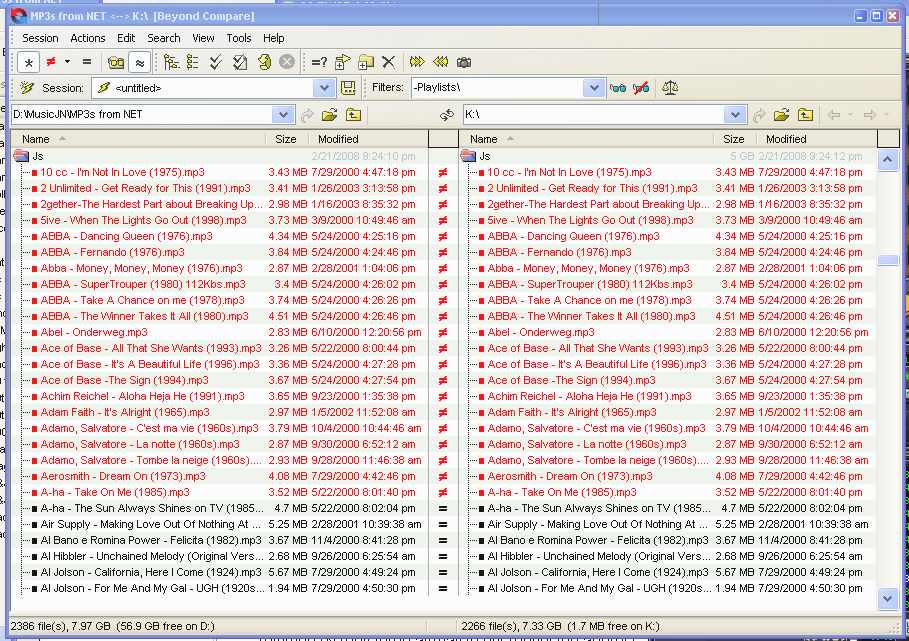 Above we have an alphabetized list of pop music tracks copied from the hard drive (left) to the thumb drive (right). These were the first data copied to the drive and all tracks were good (listed in black even after a CRC check). About 3.6GB of capacity was used. Then I took the drive up to 8GB. Now, the files on the thumb drive no longer match the originals (above, red, "unequals" sign in the middle) and they won't play.
The logical conclusion is that the firmware on the thumb drive took space from previously written data areas -- killed the music but left the directory list intact -- in order have storage space in which to create a larger directory.
So that is the disturbing thing here -- in order to maintain the fiction of an 8GB drive, the firmware reaches into the first 4 GB of storage that actually
are
present, and destroys data stored there, in order to maintain a fictional directory stretching out to 8 GB.
The supplier would do the world a favor to just sell 4GB drives that work.
I have a pair of these 8GB SAMSUNG drives from Hong Kong -- they each behave the same way on two different computers, so we are talking
fraudulently modified firmware
here, not a defect or random fluke.
SUMMARY

"8GB USB Flash Drive w/ SAMSUNG Memory" is an altered 4GB drive. Maybe you can still use it. I am selling mine in this auction.

The drive accepts input files & builds a directory until the directory list indicates 8GB is stored -- no sign of trouble when adding files. Later, pick a file copied after true capacity was reached & nothing or only a corrupted fragment is there.
The drive fraudulently reports 8GB size to FORMAT & PROPERTIES.
Corrupted 1-character file names may be created. One or two of your file names may be repeated 100s of times until fake capacity limit is reached.
Because it is programmed to create corrupted directories & bogus file names, it is dangerous to rely on this drive -- go past the true limit, & you are in Wonderland.
Please help -- I gave positive feedback & there's nothing I can do.
eBay blocks fraud complaints until 30 days after your auction. After horse is stolen, you can find the barn door at
http://crs.ebay.com/aw-cgi/ebayisapi.dll?crsstartpage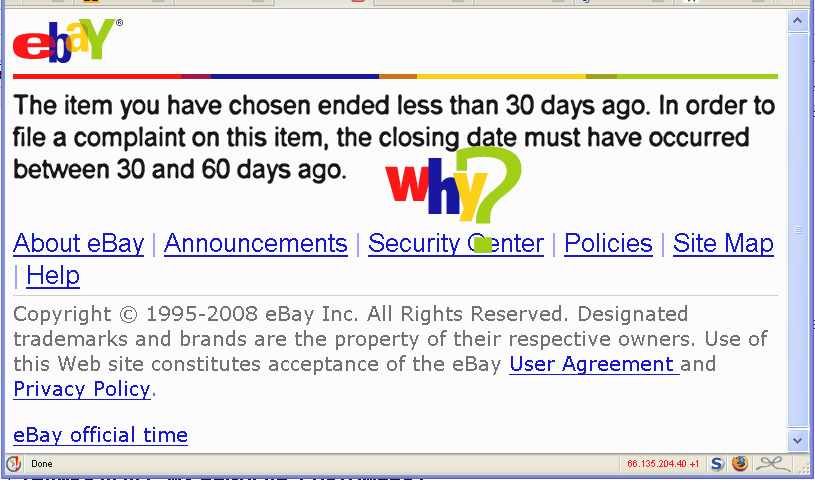 You have to go through many screens
thinking you can report fraud on eBay before you get the above screen telling you that you can't, so just mark your calendar now if you buy my drive and realize later that you were deceived. The many screens:
entry question
complaint reporting notice -- 411 words defining

conditions that make you ineligible
your non-coverage

log-in with user name and password
notice of non-support for any claims or reimbursement
verification of personal contact info, item number of fraudulent auction
the failure notice above after 6 prior screens and 411 words of eligibility and coverage requirements that now informs you that, oops, we require the fraud to run for 30 days before we will let you use this fraud-reporting facility.
Please make a note of that fraud-reporting link,
http://crs.ebay.com/aw-cgi/ebayisapi.dll?crsstartpage
to complain about my drive. Ebay's own search facility does not find many pages for customer input to the company, but, if you search Google for
fraud reporting on eBay,
you can find eBay's own customer input page. Oddly enough, searching eBay's own HELP for
reporting fraud
does not find this page. 24 hits, 24 misses.
Regards,
--jerry-VA
------------------------------------------------------------
THANKS to ALL MY REGULAR CUSTOMERS !

"Great communications. Lightening-fast delivery. What more could you ask for?!!"
--GW, Virginia

"Great price. Great Product. Fast Shipping. Excellent Communications."
--JR, Virginia


"I got the clips today, they're really high quality! Not like the cheap stuff I've bought from radio shack, etc."
--RD, Texas


"Really nice seller. Gave me second chance on item I wanted and needed."
--CK, Colorado

"Super quick delivery. Great communicator with good suggestions. Thanks!! A+++"
--DH, New Jersey

"Smooth international txn; condition of item better than described; very fast A+"
--JB, Vancouver

"This seller is one reason eBay has been so successful!"
--RW, Florida

"Pro seller! Good communication! Unique item. Courteous. Will deal again."
--SMcG, California

Problems happen--to you, to me, & with all the technology in between. Please write or phone at once if you have any concerns.
--jerry-VA
--------------------------------------------------------------------------------------------------------------------