Click to enlarge, print the enlargement. Is the size OK?
Composite image and digital enhancement: Jerry Nelson
Original photography: Dan Gibson
Inquiries for the Class Directory 2010: Faybrumback atsign aol dot com
The Directory offers address, phone & e-mail for everyone Fay and her volunteers could track down, but the real fun comes from the bios, now retyped and easier to read than photocopies of everyone's handwriting, as in years past.
23 pp. $10 -- if there's enough demand, we can reprint it for you.
"Life has been very satisfying to me. McLean's wonderful teachers gave me a good foundation for university in spite of my lack of effort at the time. IBM turned me into a professional. My wonderful wife has loved me more than I deserved, and my two children never cease to bring joy to me. My grand daughter has taught me much. Living overseas and traveling around the world several times has expanded my view of life. Excellent health allows me to continue to ski ... and travel. 'Thank you' to all of those who saw potential in me when I was unable to see it myself."
That bio and a hundred or so more. No two lives the same.
THE COMMUNITY IS US
Nobody creates any directories, events or facilities for us. We are the community.
People who have pitched in are listed
here
.
DISCLAIMER:
The big group shot photograph is a fraud
. Nobody paid attention, people chatted. Jean Martindale made Dan Gibson bring his camera, and he took 19 photographs. If I caught you looking up with a smile on any one of them, I got you. Heads were separated from bodies, faces switched -- it was terrible. Now here we all are, as if nothing happened. I did not have this technology in 1958,9,60, so you can still trust the photos in our newspaper done for Emily Horn, and the dozens in our yearbook I did with Beth Chiles.
--jerry
Jerry Nelson '60
Corrections to jerry-VA at removethistext speakeasy dot net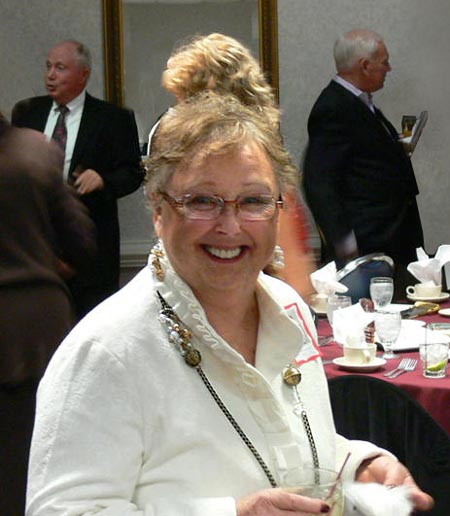 Lynn Mechling
26Nov1942 - 21Feb2011
Men left/right: Joe Sayers '57 (& Emily Blessing '60); Danny Hall '60;
Lynn's "pony tail" is Emily Blessing.
I love the geometry of the composition, and, you can't beat the smile.
Photo: Margaret Rodeffer Winesett
top of this page
This photo is a fraud -
how the group shot was made
.
The community is us -
volunteers who made reunions happen
.
home page
for the McLean60 webpages I have done so far
Acknowledgement: Robin and I were overseas many years. I couldn't recognize anyone, and how could I expect her to? Yes, I guess I did this naming marathon for myself. But I did it with help and friendship from Carol Davis Cole, Fay Eakin Brumback, Susan Miller Hall, Hunter Lindsay, and above all the people memory of a people person, Margaret Rodeffer Winesett. Thank you. It's nice to be home.
--jerry
Rev 19Nov10 9Dec10 24Dec10 26Dec10 14Oct11 found Evelyn Kirby; Lynn Mechling died