WHO's MAILING ME ALL THOSE REUNION FORMS?
McLean High School, McLean, VA 22101
Class of 1960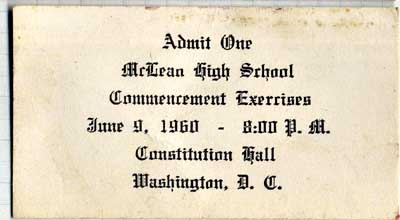 The Commonwealth of Virginia does not provide reunions in order to help retain talented residents.

The Count\y of Fairfax does not support reunions for the graduates of county-run schools in order to celebrate their community.

McLean High School does not provide guidance for reunions in order to foster loyalty and contributions to its programs.
We have reunions because we did them ourselves.
These people have stepped forward. You can also.


VOLUNTEERS who made REUNIONS POSSIBLE
10th Reunion, our first, 1970


Denise Brooks d. 1999
Darlene Rathjen
Susan Miller
Irene Foley
Norma Michael, Anita's twin sister
Eddie Youngs
Margaret Rodeffer



15th Reunion, 1975


Irene Foley
Norma Michael
Susan Miller
Darlene Rathjen
Margaret Rodeffer
Master of Ceremonies: David Dodrill



20th Reunion, 1980


Becky Rhodes
Susan Miller
Norma Michael
Janet Naeher
Clyde Clark
Margaret Rodeffer
John Kelepp, indomintable Master of Cermonies



25th reunion, 1985


Becky Rhodes
Clyde Clark
Susan Miller
Norma Michael
Janet Naeher
Kay Bonner
Sindia Johnston
Irving Lawless
Dolores Schaffer
JoAnn Eden
Sydney Erb
Margaret Rodeffer




30th Reunion, 1990


Norma Michael
Becky Rhodes
Susan Miller
Kay BOnner
Clyde Clark
Margaret Rodeffer

35th Reunion, 1995 at the late, lamented


Susan Miller
Norma Michael
Clyde Clark
Jimmy Tobin
Margaret Rodeffer

40th Reunion, 2000
Fay Eakin Brumback, Chairperson
Nice book of photos by
American School Pictures, Ohio.

45th Reunion, 2005
Fay Eakin Brumback, Chairperson

50th Reunion, 2010
Fay Eakin Brumback, Chairperson
Anita MIchael
Norma Michael
Susan Miller
Margaret Rodeffer, advisor







Top
of just this page
return to
Main 50th Reunion page
for the MHS Class of '60
Home page
for all the McLean60 webpages I have done so far
Messy homepage for my
entire miserable Website