A Farewell Tea Party for Robin
(continued)
The Living Room in Main
The Madeira School, McLean VA
15 January 2008
"Madeira girls have something to say"
J. I. Nelson, Ph.D.
Back to Page 1
Jump to bottom.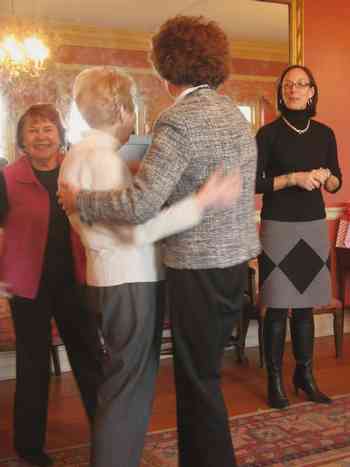 Robin gets a hug from Jinx Smith after Meredith Cole's tribute and presentation of gifts on behalf of the School, while Lydia Sorrels looks on. We were also cheered to see Christine Langford
but I failed to get a photo. Here are some from the Madeira Christmas Party the month before (Dec07).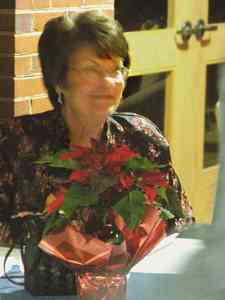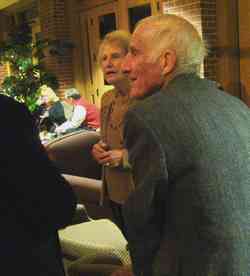 click any image to enlarge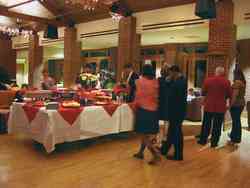 (above left) Christine Langford and (right) Jinx and Mansfield Smith at
(below) the Madeira School Christmas Party 2007, Student Center building.
Who will forget Andy Gaylord's fabulous food?


Jinx, Robin, Lydia and (right) Assistant Head Mistress Meredith Cole, Robin & Jerry Nelson
Allyson Thompson, BJ Romanoff, Robin
Paul Hager, Dean of Faculty. Ed Hamer, Facilities Services. Rita Cooley.


Serious engineering with Pat Terrell.
Thank you, Andy, for a great cake.
First she tells the photographer, "It's my party, don't wear a name tag or act conspicuously." Then she says "Why didn't you get a picture of everybody?" and recites the names of over 50 people she noticed were there. Thank you everyone for coming and apologies if your picture is missing.


Robin's Madeira pewter cup, and yes, the roses on Andy's cake were real. In the background, a small sponge washed up on a beach in Australia and looking like cooling towers for nuclear power -- Robin in her Monumental Period. A Professional Development grant from The Madeira School gave Robin printmaking skills, very much on display in artwork shown at Swarthmore College, 2007.


The tea party was great, and the School's motto was fulfilled:
"Function in disaster, finish in style."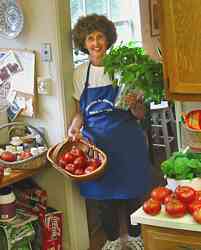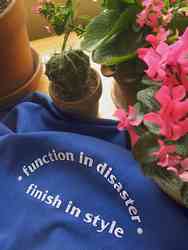 click to enlarge












And, we both add, preserve a sense of fun!
--Robin & Jerry

Our e-mail addresses: robinhnelson at speakeasy dot net and jerry-va at same.
Address for this Website:

robinsfarewell.notlong.com

return to top return to Page 1 art show reception
Rev 16Feb08