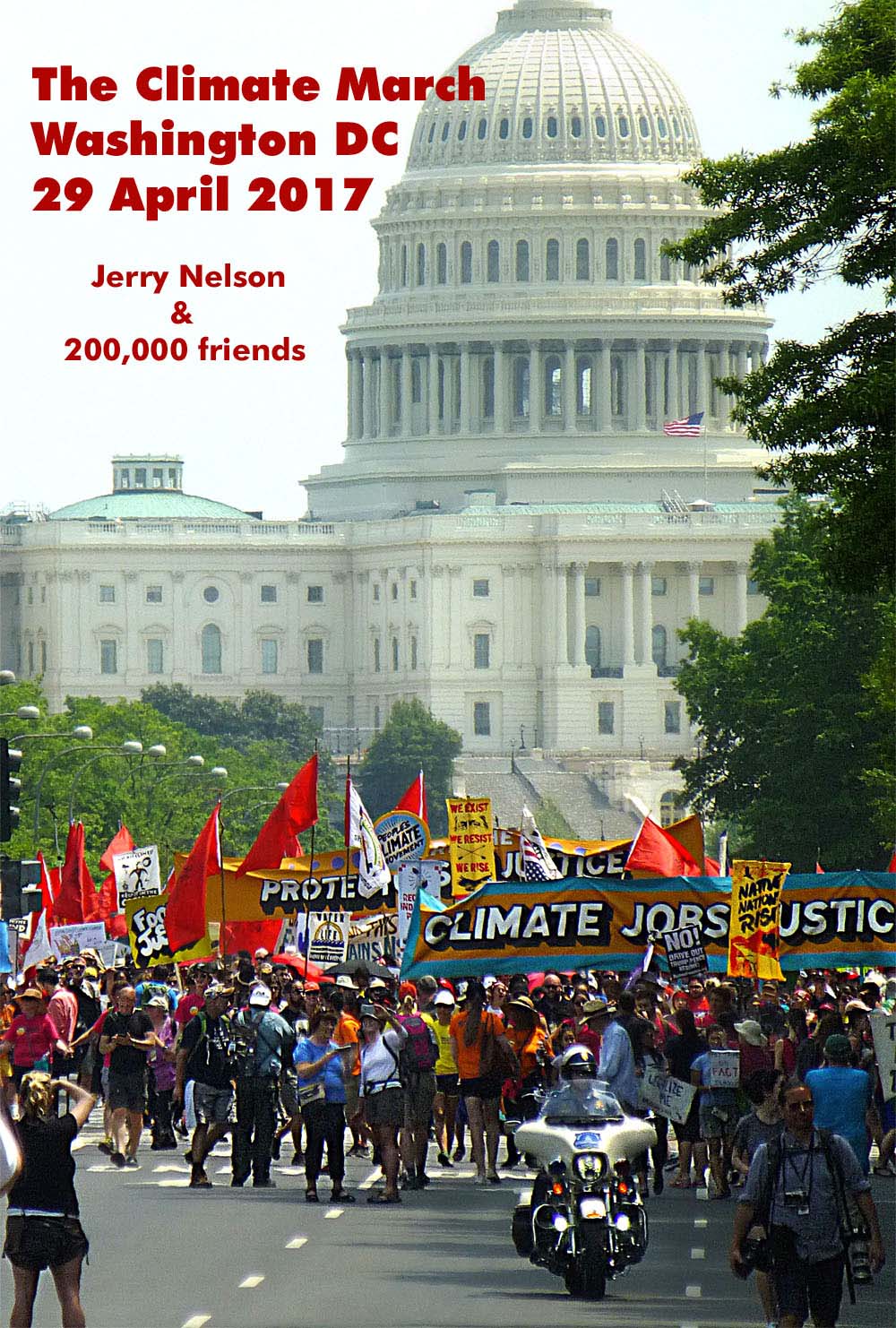 Jerry Nelson, Climate March -- The front line of the march for "Climate, Jobs & Justice" moves down Pennsylvania Avenue. 200,000 people marched in Washington, DC
to mark his 100th day in office, as President Trump fled to coal country in Pennsylvania.
conclusion
bottom & links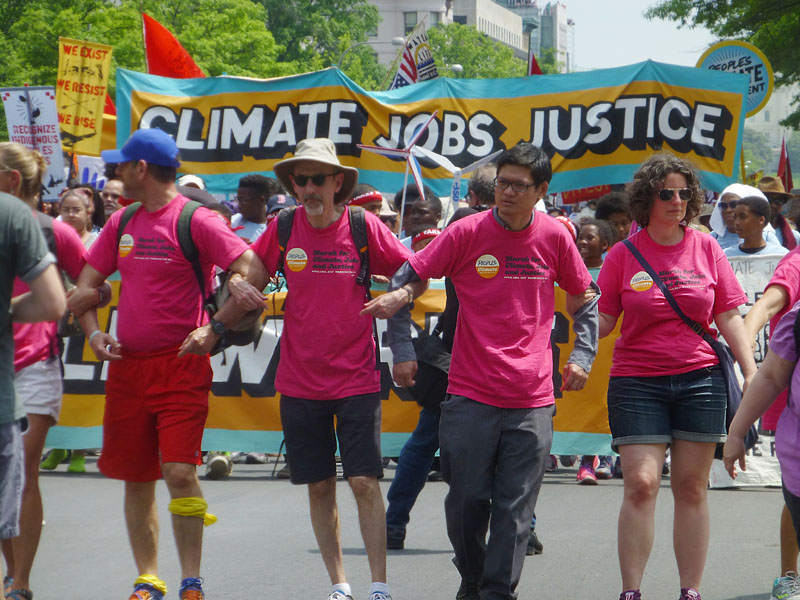 I have never seen this before:
20 Jan 2017 - Trump's Inauguration (a little rain)
21 Jan 2017 - The Woman's March, triple the attendance at the inauguration.
Lots of debate over attendance
.
15 April 2017 - The Tax March -- Thousands demand, Show us your tax returns! Show us the rubles! Lots of funny signs. Demonstrations in 200 cities, about 10,000 march in Washington, DC.
22 April 2017 - The March for Science, 240 sponsors and scientists marching for the first time about anything (lots of rain)
Thousands in Washington, 40,000 in Chicago, plus 500 cities world-wide.
29 April 2017 - The Climate March, 200,000 in Washington DC with satellite marches in 370 other US cities, plus Earth Day celebrations world-wide
Do the people in these pictures want to change their leaders, or change the party system that put them there?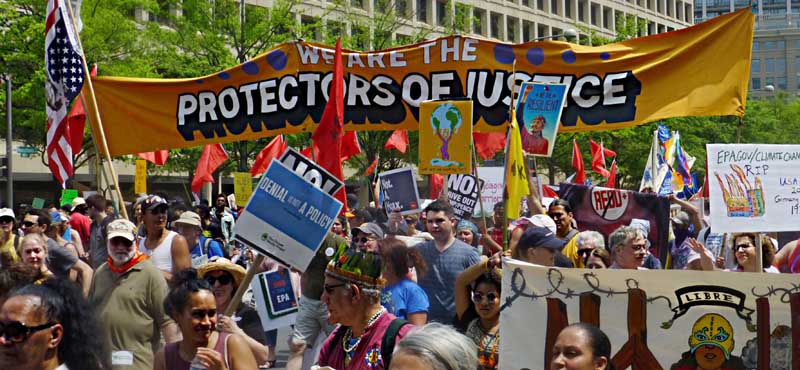 Click image above to enlarge.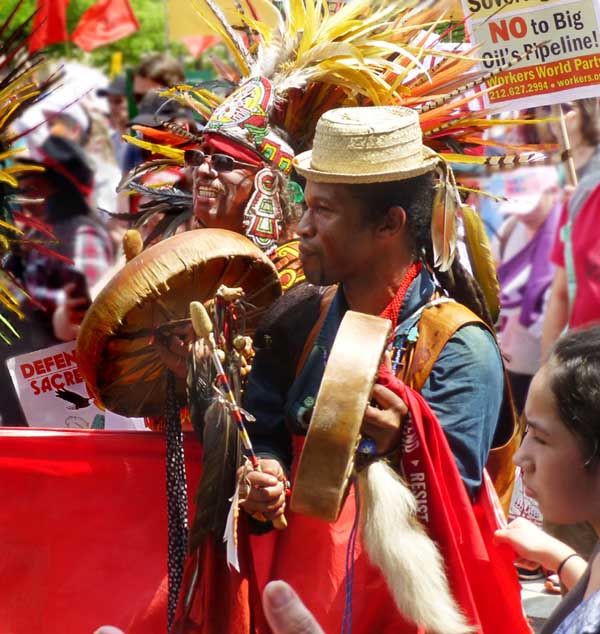 Native American water protectors -- activist groups across the US opposed to desecration and exploitation of Indian land --
were prominent in the Climate March's "Protectors of Justice" group.
Five hundred politically- and socially-engaged organizations participated in the march.
They were grouped into eight thematic areas.
The "Protectors of Justice" group was first in a march that filled twenty blocks solid on Pennsylvania Avenue.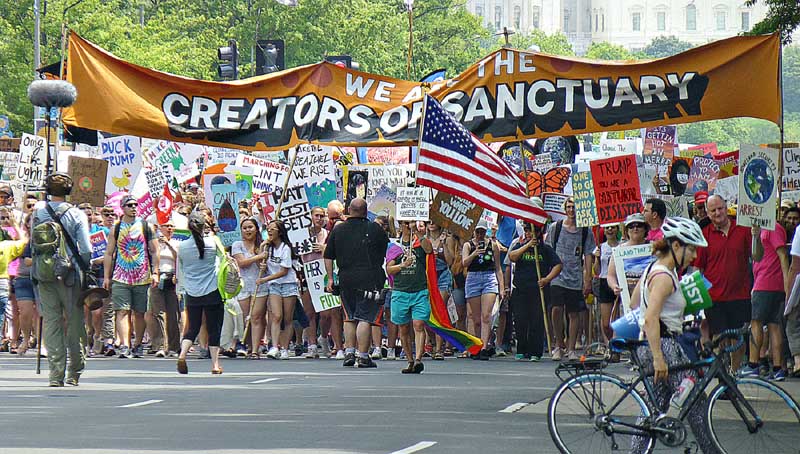 Click the above image to enlarge.
Sanctuary for those threatened with eminent domain uprooting of homes and farm for Yet Another Pipeline,
islanders with islands going under.
Group 2 embraced sanctuary for LGBTQIA (lesbian, gay, bisexual, trans-sexual, queer, intersexual, asexual),
embraced sanctuary for immigrants, but climate concerns dominated march and marchers.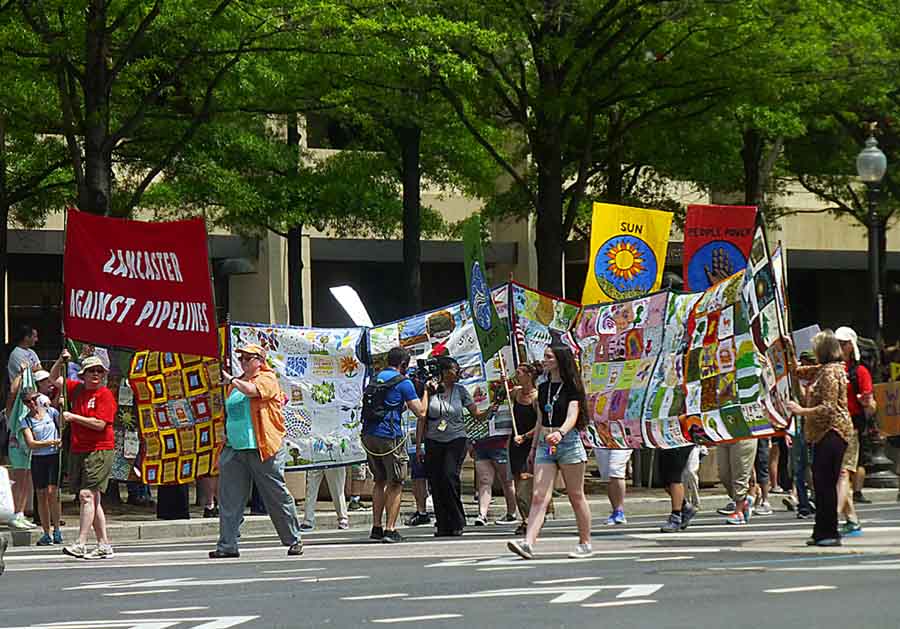 Click the above image to enlarge.
The home-town activist group"Lancaster Against Pipelines" marches with their 50-foot quilt
in the Washington, DC climate march, 29 April 2017.
The Williams Company is driving pipelines through Amish farms to carry fracked gas to market.
Williams tries to be reasonable but you have only one choice: sign away your rights, your farm, your land
or we'll show you what a 21st century corporation can do with eminent domain law in the United States today.
Lancaster, PA has fought Williams Gas since 2013.
They are alone -- no one, local or Federal, will help them.
What now? In Amish country, you make a quilt . . . the quilt you see above: 250 squares, 50 feet.
For four years now you keep "Lancaster Against Pipelines" going,
you try to keep enough volunteer "quilt carriers" going to enough marches until someone notices.
Off to Washington, another march. The Climate, Jobs & Justice March.
Group 2 of 8: Sanctuary and Safety, Land Rights. More to this than two degrees on a thermometer.
Another camera battery in my pocket, another group. Five hundred more out there. Three hours to pass by.
You can't look up every sign. This one said "Lancaster Against Pipelines".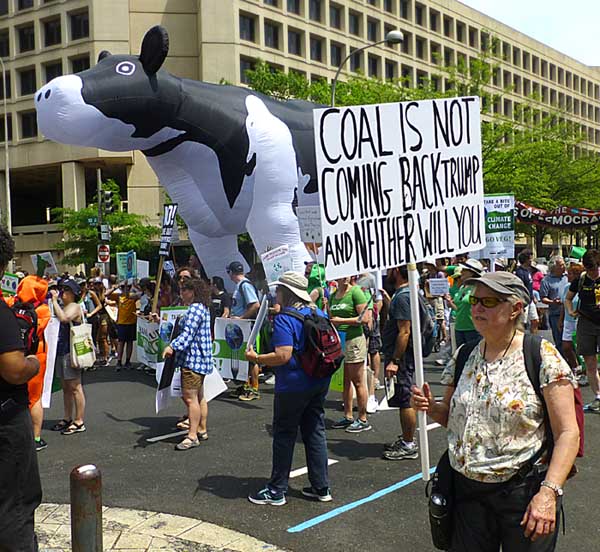 Group 2, SANCTUARY: land rights, anti-pipelines, distressed farming.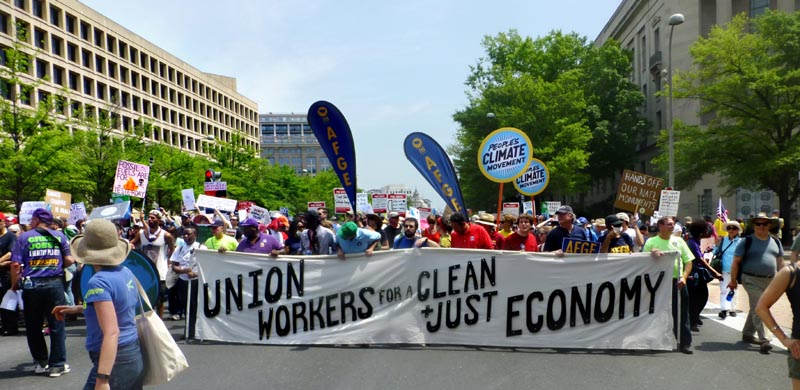 "Builders of Democracy" in today's societies world-wide are our unions and NGOs,
Non-governmental Organizations with civic missions. Climate March Group 3.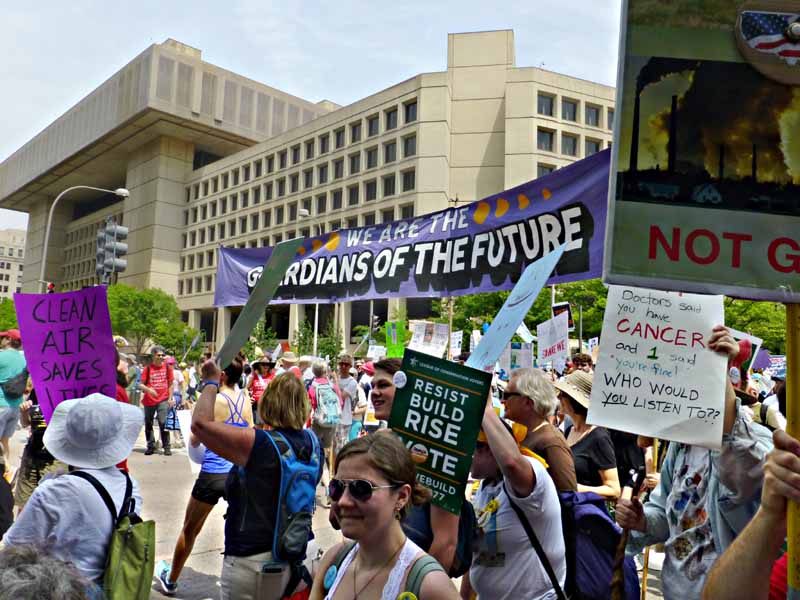 "We are Guardians of the Future."
This is Group 4, elders and grandparents worried for their children.
A species that does not nurture its young has failed.
The stress that has driven us to failure is an ever-sharpening confrontation with ourselves.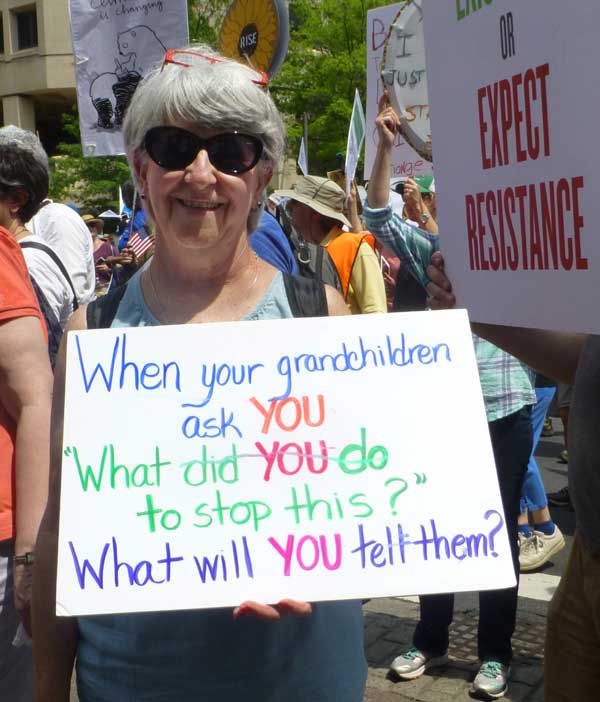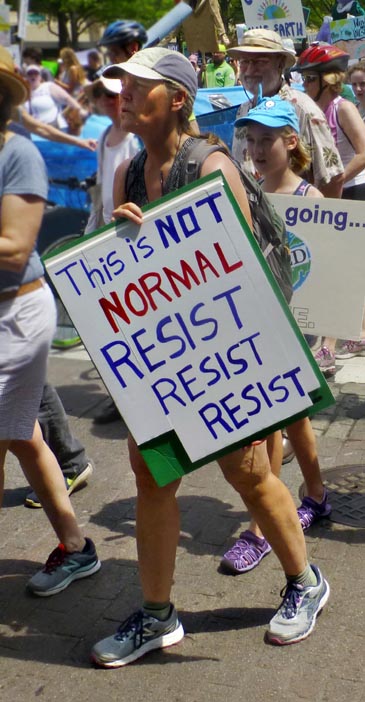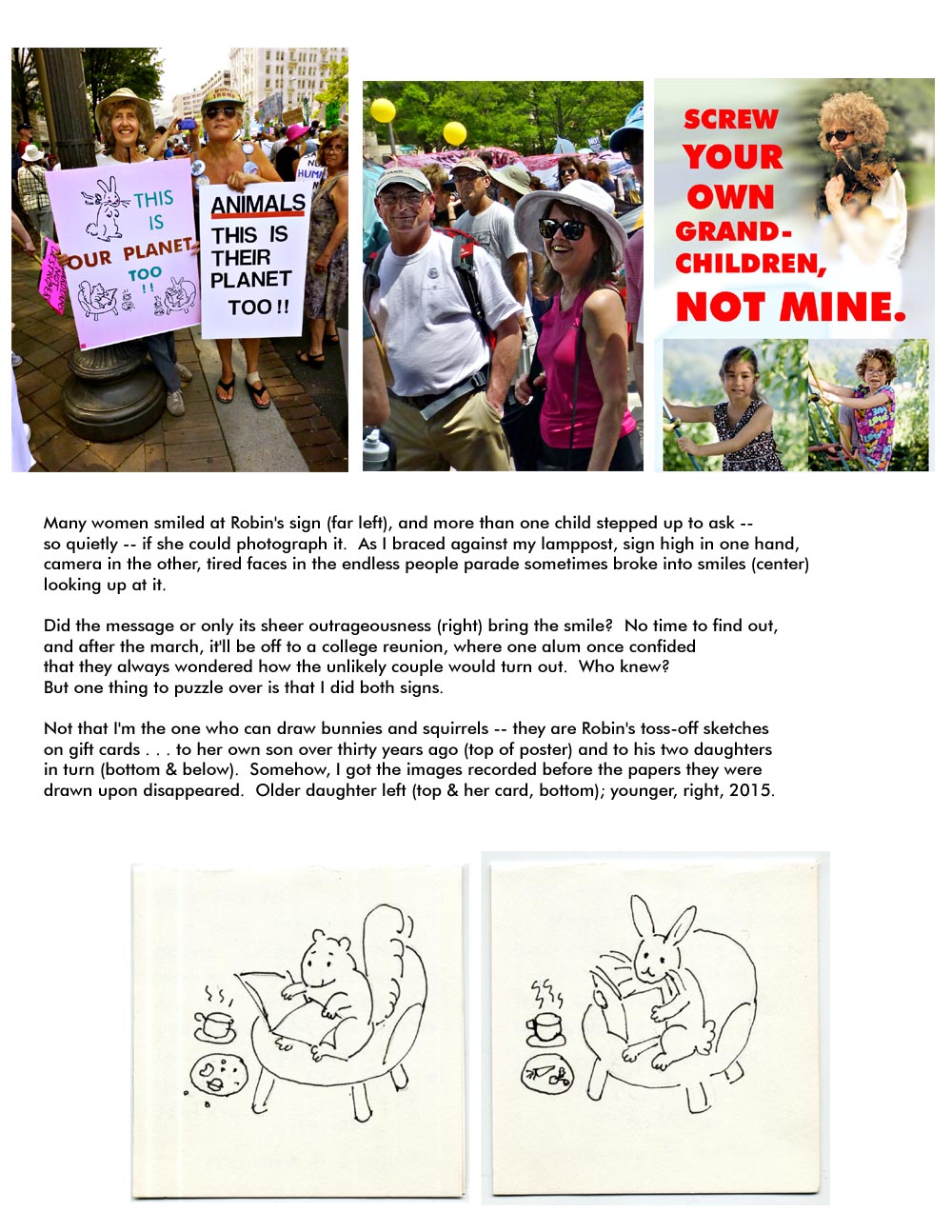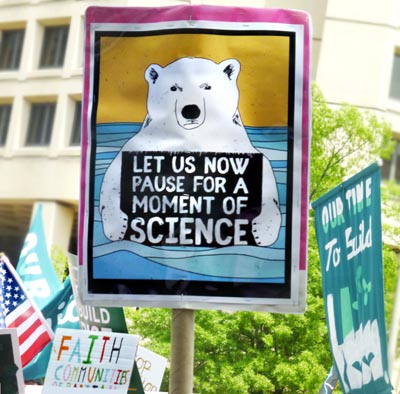 Group 5 of the Washington, DC Climate March: Defenders of Truth: scientists, educators.
We live in the physical universe,
but most of us, most of the time (careers, social status), immerse ourselves in the social whirl of human society --
not anthills, not bee hives, but the societies that arise from human social behavior.
"Truth" is what we hear, and what we must say to be heard and to be accepted and advanced in the societies we build.
If your friends deny and deride climate change or the idea that man is driving the planet down, that is your truth and the end of your story.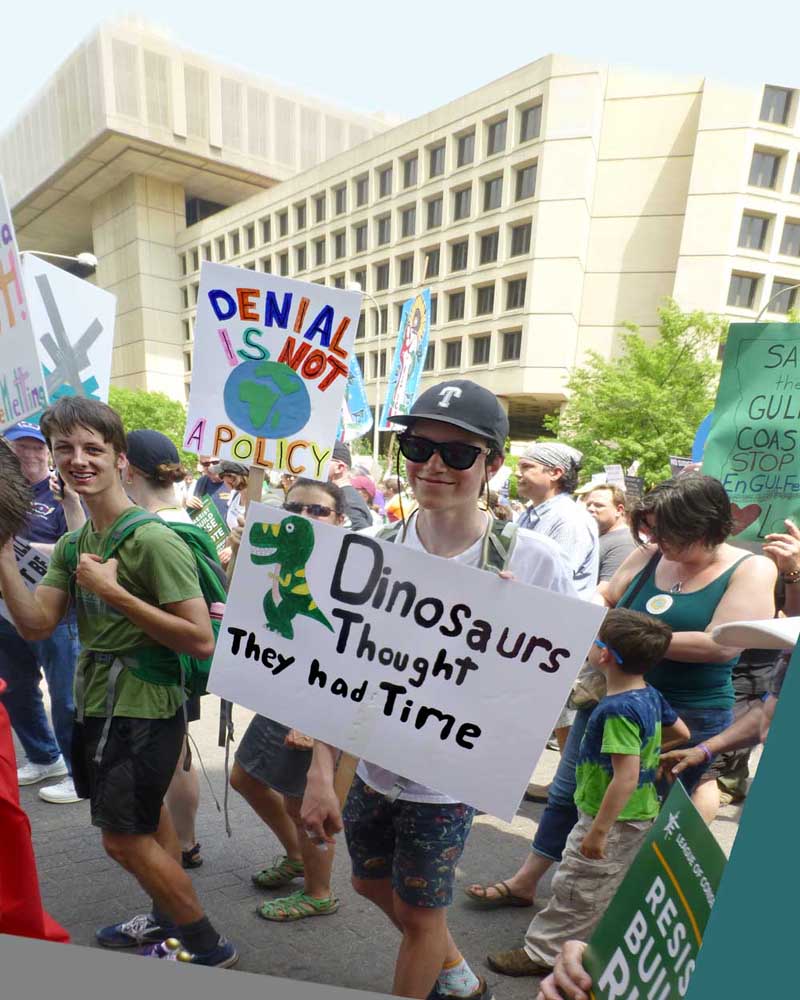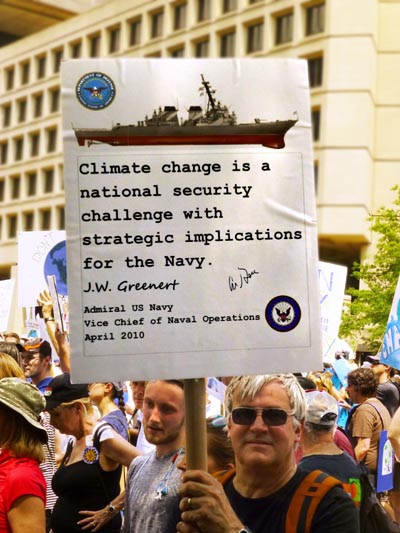 Most of us live in the human social world,
and have contributed nothing to mankind's knowledge of the material world around us
(as evidenced by scientific publications of research or rather, lack of it ).
We do not live in the physical universe, we cannot explain even the artifacts of our civilization --
the electronic gadgets we hold in our hands.
Nevertheless, as this marcher and his sign remind us.
wars are fought and empires gained and lost in the physical universe.

"Society should worry when geeks have to demonstrate"
"I can't believe I'm marching for facts"
"Too many issues, not enough sign"
GROUP 6, THE DEFENDERS OF FAITH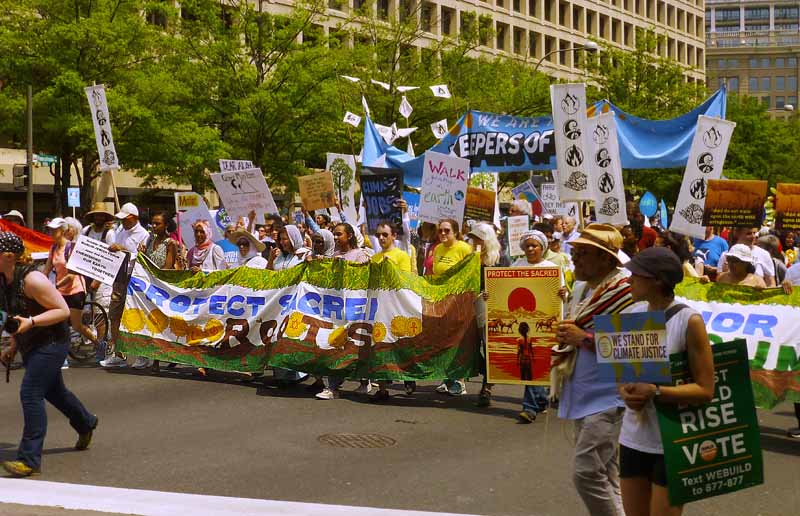 Click above image to enlarge.
The quotations of Sierra photographer Ansel Adams (1902-1984) were prominent on signs of the "Defenders of Faith" group:
"Once destroyed, nature's beauty cannot be repurchased at any price." And, most of all,
"It is horrifying that we have to fight our own government to save the environment."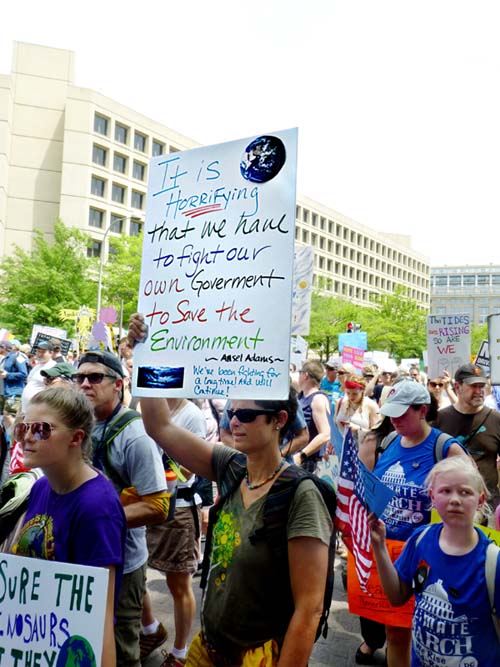 While Ansel Adams quotes like this one were everywhere,
it was the quotes of Pope Francis which most amazed me.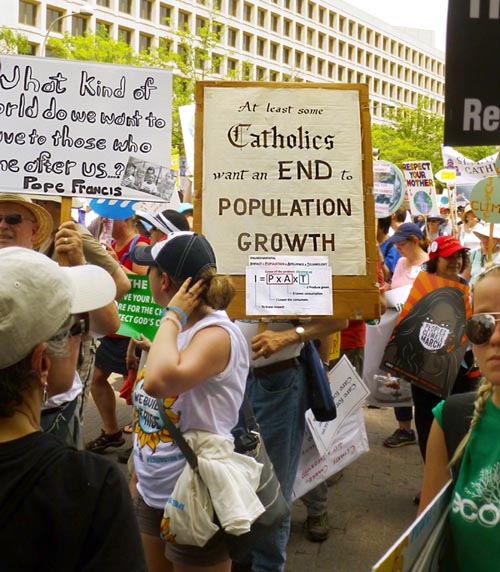 "We are not God. The Earth was here before us and it has been given to us."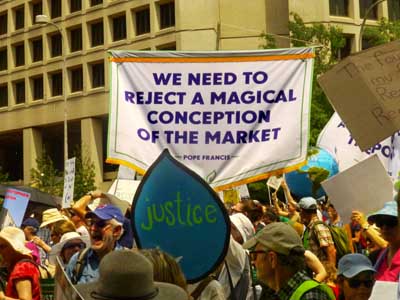 THE MYTHICAL MARKET


In a market where people are free to choose -- and have valid information to guide choice --
the provider whose production efficiencies reach the lowest costs gets the highest sales volume.
People innovate to produce new glories at ever-lower cost, and quality never suffers.
This free market is a mythical world where multi-billion-dollar corporations
do not sue challengers into oblivion and do not ship bricks to Singapore
to shore up their own inventory numbers
(" the managers rented a second warehouse in Colorado where they personally
packed 26,000 bricks into hard drive boxes and shipped them to Singapore
"),
because auditors self-police everything rather than
succumbing to scandal
themselves.
The market's mythical powers correct the imperfections of Man so well that
we need no laws, no punishment, indeed no government regulation at all,
and everyone can do whatever he wants and be happy.
Oh?
Environmental protection cannot be assured solely on the basis of financial calculations of costs and benefits. The environment is one of those goods that cannot be adequately safeguarded or promoted by market forces....we need to reject a magical conception of the market, which would suggest that problems can be solved simply by an increase in the profits of companies or individuals. Is it realistic to hope that those who are obsessed with maximizing profits will stop to reflect on the environmental damage which they will leave behind for future generations?
--Pope Francis,
The Holy Father Francis' Encyclical Letter "Laudato Si'" on Care for Our Common Home
25 June 2015
When greed has run its course, what is our common fate? Here are some
Pope Quotes
that never made it onto signs.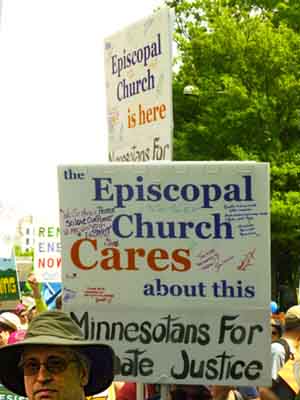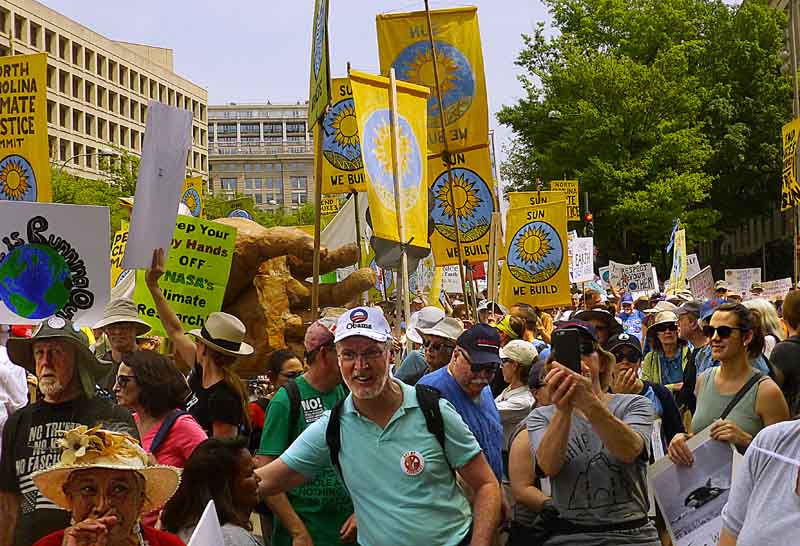 Click above image to enlarge.
Group 7, the pro-renewable, anti-corporate crowd.
"
Change the President, Not the Climate
" -- if you "click to enlarge," and don't have touchscreen/touchpad, remember,
browsers have scroll bars below and on the side -- pan around, that sign is in there.
These are happy people, there's no Trump rally anger here . . . happy to be decent, compassionate, ... and right. .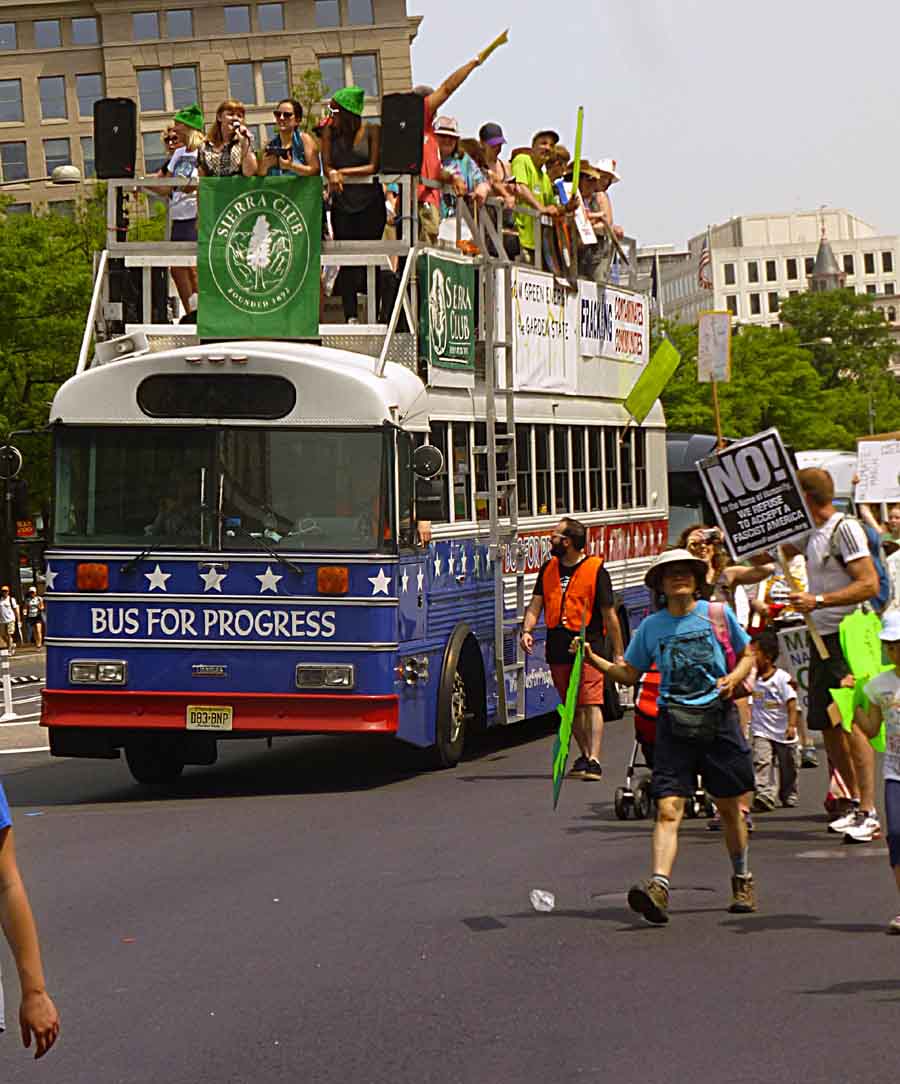 Group 8 at the end: the actual, permanent environmental groups -- led by the Sierra Club Bus, listing to port.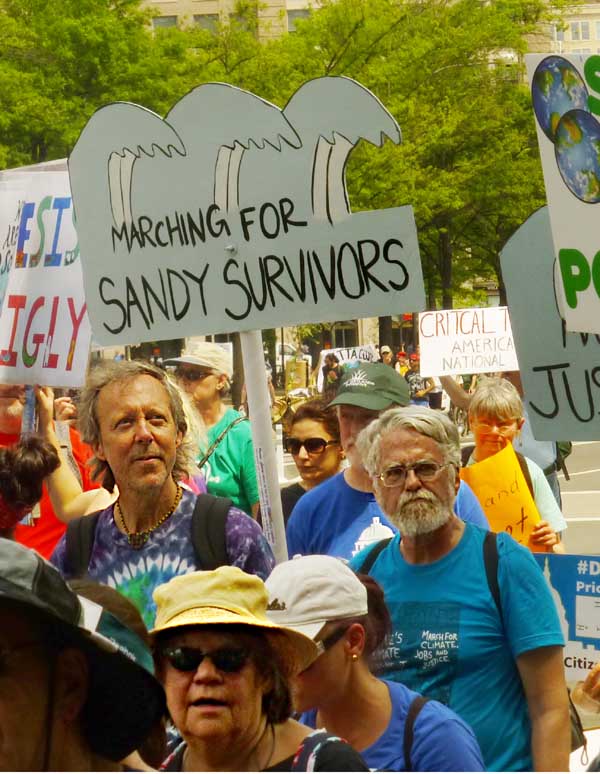 The Red Cross collected over a billion dollars after 911, and $300 million from a single Sandy benefit concert alone.
From
the ProPublica report
:
The Red Cross botched key elements of its mission after Sandy and Isaac, leaving behind a trail of unmet needs and acrimony, according to an investigation by ProPublica and NPR....
What's more, Red Cross officials at national headquarters in Washington, D.C. compounded the charity's inability to provide relief by "diverting assets for public relations purposes," as one internal report puts it. Distribution of relief supplies, the report said, was "politically driven." During Isaac, Red Cross supervisors ordered dozens of trucks usually deployed to deliver aid to be driven around nearly empty instead, "just to be seen," one of the drivers, Jim Dunham, recalls. ...
During Sandy, emergency vehicles were taken away from relief work and assigned to serve as backdrops for press conferences, angering disaster responders on the ground.
Richard Rieckenberg oversaw aspects of the agency's distribution of food, shelter and supplies. ".... Top Red Cross officials were concerned only 'about the appearance of aid, not actually delivering it," Rieckenberg says. "They were not interested in solving the problem — they were interested in looking good. That was incredibly demoralizing."
The modern-day Red Cross was created by congressional charter more than a century ago and plays a unique part in responding to disasters. The iconic charity has a government mandate to work alongside the Federal Emergency Management Agency in relief efforts.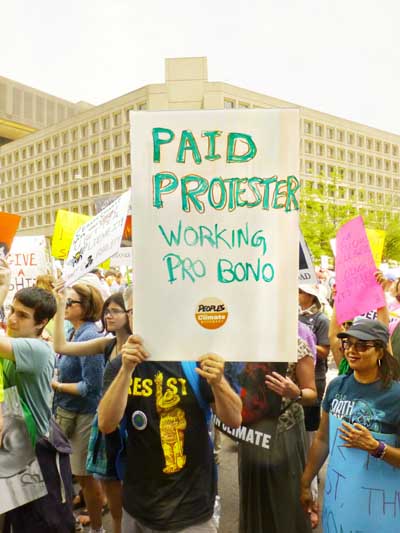 My father always told me to accuse your enemies of doing what you have done.
In denying the charge, they'll be talking about the crime.
People will think they did it after all.
It's what Hitler's propaganda genius Goebbels did, Dad said.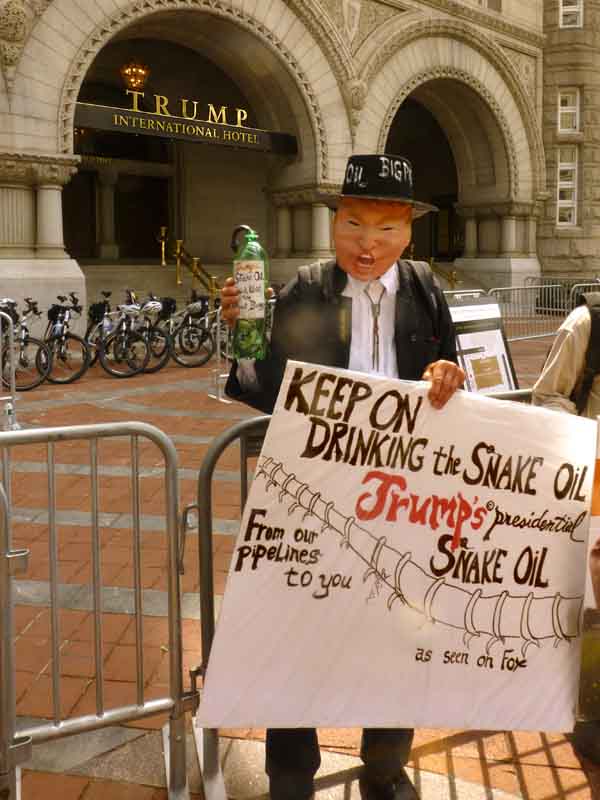 "Trump International Hotel" is the Old Post Office Building, 1899. The General Services Administration (GSA) signed a lease with Trump in August, 2013. $200 million in renovations began June 2014, but Trump immediately went after a 20% "Federal Preservation Tax Credit". Never short of an opportunity for a lie, Trump stated in competition against nine other finalists for the GSA lease that their renovations would be done in time for the next Presidential Inauguration parade down Pennsylvania Avenue, then bragged when meeting their own deadline that he was two years ahead of schedule.
A nine-story, glasses-topped atrium graces the lobby, the 263 rooms have mostly sixteen-foot ceilings. The hotel's presidential suites are 3,600 and 5,000 square feet -- the outside footprint of our suburban home is 2,300 square feet.
There are no property taxes on the building and annexes, as they remain federal property -- Trump is only leasing them (for 60 years, extendable to a century). His lease states, "No member or delegate to Congress, or elected official of the Government of the United States" may hold the lease, but
government regulations are not a problem if you control the government.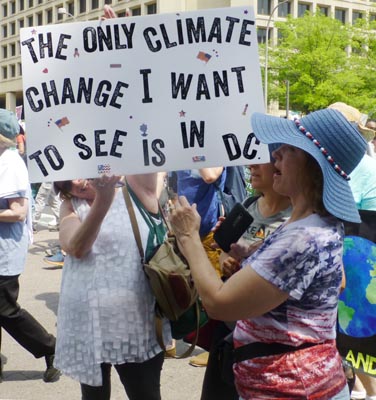 Twelve thousand lobbyists register with the Lobbying Disclosure Act, and
internet-searchable databases
make it possible for you and me to see how much is spent in aggregate, which bills lobbyists say they are trying to influence, and who is nominally employing them. But Man is clever, and constitutions, nations, and Lobbying Disclosure Acts fail over time. Twelve thousand lobbyists? One hundred thousand is likely
the true number
-- 185 people lined up in front of every House, every Senate office door, trying to all crowd in and help staff draft the legislation and the laws that the rest of us will be forced to follow. Thank goodness our corrupt Congress is also dysfunctional, and cant' pass anything.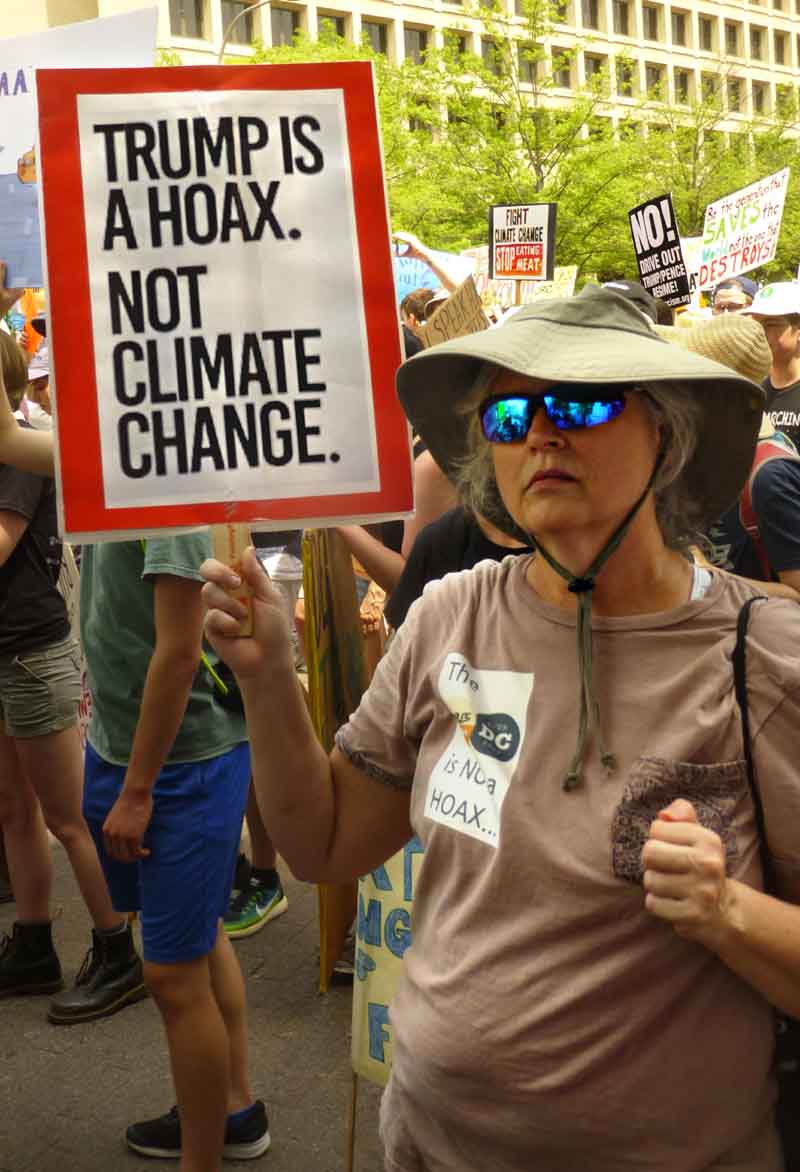 Pregnant and worried about the future.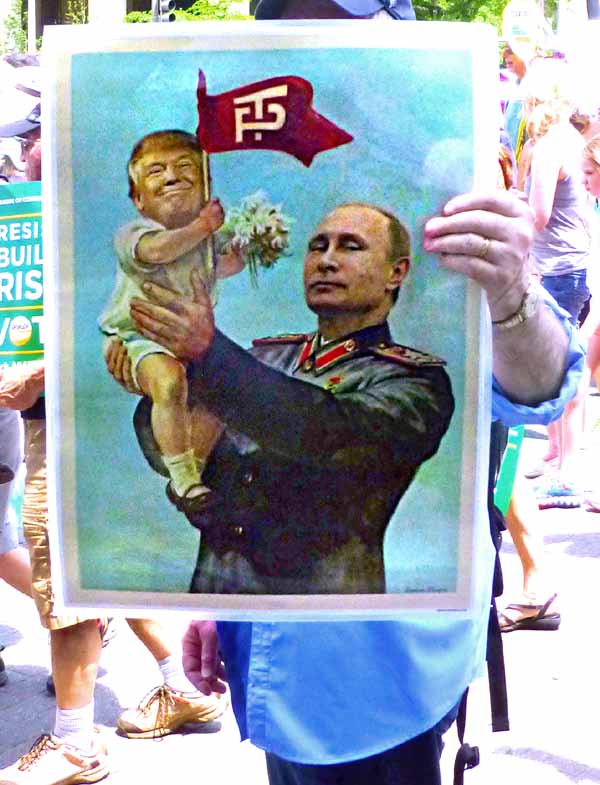 Women, Tax, Science, Climate -- every March had signs about the Russian connection because no one has ever seen anything like this, and no one can understand it. But the 200-city Tax March 15 April 2017 had the most Russia signs (at least here in DC) because it will be in Trump's hidden taxes that the outlines of this quid pro quo are buried -- oligarchs who can't reveal that it is they who have the controlling interest over stolen Soviet assets need to get their funds secretly out of Russia ("launder" them), Trump's projects need hundred of millions, two hundred for just one renovation in Washington alone (Old Post Office Building above) so it's "We have the sponge, boys, you soak it", and lifting US sanctions against Russia -- so ardently discussed by so many in the Trump circle on so many surveilled phone lines -- was the favor asked in return.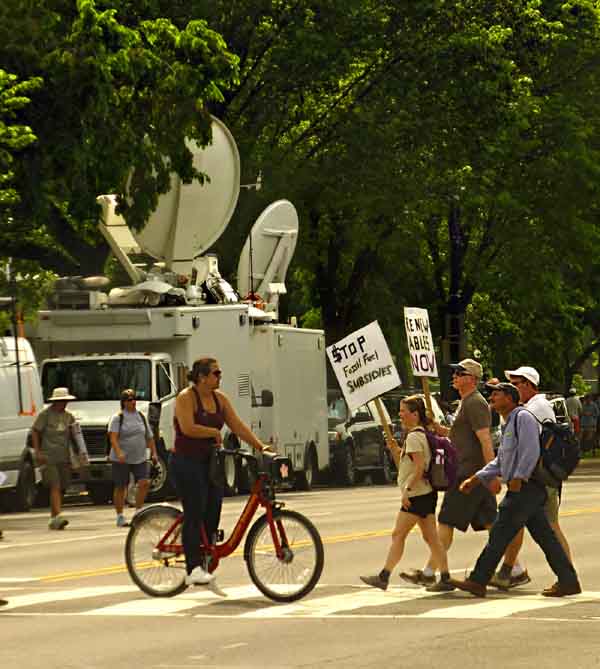 Click image above to enlarge.
It's Over! Only One More March, & that's To The National Mall To Relax!
Satellite up-link trucks provide live coverage for speeches at the Climate March's climax rally.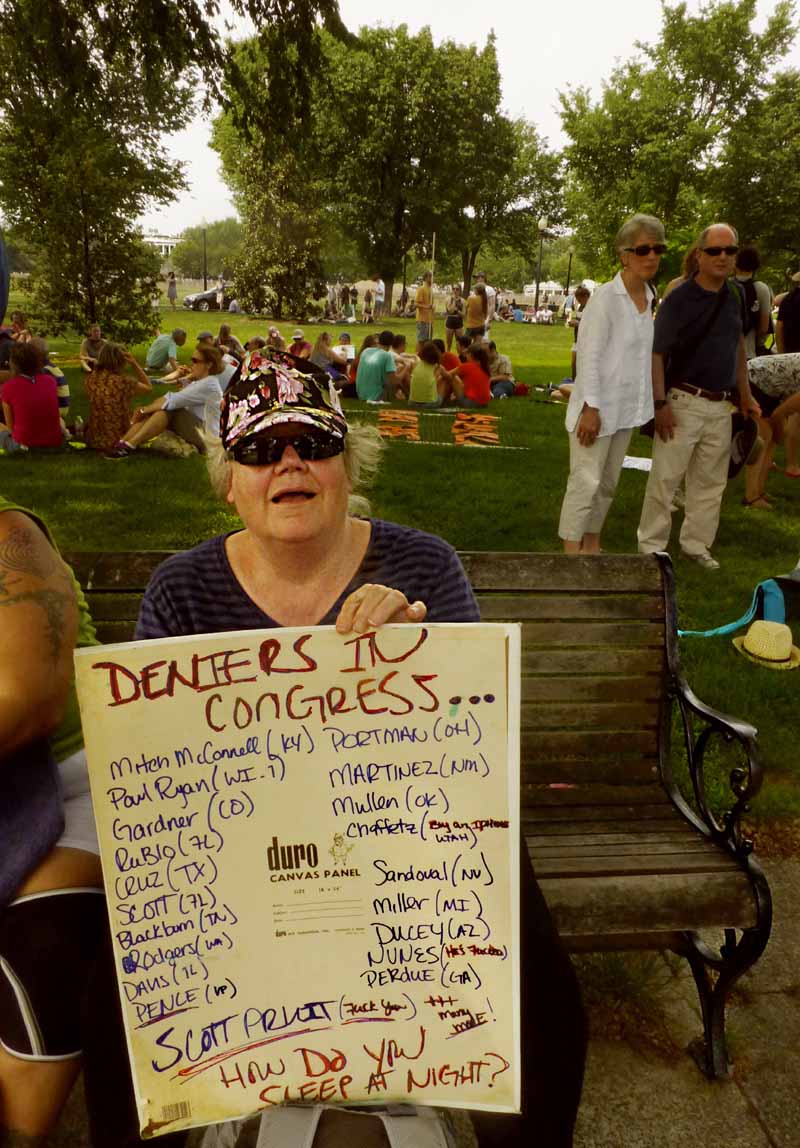 White House in background -- you're taking notes, right?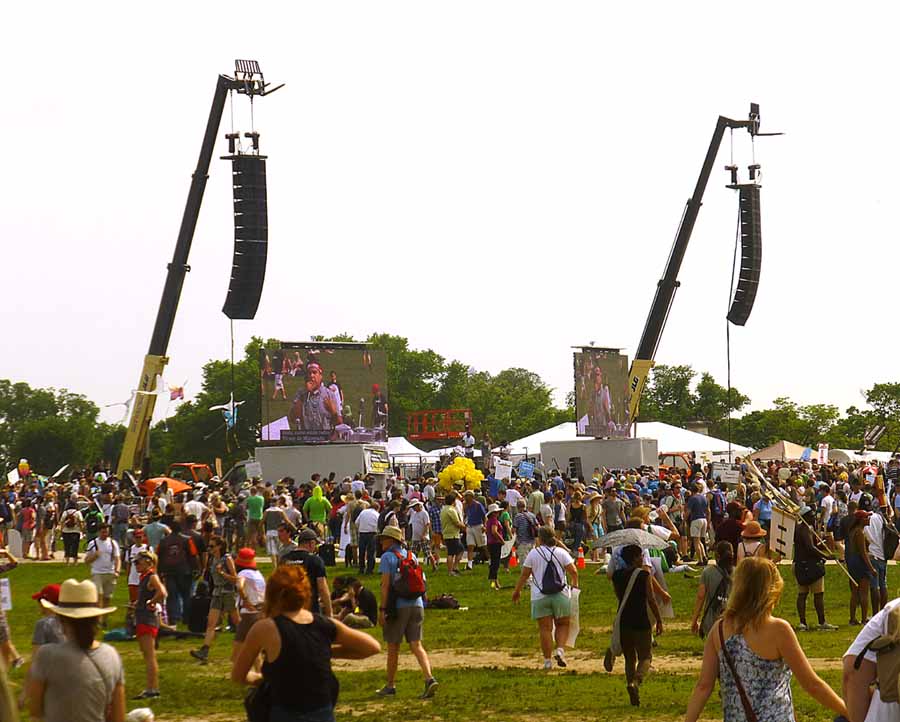 92 deg, tying the DC record for 29April, long lines for water, amazing these people are still standing.
The Woman's March had grossly inadequate sound; here, the Climate March has rented a standard rock-n-roll concert rig with two hangs of 10 speaker boxes each (JBL Vertec 4889s probably) and a subwoofer at the bottom. If we're going to keep running a political march Saturday after Saturday, I can get you a rig like this on eBay used for $200,000, but you're not going to run it on a backyard Honda generator. The full-tilt audio power going into the speakers would blow every fuse in 5 houses, even if they each had modern 200 amp residential service. Remember your Jumbotrons.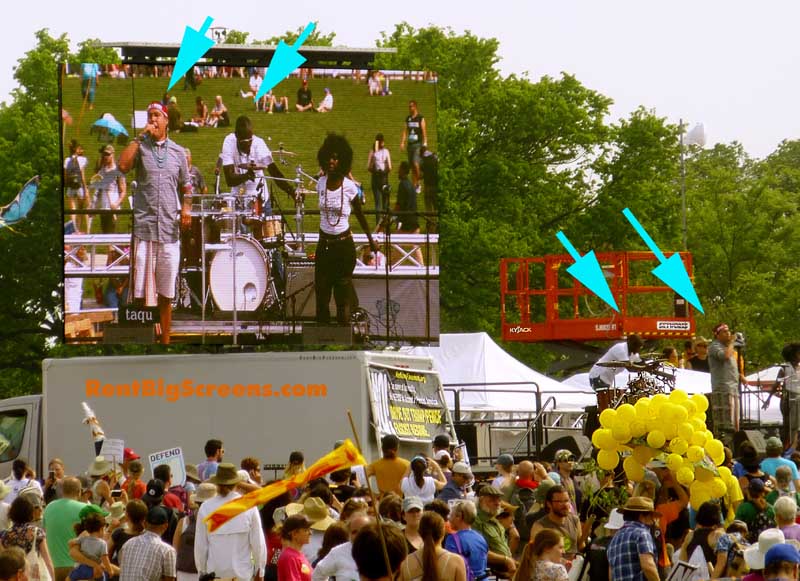 The sign leaning up against the truck says "In the name of humanity, we refuse to accept a fascist America. Drive out Trump/Pence fascist regime."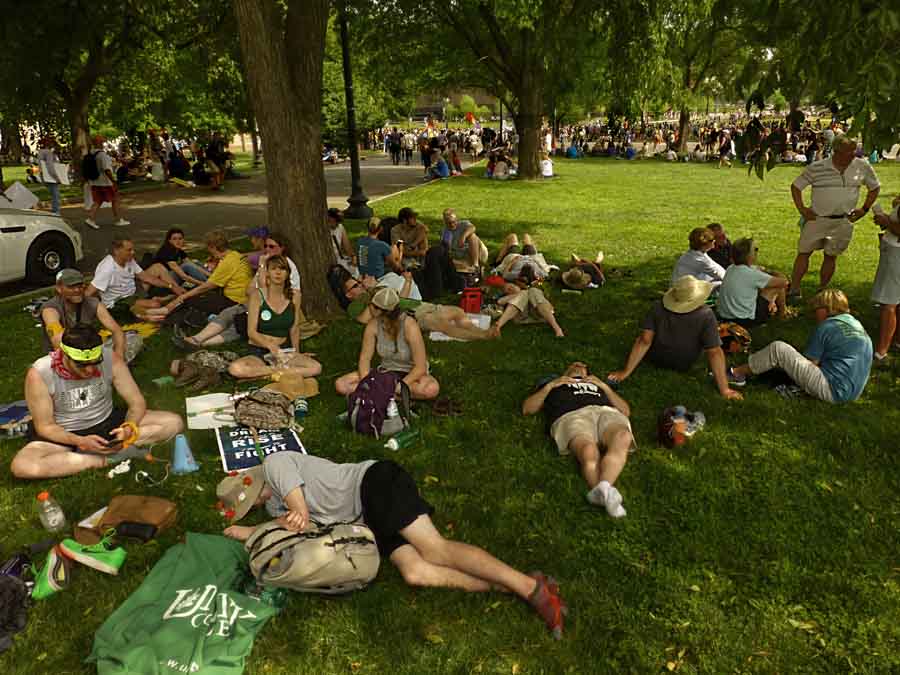 Basically, we're fine without the speeches.



CLIMATE MARCH WEBPAGE


C O N C L U S I O N




"We are not God. The Earth was here before us and it has been given to us."




--Pope Francis,




Encyclical Letter "Laudato Si'"




on Care for Our Common Home




25 June 2015




http://w2.vatican.va/content/francesco/en/encyclicals/documents/papa-francesco_20150524_enciclica-laudato-si.html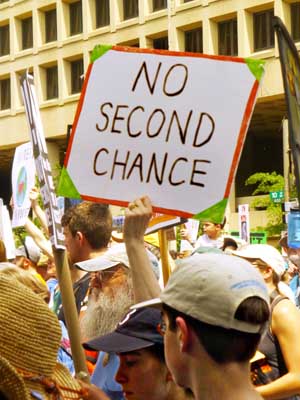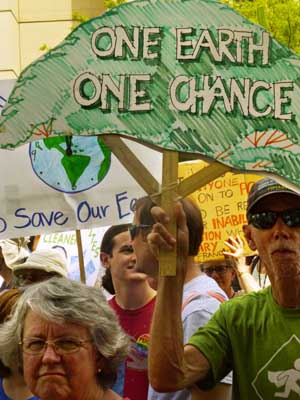 The planet was here before us.
The planet will be here after us.
We are not here to save the planet.
Our challenge is to save ourselves.
The family of man is Rev 1 in the program for intelligent life.
Revision One Humans are unable to create sustainable civilizations.
All civilizations in all of human history have failed.
We put on comfortable clothing in summertime to go look at the monuments of civilizations that have failed.
What is the age of the earth? The earth is 4.568 billion years old, plus or minus one million years.
From author John McPhee, I learned a dramatic way to understand deep time, time given by numbers too large for my Rev 1 brain to wrap itself around. Until McPhee, the age of the earth was another of these big numbers, a number too big to feel, too big to make a part of my life -- to dream about it, yearn to own or avoid it, to plan for it or act upon it in my models and dreams for my future, the models and plans upon which we meditate in quiet times, the realm of frontal cortex. [Kiki, are you reading this? This is the frontal cortex discussion we had at Swat. Sally, Kiki is in India w/poor Internet--can you edit? .--jerry].
I will give you Man's place in the history of our planet, our place on a human scale we can all grasp.
For McPhee's representation of the years in the age of the earth (4,568,000,000), stretch out your arms for me, finger tips wide apart. Like Michelangelo on the Sistine Chapel ceiling, Earth's Creation is the miracle of the fingertip. Earth forms at your rightmost fingertip. Heading for the opposite hand, and nearing only the first knobby elbow, we notice life has appeared in the oceans, although it takes a microscope to see it, and any land anywhere remains desolate, bare rock. These cells in the microscope's droplet of water, in the oceans around us, can't do much, but they are changing. By the time we reach the first armpit, the first big cellular accessory package has been installed ("chloroplasts") in many of these cells, and these installed chloroplasts bring oxygen to Earth's atmosphere -- oxygen, not from outer space, but from life itself.
The evolution of life on earth is a long, miserable, slow drag until sex and better genetics greet us just past the next elbow. You still need a microscope, the land is still bare rock, but, with better genetics and sex to shuffle the genes, the pace quickens. Real animals -- shells, muscles, sensory systems -- arrive before we reach the wrist. The race from clams to fish with backbones, amphibians, reptiles, birds and mammals has been run by the base of the pointer finger. Following the appearance of mammals at the base of the finger, we get to hominid mammals on the fingernail. The actual white of the nail, the last millimeter, enshrines all modern, human-like existence -- Neanderthals and worse. Rev 1 humans, Homo sapiens, is the last tenth of that last millimeter of fingernail. Smoothing the nail with a single stroke of the file removes all of recorded history.
The planet was here before us.
How long?
The big numbers of deep time.
The planet will be here after us.
How long?
The big numbers of deep time.
We are not here to save the planet.
Our challenge is to save ourselves.
Nature does not care if we prolong the failing experiment of Rev 1. My dear Congressman, Nature does not care if we fail, physics does not care, the Universe does not care. It was a good run. It was a large cranial cavity, just not large enough.
Limited evolution, limited dominance of neocortex over everything ancient which life brought forward from those before us, has left human cognition mired in simplistic thinking for control of territory, for advances in pecking order, baffled by deep time, unable to follow a global vision when the successes of our species gave us a global impact which demanded one.
Even in failure, Rev 1 can be proud of its achievements. We are:
-- the first species powerful enough to create our own partial extinction.
-- the first species to see in advance a coming partial extinction.
In the end, we earned the name we gave ourselves:
Homo sapiens, the one who knows.
--jerry
J. I. Nelson, Ph.D.
Society for Neuroscience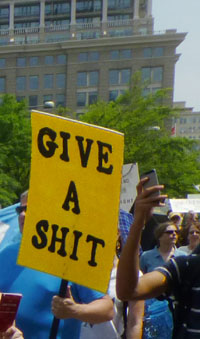 top
(you are in Climate March)
March for Science
home for this website
, such as it is (the 2017 marches are down in the Politics section)
Editorial comments, typos, some fresh way of making sense of life in our times, all welcome at jerry-va (the rest of it is at speakeasy dot net).
Rev 10May2017; Trump fired Comey at dinnertime last night. 23May 1st line of text 30May conclusion typo xyz