China Pumps Items under $5 into the US 1st Class Mail Service



The minimum an American must pay to send a box to China is $13.75 (10April2016 rates, 8 oz max, International 1st Class Small Parcel service). A flat item under 4 oz will go if you put $5.10 in postage on it. Of course, not everything is flat. But let's say it works. How can China sell anything on eBay for $4 to $5 dollars -- the whole thing, postage usually included? Chinese postage is magical for us. If our mailmen just carry everything for them, somebody must be paying for it.

The number of $4 to $5 eBay items for sale this moment (May 206, evening) from China, typically with postage included, is 728,403. Here's a selection from the 728,403 items in the $4 to $5 bracket.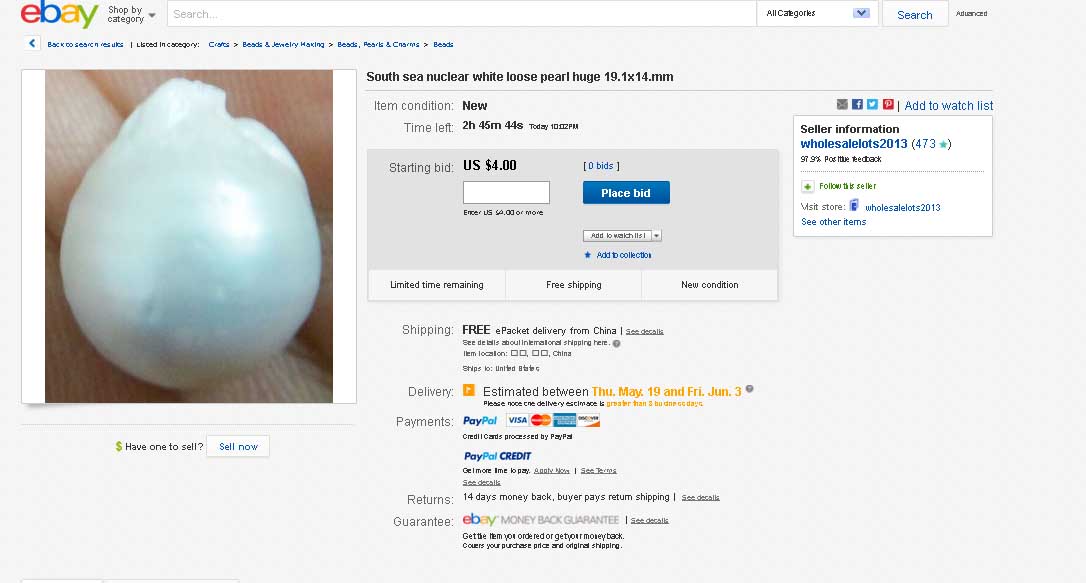 This is an interesting item -- it's so lumpy.

If the Chinese can use the ePacket system set up by eBay's trilateral negotiations with ChinaPost and the US Postal Service to sell items whose total cost is $5 or less, then they can't be paying much postage to use our postal system.

Our postage for a 4 oz flat to China ("International FLATS", Zone 3) is $5.10 -- just the postage, no item. That inspired me to see what China can sell postage-free for $4 to $5, less than our postage alone of $5.10. But can we mail this pearl for $5.10, let alone sell it

and

mail it

and

have a profit?

You don't get a cheap " $5.10 for FLATS" rate (4 oz) if your item is not flat. This 3/4 inch x 1/2+ inch pearl would cost an American $13.75 (First Class Mail International Package, Zone 3, 8 oz minimum) to China; it would have to go out as a small package or box. If our "flat" was not flat enough (more than 1/4 inch in thickness variation), why not make the whole thing into a thick enough little sandwich to protect the pearl? Because then you won't pass the flexibility test.

They can drop anything in a plastic bag and mail it, we can't. For Americans to enjoy what eBay negotiated for China, we need different rules, not just different rates. Chinese mail their plastic "ePacket" sealed bags a box, a wad of bubble wrap, any thickness. Americans are not just paying postage that costs more than the whole thing -- postage free! -- from China. Americans have also been left out of an entire new service negotiated on our behalf by our Postal Service and then turned on for China.

How much money will 728,403 listings earn the United States' Postal Service when these $4-$5 items are sold? Either the service that carries these items First Class across the USA either earns significant money and contributes to our post office profitability, or it does not. If it does not, then we are running our system into debt to support China -- a subsidy. I'm sure China can use our money, but why do we have to give so much corporate welfare to eBay? eBay gets millions of listings they can charge for, millions of payments from which they can take their cut. Ebay negotiated the tri-lateral agreement between ChinaPost, the USA mail system, and eBay. Corporations are run for their own profit. "The collaboration will make the most of the advantages of the three while helping expand eBay's profits," said Jeff Liao, CEO for eBay's Greater China, head of eBay's Asia-Pacific cross-border trade, and negotiator of your postal agreement with ChinaPost.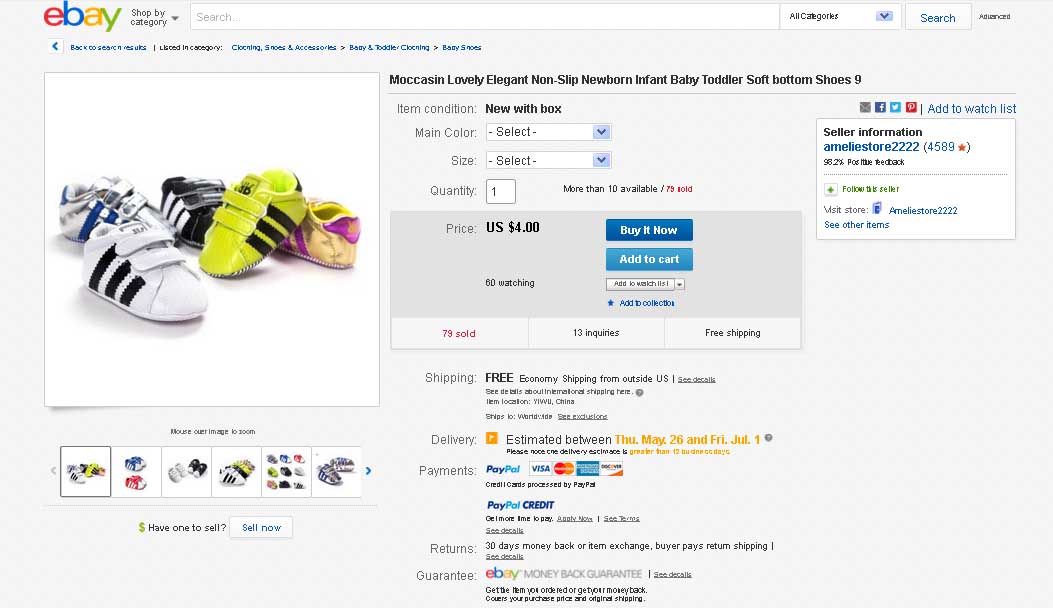 The $4 baby shoes leave China with "Economy Shipping", which is the cheapest service, and costs less than eBay's creation, the ePacket.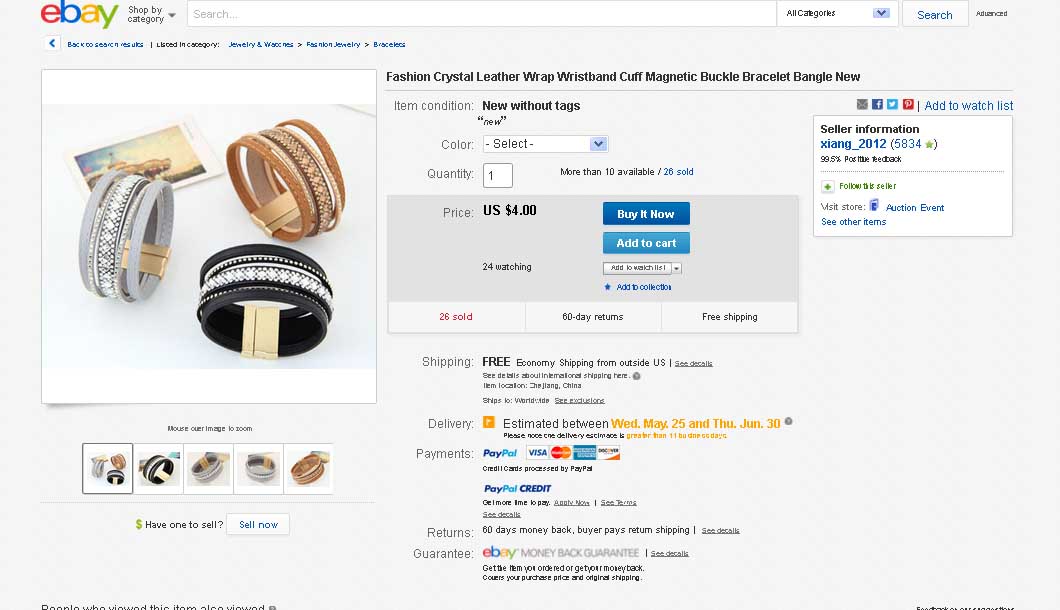 This free-shipping seller wants two dollars more to ship by ePacket, higher than others.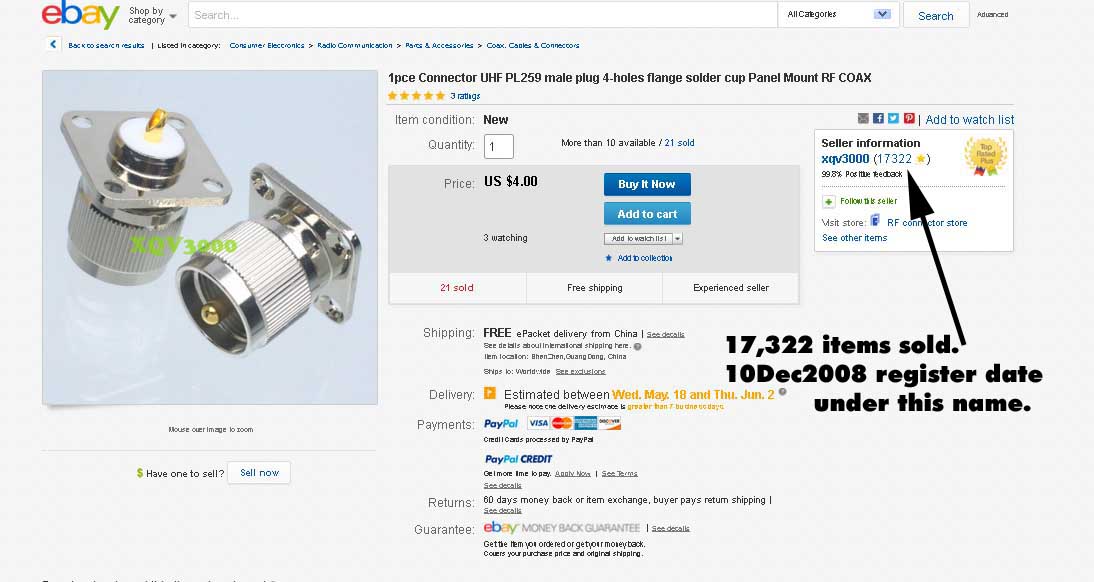 Even at the four-dollar level, seller like this one use the ePacket postal service which eBay got set up by driving negotiations and government policy at the Postal Service. However, ePackets -- full first-class American service, including scanning, tracking and delivery confirmation -- are not seller's dominant choice for items under five dollars.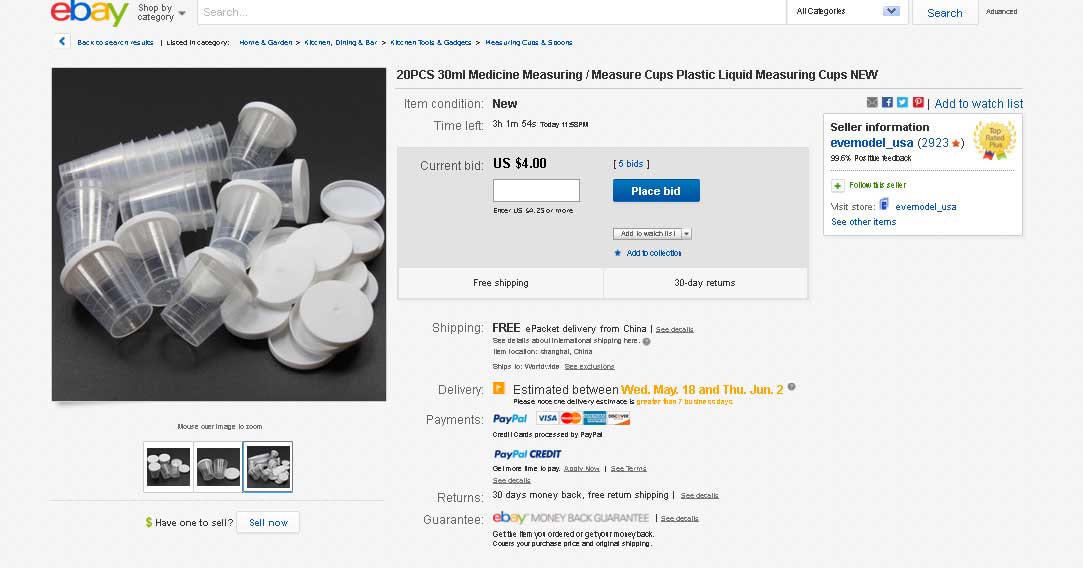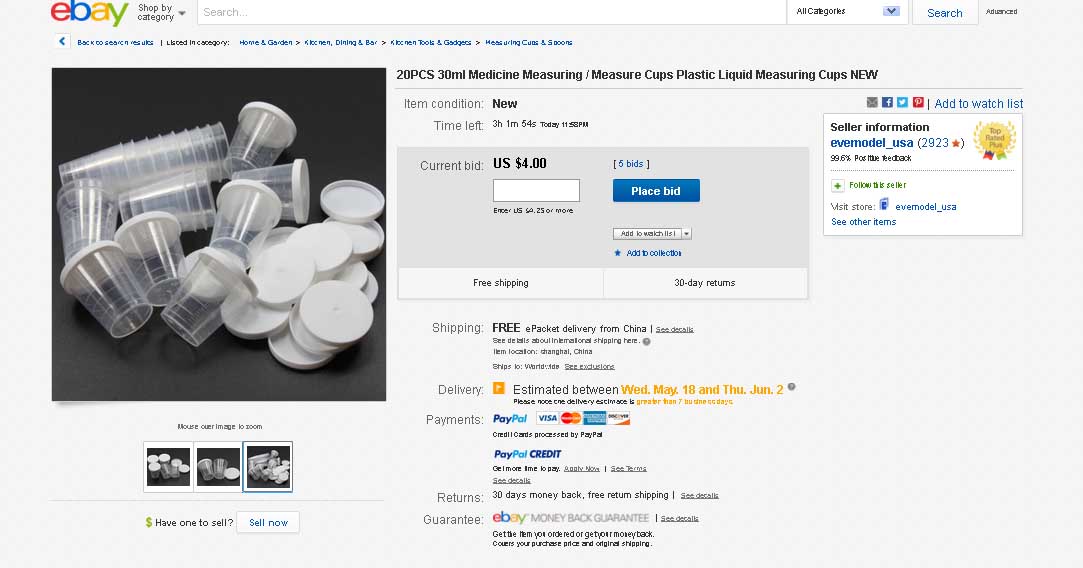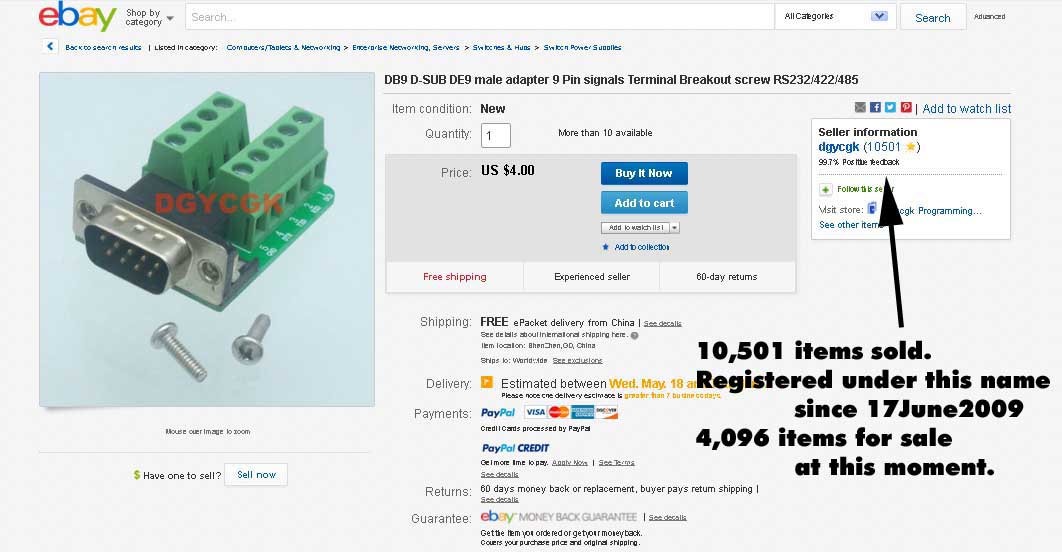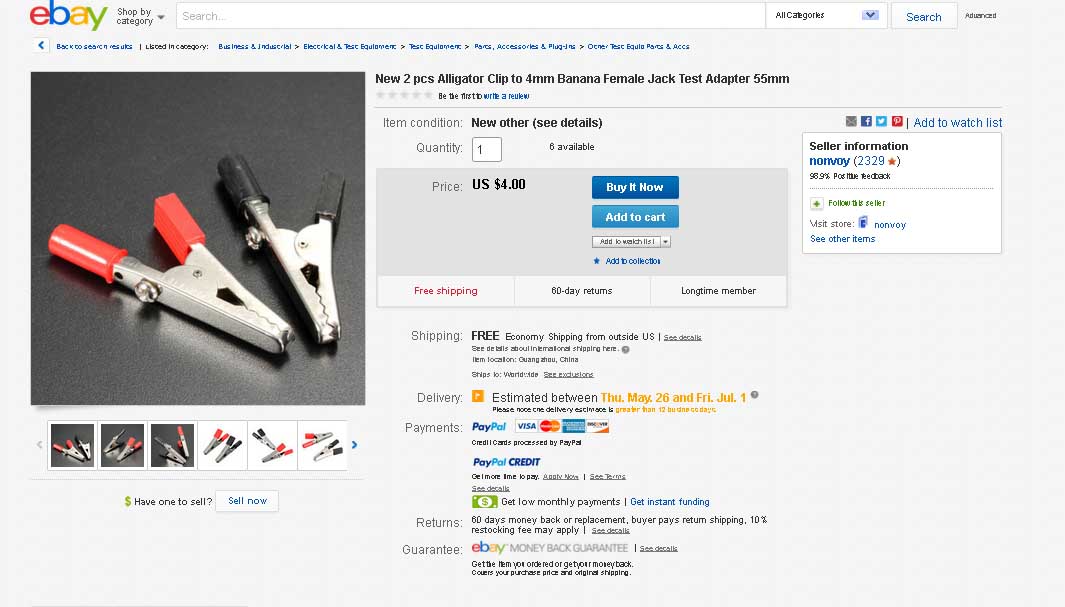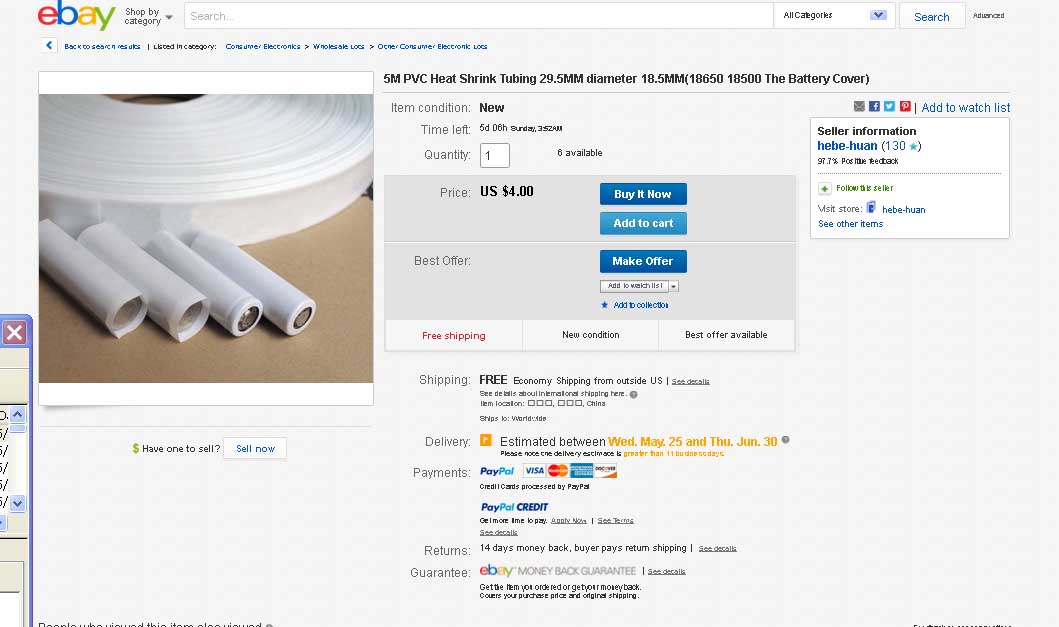 Here's a window into another world. When you ramp up a new battery line in a production facility, the first cylindrical cells ("rechargeable batteries") may fail quality control for your buyer and have to be sold as NoNames. The plain wrapper on a no-name battery is a length of heat-shrink tubing, shrunk down over the cell (photo). When you shut down a factory, what do you do with the leftovers? Sell them on eBay -- it's cheaper than paying for garbage collection.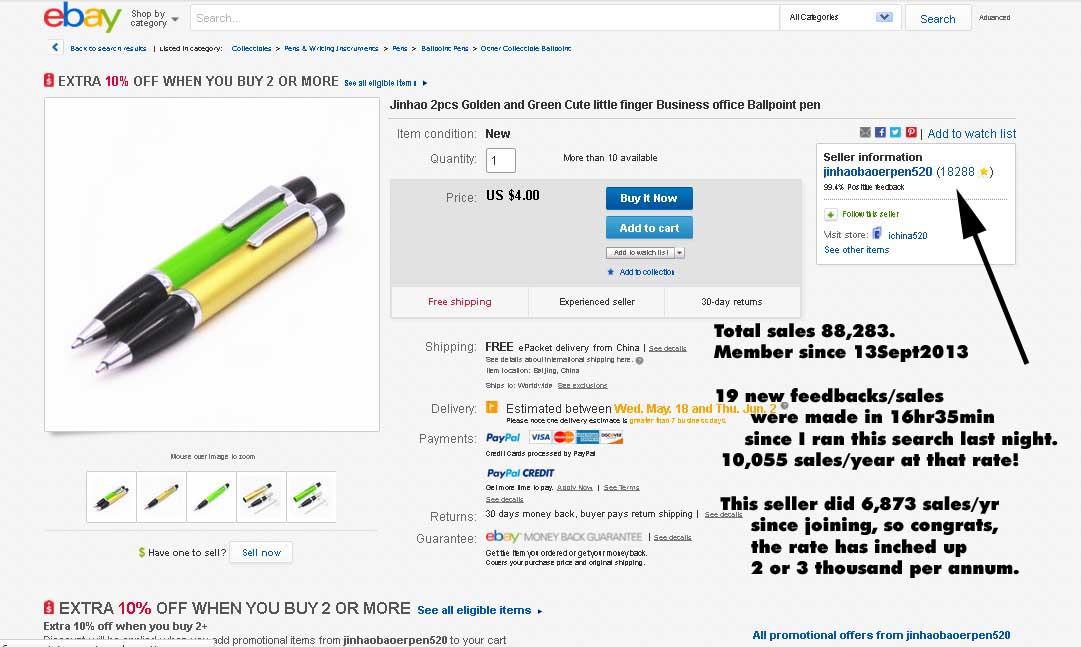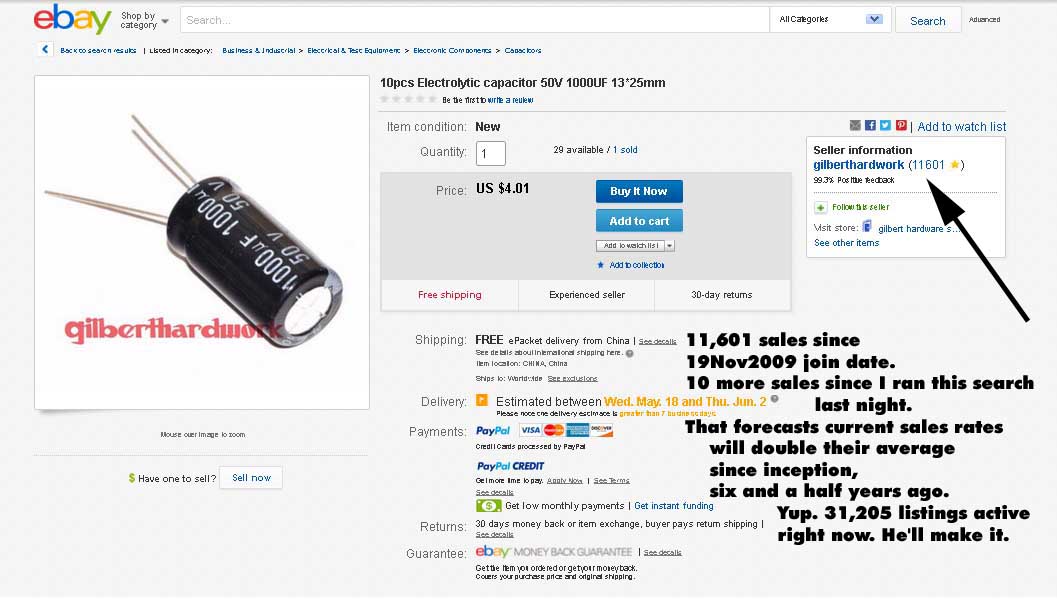 Other items from this seller mix consumer items with bits and pieces used to manufacture them.
Business & Industrial Industrial


Other Emergency & Safety Lights
Other MRO & IndustriaI Supply
Pneumatic Cylinders
MRO & IndustriaI Supply
IndustriaI Screws
Other Lab Supplies
Bearings for Manufacturing Equipment
Electrical & Test Equipment



Home & Garden


Other Home & Garden .
Other Home lmprovement
Other Fasteners
Air Conditioner Air Filters
Other Lumber & Composites
Other tools
Home lmprovement
Connectors, Clamps & Fittings






Sporting Goods
Cameras & Photo
Collectibles
Computers, Tablets & Networking
Crafts
Consumer EIectronics
Toys & Hobbies

I have seen other odd Chinese sellers like this on eBay. eBay invites you to browse their "store". You get a random salad of items. The seller's selection seems like a clearing house for just about anything you could sweep up off the factory floor or clean out of a market stall. Stunning.

I clicked something and the full list appeared.

They sell about 250 categories of stuff. It's not the length of the list that startles you, but what's on it. One category has nothing to do with another. Consumer goods are mixed with the tooling needed to manufacture them. Production line shifting? Entire factory shutting down? Why pay anyone to haul it away when you can make the item appear in America for magical amounts of postage and sell it there!

I'll show you every category sold by this eBay member at the bottom after the pictures. Have a look, you can jump back here.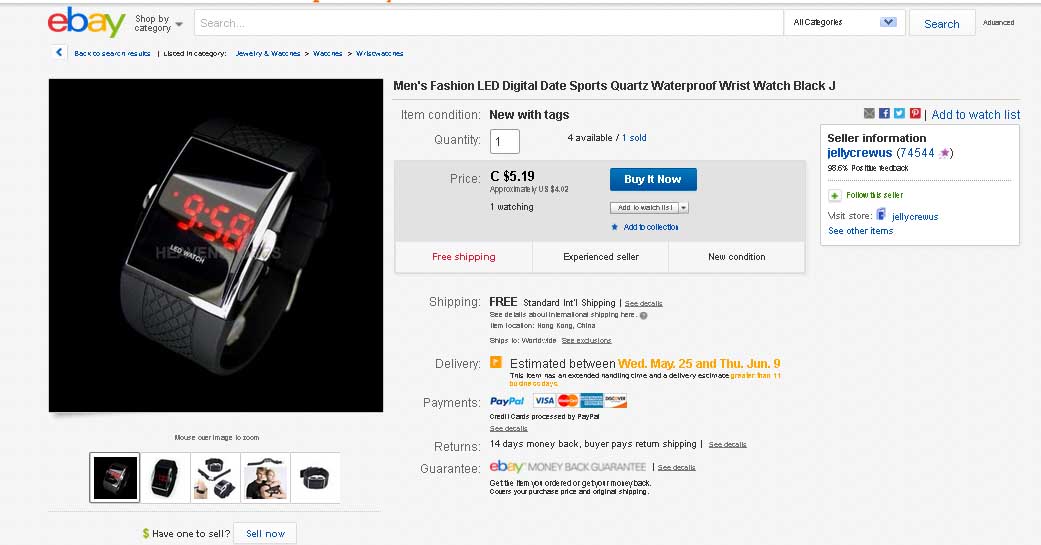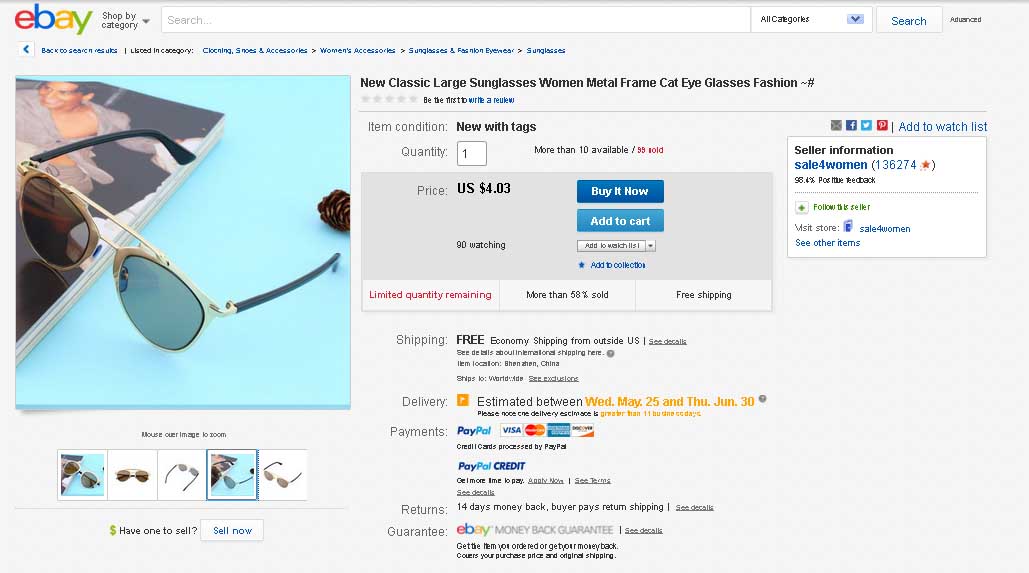 Ebay items from China for sale under $5, shipping included.

728,403 listings
between $4 and $5.
I am doing 200 items per screen, it doesn't go any higher.
I'm 18 screens into the list. Good that it does not tell me how many screens there are. Maybe 1,900? Too tired to think.
Due to quirks in eBay's search engine, we are working upward from $4.00 instead of down from 5. Got to $4.03.
Looks like a long night.
Do you suppose there's a lot of stuff at two or three dollars? How could they sell and ship at two dollars.
One dollar?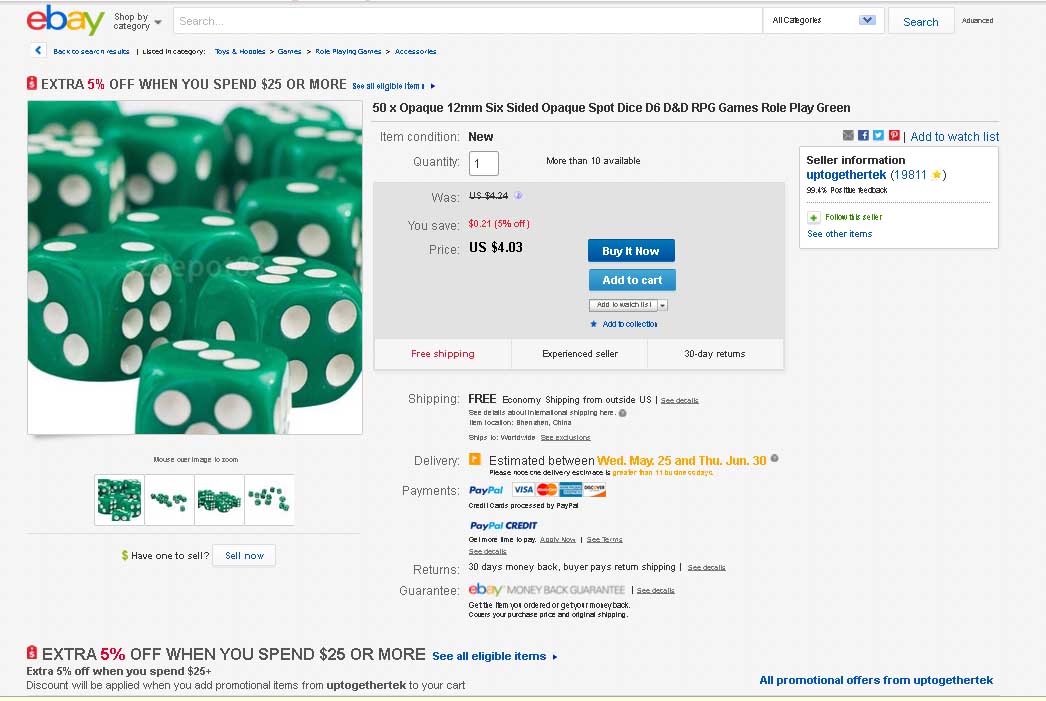 Shipper offers ePacket shipping for $1.17 more; some ask 73¢, hope America gets some of that.
Now that I've looked at gambling dice from a seller that specializes in sexy underwear,
my shopping experience on eBay ("You may also be interested in . . . ") is changed forever. :-(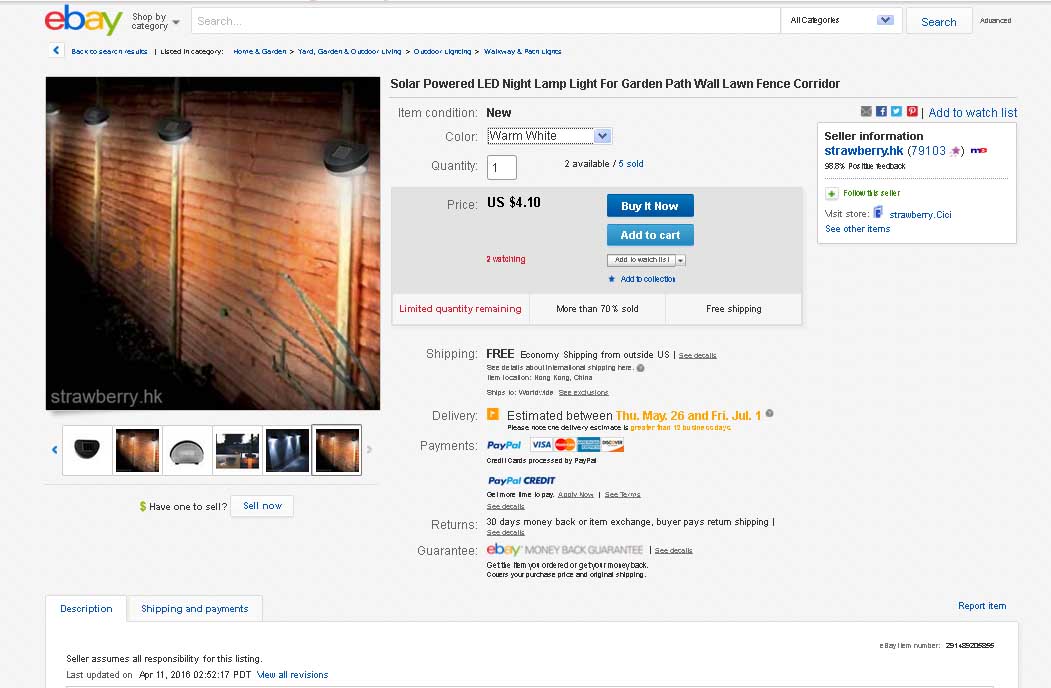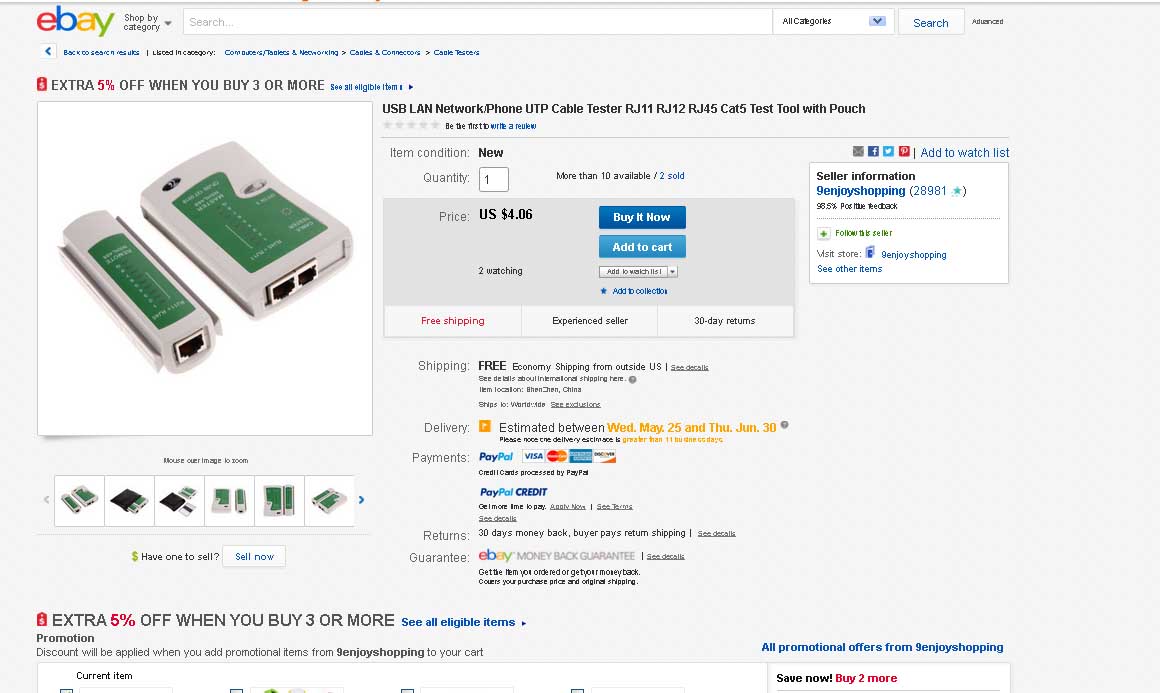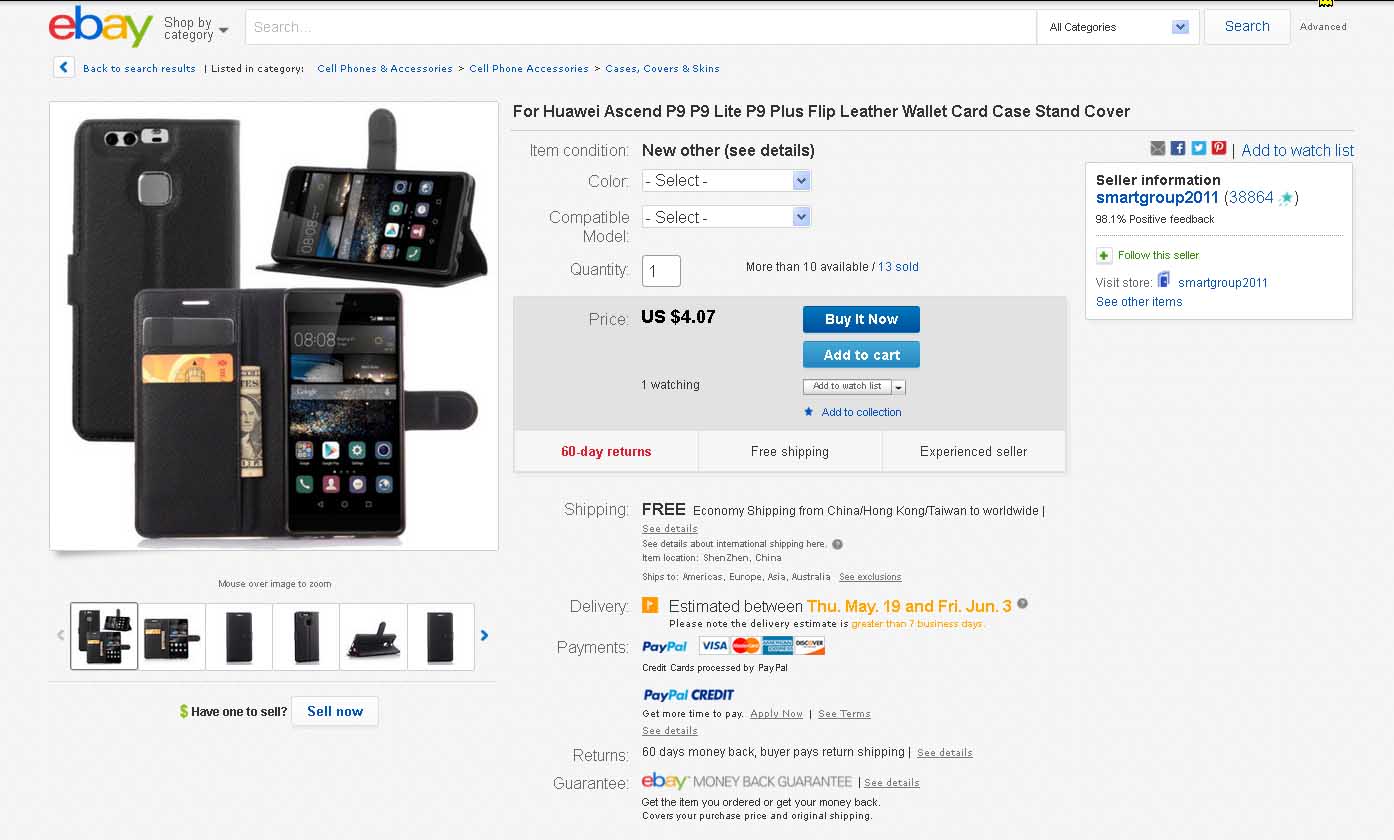 $4.07 free shipping; $2.99 for ePacket is out of step with most sellers, who will do ePacket for a dollar more.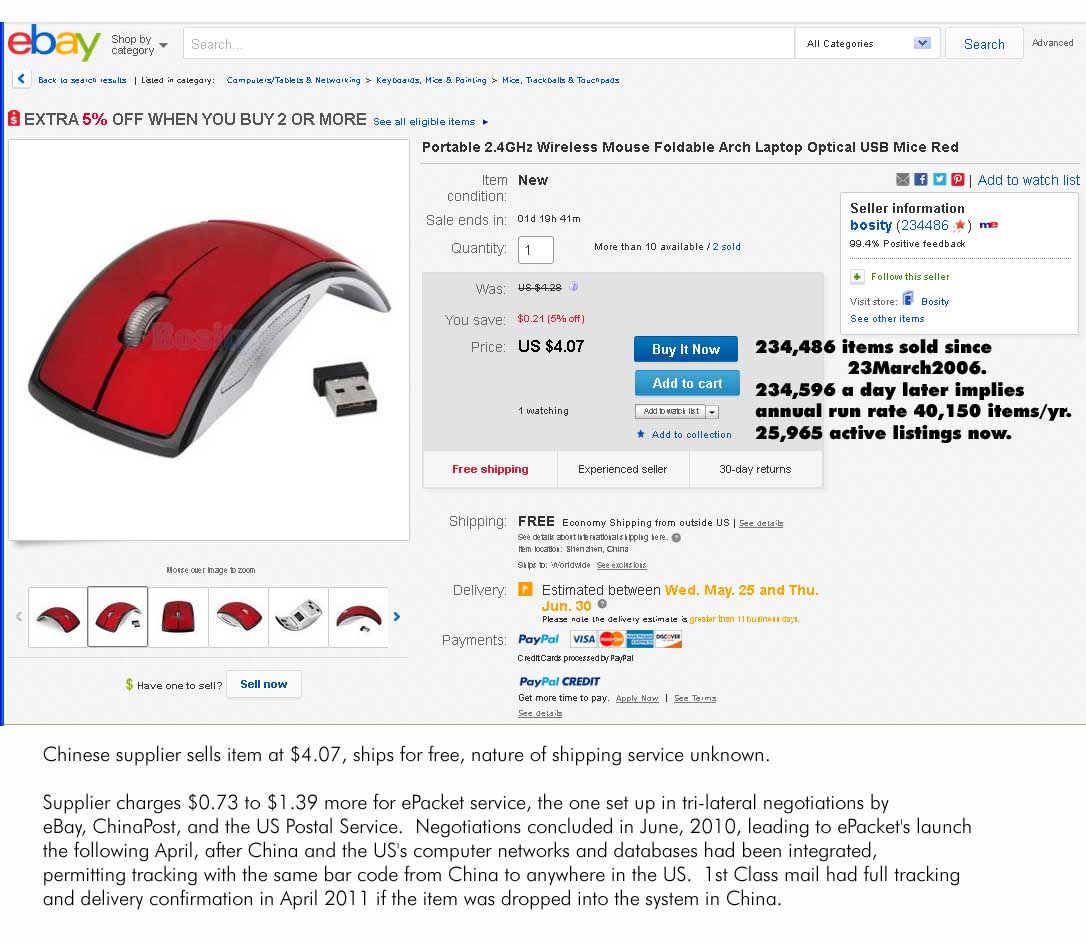 31,210 Items are Listed Tonight by One Chinese Seller in these 250 Categories

Don't litter, keep China beautiful, magical shipping moves all this to America.


--------------------------Industrial & Electrical
this seller's $4-5 item picture (a dark gray capacitor)
Electric Tools top of this $5 page
Motors & Transmissions main postage page - China/eBay rant at the end
Indicator LED Lights
main postage page - top, mail rates
Other
bottom
Resistors
Pressure Gauges
Sirens & Alarms
Electromagnet
Aviation Plug
Clamps
Power Supplies
Solar Controller
Drill Bits
3D Printer
Accessories
Heater
--------------------------Electrical & Test Equipment
Fuses
Wire & Cable
Nylon cable gland
Metal cable gland
Probes
Instrument
Transistors
Other
Terminal Blocks
Electronic
Components
Switches,Relays
Timer Switches
Push Buttons
Temperature Switches
Circuit Breaker & Transformers
Overload Switches
Micro Switches
Proximity Switches
AC Contactors
Multimeters
Socket Bases
Selector Switches
Power Relays
DIP Switches
Boat Rocker Switch
KWH Meters
Arresters
Change-Over Switches
Emergency Switches
Light Control Switches
Disconnect Switches
Stick Switches
Switch Accessories
DIN Rails
Drum Switch
Other
--------------------MRO & Industrial Supply
Hoist Remote Controllers
Pendant Controllers
Rubber damper
Welding Gloves
Ceramic Products
Industrial Endoscope
Tapes
Others
Swivel Wheels
Pumps & Plumbing
Brass Ball Valves
Stainless Ball Valves
Check Valves
One Way Check Valves
Needle Valves
Pressure Relief Valves
Oil Distributor Valves
Gas Valves
Brass Fittings
Swagelok Coupler
Other Fittings
Plug Fittings
Pump Accessories & Parts
-------------- Manufacturing & Metalworking
Abrasives
Molybdenum Wire
Other
Toggle Clamp
Knurl Tools
Hand tools
Woodworking Tools
-------------- Hydraulics & Pneumatics
Tube Connectors
Air Pipe Hose
Other
Pneumatic Valves
--------------Sports & Outdoor & Protection
Foot Protection
Chemical Boots
Insulated Boots
Safety Shoes
Anti Static Shoes
Glasses
Noise Protection
Head Protection
Vest Protection
Knee Protection
Armor Protective
Mask Protective
Stick & Shield
Other
Cycling
-------------- Home & Garden
Purifiers
Air Purifier
Furniture Leg
Water Filter
Accessories
Nozzle & Sprayer
Bath
Handle
Other
Pumps
Wood Carved
-------------Healthcare,Lab & Life Science
Other
LAB Supplies
Teaching & Learn
Embedded Specimens
Specimen tools
Medical Model
Trilobite Fossils
Rock Specimen
Camera & Photo Accessories
Filter
Flash Brackets

------------Fasteners & Hardware
Grub Screws
Hex Socket Bolt
Stainless steel screw/nut
Steel Outside Hex Screw
Brass Hexagon Spacer
Hex socket Countersunk screw
Slotted cheese head screw
Brass Countersunk head screw
Eyes Bolts/Nuts
Brass Cross Recessed Screws
Hexagon Threaded Spacers
Round Hexagon Bolt
Brass Outside Hex Screws
Brass knurl nut
Nylon Metric Screws/Bolts
Stainless steel eyelet bolt
Fine pitch thread nut
Washers
Stainless steel studs
Stainless steel wing screw/nut
Wire Rope Clips(L)
Wave washer
photo album screw
Nylon Stainless steel lock nut
Stainless steel flange nuts
Cover Nuts
Nylon Metric Nuts
Nylon outside hex screw
Other
Brass Hex Nuts
Brass Wing Nuts
Left Hand Nuts
Rivet Nut
Nylon Countersunk head screw
Tripod Camera Screws
Four Claw Nuts
Rubber Products
Titaniums
Mould Springs

-------------------Bearings
Roller Liner
Bearings
Deep Groove Bearings
Micro Model bearing
rubber seals
steel shields
Flange Bearings
Common Flange Bearing
Stainless Steel Flange Bearing
Thrust Needle Bearings
Axial Ball Bearing
Needle Roller bearing
Rod End Joint Bearings
Stain Steel Ball Bearings
One Way Clutch Bearings
Bearing Balls
Bearing Pullers

------------------Cylinders
SDA Cylinder
SDA Cylinder Double Acting
SDAD Double Rod
SDAS Cylinder with Magnet
SSA Single Acting Push Type
STA Single Acting Pull Type
General Model Cylinder
CDU Cylinder
CDUW Double Acting Double Rod
CDU Double Acting Single Rod
CDUK Non-Rotating Rod Type
CDU Single Acting Single Rod
CXSM Slide Bearing
CXSL Ball Bushing Bearing
CDM2B Single Acting
Spring Extend
Spring Return
MXS Cylinder
MXS Adjuster on both ends
MXS Adjuster on extension end
MA Cylinder
MAD Double Rod Double Acting
MTA Single Acting-Pull Type
MSA Single Acting-Push Type
MA Single Rod Double Acting
CDQSB Single Acting
Single acting
Spring Extend
Single acting
Spring Return
TDA Cylinder
CDJ2B Cylinder Single Acting
Spring Extend
Spring Return
CDM2B Double Acting
CDM2WB Double Rod
MXH Cylinder
CDQSB Double Acting Single Rod
CDQSWB Double Rod
Rotary Clamp Cylinder MKB
CDJ2B Cylinder Double Acting
CDJ2D Cylinder
CXSW Cylinder
MSQ Cylinder
MHS Air Gripper
Other Cylinders
Sealing Ring

-------------------------Crafts
Sewing
Sewing Machine
Accessories
Fabric Cutters (21 kinds)

---------------------Auto Accessories
Auto Repair Tools (selection of 47)

Things even we couldn't recognize
we put in our "other" category.

------------------Other (603)
"Other"? I can do this!!
Dremel wire brushes, what's so hard about that?
An optical refractometer for measuring the
alcohol "proof" of drinks. Neat.
Screw pitch guide, like the Starrett one.
$46 for Starrett, $8.90 China.
Food processing plant pumps and tubing
Diamond saw blade for granite counter tops
Pumps for automobile windshield washers
Brushes to put in motors that wore out.
Tool bits for the ones that wore out
on your CNC engraving machines
Remote control radio transmitters for
running construction cranes
next time you're pouring concrete
foundations.
Electrical solenoid valves for propane, water,
fuel, you need, we got.
20 of some, 30 of others,
they're selling.
--end categories of items in one Chinese seller's "store"

Keep China beautiful, move it all here.
this seller's $4-5 item picture
top of this $5 page
main postage page - China/eBay rant at the end
main postage page - top, mail rates