Bottom & links
An unofficial site by Jerry Nelson.
First Class letter 49 cents

until at least Jan2016

---=---
Inspired by the friendliest home town post office in the USA, Lafayette, TN
(see
"My Two Bits"
at end)


Note: mail that can't get through a sorting machine costs more.

A flat, flexible business-sized envelope is cheaper than a flat, flexible manila envelope that needs bigger sorting machines and they are cheaper than thick, inflexible envelopes of the same size and weight that are UNMACHINABLE.
Letters 1st Class
49
¢+21¢
/oz
Not over:
1 oz

$0.49 +21¢/oz & bad envelope penalty is also 21¢
2 ounces
$0.70
3 ounces
$0.91
3.5 oz
$1.12 Heavier? Go to FLATS (next).
Up 3 cents from $0.46 on 26Jan2014.
Incrementing 21¢, not 20¢, on 26Jan2014.
Nonmachinable surcharge ("bad envelope penalty") 20¢ -> 21¢ 26Jan2014.
more price history
dates when rates changed (helps you search for historic data)

Rigid object inside? Metal clasp? Button & closure string?
Add non-machinable surcharge ("bad envelope penalty").
Square? Goes though their machines but they can't tell which way? Add $0.21
Almost square (less than 30% height-width difference)? Add $0.21.
Too skinny? (long length more than 2.5x short)? Add $0.21.
Length over 11 ½" ? Go to "Flats" (next)
Height over 6 1/8"? Go to "Flats".
A "Size 14" envelope is OK; Size 10 is normal.
If you want to send someone a stamped, self-addressed envelope ("SSAE")
to return-mail you, it's nice to get a few Size 11 envelopes to put the #10 into.
Thicker than ¼"? Go to "Flats".
You're a corporation using metered mail? Congratulations! Take off 1¢.
Not a corporation, tired? Sorry. Too bad. Congress gave away its power of oversight and let the Postal Service change rates by itself.
"Flats" (Large 1st Class Envelopes)

1 oz $0.98 Starting 6¢ higher in 2014, and add 21 cents each additional ounce not 20.
2 ounces $1.19
3 ounces $1.40 (fold it in half and go in a business envelope for 91 cents)
4 ounces $1.61
5 ounces $1.82
6 ounces $2.03
7 ounces $2.24
8 ounces $2.45
9 ounces $2.66
10 ounces $2.81
11 ounces $3.08
12 ounces $3.29
13 ounces $3.52, up from $3.32 before Jan2014

FLATS:
Over 13 oz?
Consider Priority Mail flat-rate envelope.
Your envelope is inflexible, lumpy,

not

rectangular?

G

o to "Packages".
(No cardboard to prevent creased photos, sorry.)
You want to send the photo anyway,
you've padded the envelope with stiff paper to protect it,
but your envelope is still less than 1/4" thick?
Stop! Go back in the house and find a sheet of bubble wrap, anything, to reach 1/4".

Length over 15"

? Go to "Packages".
Height over 12"?
Go to "Packages".
Thicker than 3/4"? Go to "Packages"
Under 3/4" but lumpy? Klutz! Go to "Packages", pay more.

Still confused? Make sure your letters are white, your flats are manila envelopes, and read this.

After 12May08, it went up 3
¢
After 11May09, it went up 5
¢
After 17Apr11, is incremented 20
¢
/oz instead of just 17
¢
After 22Jan12, it went up 2
¢
After 27Jan13, it went up
2
¢
After 26Jan14, it went up 6
¢
After 26Jan14, is incremented 21
¢/oz instead of just 20
¢.
Small Packages / Parcels / Lumpy envelopes 1st class
These are padded envelopes over 3/4" thick, rigid photo mailers, medical samples, small boxes under 1 cubic foot. If it's not cubic but very rectangular, then girth + length have to be under 108".

You may write on your little box, "1st Class Airmail." The official names were "1st Class Package" or "1st Class Mail Parcel" but those seem to be fading. In 2013, "Parcels" became an official name. Whatever. JUST REMEMBER, THIS IS NOT "PARCEL POST". These are PHYSICAL "Parcels", but the SERVICE CLASS is not "Parcel Post".
We told you it is not Parcel Post, and we told you again. Just to make sure you get it, we are abolishing Parcel Post entirely. There's no such thing. Get over it. As of 27Jan2013, those big cartons are STANDARD POST. Again: these small cartons are "Parcels", there's no such thing as "Parcel Post" and the big parcels are "Standard Post". ((When did I start this Web page? What ever made me think I could find the logic in all this, let alone explain it to anyone?))


2011: No longer available on-line to the American public.
Pitney-Bowes can print it for eBay Inc, but you and I have to stand in line at the Post Office. We are only citizens.
But wait! To send small 1st Class Packages ON LINE, go to this unpublicized URL ("Universal Resource Locater" or Web address): https://www.paypal.com/ShipNow (Thank you, JohnD.)
You must be a registered PayPal user (a part of eBay, Inc). You must enter a PayPal user name and password. No coffee breaks! If your session times out, you'll lose the address you were typing and have to start over.
This page normally comes up only if you sold something on eBay and must ship it. There is not supposed to be public access. When public access to this URL is shut down, there will be some excuse. You didn't sell on eBay, we don't know what you are sending. But all our parcels are subject to opening for postal inspection, so tell me again, What are you afraid of? Explain one more time why it is up to eBay, Inc. to say whether we, the American people, have the right to use our own postal system? Keep small parcel access available on line -- the Post Office needs the money. Americans want a Postal Service. Our Constitution (Sec 1, Art 8) promised one to us. Feb2014: Still no public online access to First Class Mail Parcel postage. This is stupid.
1 oz $2.32
2

ounces $
2.32

3

ounces $
2.32
and add 18 cents each additional ounce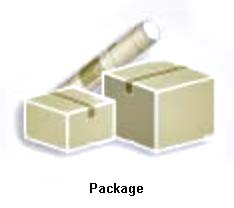 4

ounces $

2.50
5

ounces $

2.68
6

ounces $

2.86
7

ounces $

3.04
8

ounces $

3.22
9

ounces $

3.40
10 ounces $3.58
11 ounces $3.76
12 ounces $3.94
13 ounces $4.12


(After 26Jan14, it went up 25
¢. Wow! No wonder they only talk about 1st class stamps.)
(After 26Jan14, the increment increased from 17
¢/oz to 18
¢/oz, so 13oz goes from $3.77 to $4.12)
a little more price history

THE CARTON SYMBOL: To get the above small carton estimates even if you can't purchase the postage on-line, enter the USPS site by clicking on the cartons symbol and look for "First Class Mail & Other Options. "
http://postcalc.usps.gov/

YOUR CONSOLATION PRIZE: PARCELS MIGHT STILL BE PRIVATE
Congratulations! Your mail is a parcel! The fiber optic cables are tapped, your emails are stored forever in giant data centers (we're talking the whole message here, not "metadata"), but you have made it to

PARCELS

, which are too big to scan. We have images of the envelope for every letter sent through the mail system, but these are **parcels**, so
, as far as we know, the government does not know what you are sending or getting from friends. However, if you are getting something ordered online, the NSA has a package interception program for computers so that they can open the box, plant software or hardware bugs the size of a pencil eraser inside the machine , and seal and send it on its way before anyone notices a delay. Are you kidding, how do they know I ordered a new notebook computer? Umm, well, uh, errr..... look, could you maybe go a little slower and just read this paragraph over again?
BIGGER THAN "FLATS"?

If

over 13 oz domestic

, try Priority Mail flat rate boxes (any weight if you can fit it in). Once you're over about 15 lbs, Standard Post (formerly Parcel Post) will never be cheaper than a Priority Flat Rate box.

You are not over 15lbs, Priority flat rate is not such a good deal for you, you want some kind of parcel service. OK:


Online: "Parcel Post Select" purchased online includes free tracking.
Length plus girth for Parcel Post

Select

is 84 inches max.
Length plus girth max for ordinary Standard Post (formerly Parcel Post) is 130 inches -- the Postal System's absolute max.

Too big for the box?

I prefer the brown UPS trucks from ups.com. You have to register.
Length plus girth over 108"? Go to Standard Post calculator. No even Priority will take you.
Length plus girth over 130" Go to UPS like I told you -- Post Office won't take it.
If over 13 oz and going overseas, you want "First-Class Package International Service" good up to 4 lbs. (Other names: "1st Class International Parcel", "1st Class Mail International Packages".) After that, try Priority Mail International's flat rate boxes (limited to 20 lbs to most countries; see International section next).

Posters rolled up (maximum post office length): Global Express Guaranteed is only 46", Express Mail Intl. is 60", domestic Priority Mail is maybe 60", and sometimes there is a formula of length plus how tight you rolled it up, so you don't really get the maximum. They can't seem to pick one rule. Once anyone figures out what the rule is, they change it.

International Airmail Letters $1.15
1 ounce any country $1.15.

Thank you, dear P.O., for making first-ounce foreign letters the same to anywhere. And in 2013, for Global Forever stamps :-)
Try this search for Global Forever stamps at store.usps.com

One ounce is a business envelope with 5 sheets of typical Xerox paper, or 1 sheet and six 4x6" photos. Leave out 1 sheet or 1 photo to be safe. "3.5" oz means you can't weigh more, but you pay for 4 oz.
Limits, all countries: value under $400, size under 6 1/8" x 11 1/2" x 1/4" thick (same envelope limit as domestic).


CANADA 1 oz $1.15
2 oz $1.15 which is 0
¢
more
3 oz $1.61 which is 46
¢ more
3 1/2 $2.08 which is 47
¢ more, because we had nothing to do one day,
so we had an extra committee meeting to discuss it,
and we had to decide something,
so we made each additional ounce different.

MEXICO 1 oz $1.15 +57
¢/oz
2 oz $1.72
3 oz $2.29 We have to bribe them to take the letters, so they cost more.
3 1/2 $2.86


Rest of World 1 oz $1.10
2
3 Check your

country group

below.
31/2

COUNTRY GROUPS
Group 1 Countries is CANADA (see above).
Group 2 Countries is MEXICO (see above).

Cheaper Countries, Groups 6-9. Central and South America, Middle East, Africa,
central
Asia, New Zealand, Philippines, Taiwan

1 oz $1.15

2 oz $1.98 +83
¢/oz
3 oz $2.81
3 1/2 $3.64

Costly Countries, Groups 3-5.

European Union (France, Italy,
places with chateaus & good food) ,
Russia & Turkey, China, Hong Kong,
South Korea, Japan, & Australia
(kangaroos, spy satellite stations).

1 oz $1.15
2 oz $2.13 that was 98
¢ more

3 oz $3.12 now it's 99
¢ more. Why?
3 1/2 $4.11
some price history
check other countries:
http://postcalc.usps.gov/
BIGGER THAN A LETTER? MORE THAN 3.5 OZ?
Int'l Flats - "1st Class Mail International"

Envelopes up to 15" x 12", weights up to 4 lbs.

Canada, roughly $4 / lb
Mexico roughly $7 / lb
ROW roughly $8 / lb

OVER ABOUT 2 1/2 POUNDS: To ROW (Rest Of World) at over about 2.5 lbs, a Priority Flat Rate Envelope will be cheaper. Get the legal size 9-1/2" x 15" -- same price, stnd size is smaller for international.

ONLINE: select the large plain envelope icon at http://postcalc.usps.gov/ . On next page, click to unhide "First-Class Mail Int'l Options". You still cannot buy the postage online as of 1/2014. This is stupid.
FLEXIBLE: International Flat envelope cannot be rigid (so it can round the curves on their conveyors past high-speed scanners). And thickness? We are going up to 4 pounds here, folks, so the infamous "quarter-inch rule" does not apply. Instead, the warning is,

don't have more than 1/4" VARIATIONS in thickness.

If you fail the thickness test, you are a First Class International Package box -- prices are 40, 50% higher, even double for the low weights.

EBAY RETURNS TO CHINA: a padded envelope International Flat is your lowest possible cost -- $2 or $3 to return one dead CPU or fraudulent USB thumb drive.

USE BIG ENVELOPES FOR "FLATS": Don't try to mail a small envelope over 3.5 oz. "LETTER" service up to 64 oz was dropped on 12May2008, so now there's only big "flats". Fill the airplanes with big envelopes, that's what they expect.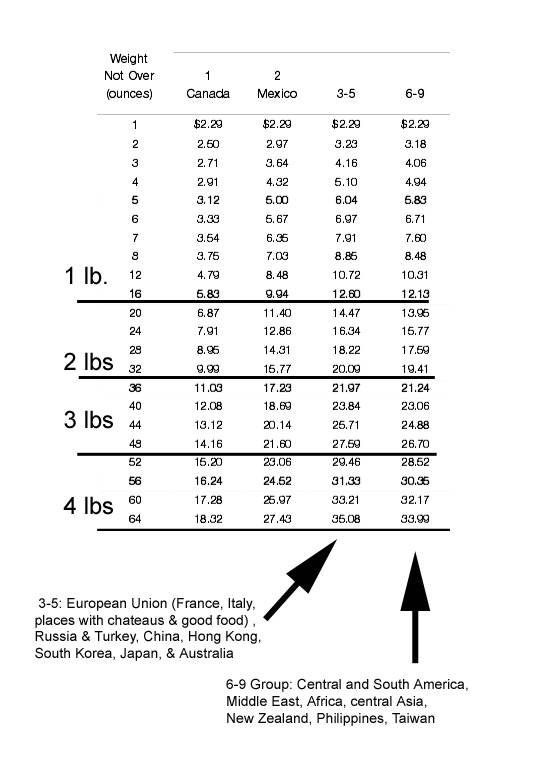 HEAVIER THAN 4 LBS?
Priority international boxes take up to 20 lbs, cost a fortune, and require the #2976 Customs Form. Sketched in Priority section below.
1st Class Mail International PACKAGES - 4 lbs
Flat rate Priority Int'l is reasonable, but, if you can't fit their flat rate boxes, then you need 1st Class Mail Int'l PACKAGES.
First-Class Mail Int'l PACKAGES is also called
First-Class Pkg INTERNATIONAL SERVICE, aka
First-Class International PARCEL.
This is the "Letter Post" group which embraces everything that is not "shipping", which embraces all forms of international mail: LCs (Letters and Cards) joined with AO ("Air Mail -- Other").

January 2013 rate increases more than doubled some prices. There is no change in Jan2014.

Size limit is 1 cubic foot maximum, and no one dimension over 24 inches.
Rolled up poster max width: 36" x 3"diameter.
Customs Form 2976 (the green one) must be filled out, max value is $400.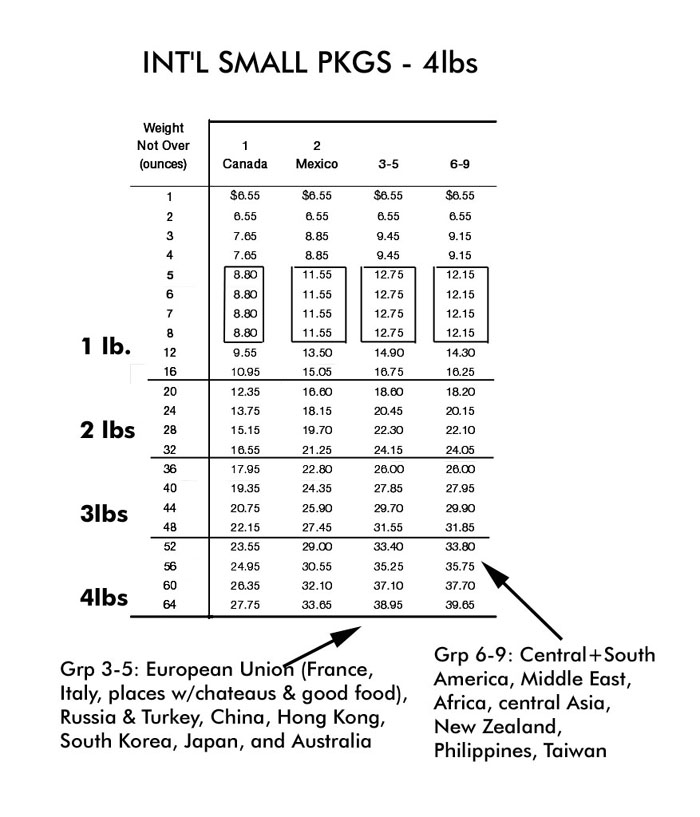 STUPID COUNTRY LIST at USPS: The USPS calculator gives you a list of about 180 countries. Stupid. They do not tell you that there are only two groups of countries besides Canada and Mexico. Unhelpful. These two groups are the same "Cheaper Countries, Groups 6-9 (Central and South America, Middle East, Africa, central Asia, New Zealand, Philippines, Taiwan) and "Costly Countries, Groups 3-5" (European Union, Russia, Turkey, China, Hong Kong, South Korea, Japan and Australia) that we saw for International Airmail letters. They used to list 500 destinations, back when they put all the islands in.

STUPID ZONE SYSTEM: Cheaper and Costly country group rates have become overlapping. The complexifying distinction could be abandoned to make a single group. Less complexity means greater simplicity. Greater simplicity means greater sales.

To get the appropriate USPS calculator, pick the small carton symbol, enter a weight under 4 lbs, and a country overseas. Less expensive ways to send your stuff like this one are hidden. This international package service is listed last as a closed menu item. The closed menu item looks like a single text line, but it is really a clickable button. You must click to reveal the hidden menu of additional option choices. Hiding the choices people need is not what a democratic government does to its own people.

Postcard 34¢ International $1.15 world
4 ¼ x 6" max, 0.016"

max (0.016" is "16 mills". A typical business card is 12 mills)
Minimum thickness 7 mills; cheap glossy ink jet photo paper is 10 mills, so mail it.

Too big?
Too bad. Use rates for domestic first class letter.

International postcards same, but must be

5 1/2"

- 6" wide vs 5-6" domestic.

Domestic postcards can be more square-ish, up to 4 1/4" high by only

5" wide

.
Goes through the sorting machines, but which way?
Normally, "rectangular" means a 30% high-vs-wide difference, so this is a mistake.
$1 gets you five that square-ish domestic cards will disappear.


DOMESTIC Postcards Increased
1
¢ 26Jan14 to 34
¢
INTERNATIONAL increased 5¢ to $1.15 for all countries 26Jan14

more price history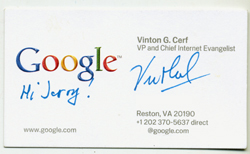 16 mills
THICKNESS LIST
3 mills (0.003 inch) - El Cheapo copier paper
4 mills - brightest white copier paper
7 mills + is legal for postcards
9 mills - sheet of ordinary ("110 lb") card stock (good enough for post cards)
11 mills - glossy 4x6 photos (Postcards can be 3.5 - 4.25 x 5 to 6 inches -- just mail your photo.)
BUSINESS CARDS
feels cheap: 8 mills
feels normal: 12 mills
feels impressive: 16 mills
(max mills for postcards)

Aerograms / Air Letter Sheets are discontinued by the postal service of the United States. . Was $0.75 to any country, postage printed on the paper, no stamps. Write whatever you want, mail it to any address you want -- done. The good old days.
Domestic PRIORITY Envelope & BOXES
To cope with the complexity and to obtain a discount that is about 4%, purchase Priority postage online at:
http://postcalc.usps.gov/

For local shipments, use straight Priority and drop the flat rate boxes.

Since 12May08, everything but flat-rate varies by zone.

So let's concentrate on flat rate.


New tiny "small" and "gift card" sizes make you pay more for less, so we'll ignore them.
The
standard
12-1/2" x 9-1/2" size

is less on-line than at the counter, so let's use that.


$5.60
flat rate envelope
domestic, any zone, any weight
$5.05 online
.
as
long as you can seal the envelope without extra tape, and
as long as it's the standard size, not big (legal) or padded.
Add 15¢ for legal-length envelope.
Add 35
¢ for padded envelope.

$5.80 small flat rate box
domestic, any zone, any weight (unchanged in 2014)
$5.25 online
as
long as you can close the flaps on the seams.

8-5/8" x 5-3/8" x 1-5/8"

$12.35 regular/medium flat rate box any zone, 70 lb max, $11.30 online
Two medium-size boxes are available:
11" x 8.5" x 5.5" and
13.625" x 11.875" x 3.375"

This one changed in 2014:
$17.45 large-size box to any zone, 70 lb max, $15.80 online
Two large-size boxes are available:

12" x 12" x 5.5"
23 11/16" x 11 3/4" x 3"

Remember, you can't mail everything, there are no-no's.


APO/FPO/Diplomatic mail gets a price break of about 4% to 10%.
$15.45 for the large box at the counter, Jan2014 $13.80 online
Go online because a lot of places don't have service for bigger sizes.
You need to do Form2976A (weight, value, all the addresses).
Presents can't be alcoholic drinks or tobacco or fresh fruits or veg, or
perfume ("fragrances" in alcohol). Lithium batteries are forbidden
while the airline industry reacts to spontaneous combustion of
early-tech batteries that did not use lithium phosphate and other safer
formulations. Be patient, battery issues are not the Post Office's fault.

The flat-rate-size Priority boxes may be used internationally (20 lb
maximum; 4 lbs for the small one).
See Priority Mail International below.


TO ORDER PRIORITY BOXES:
If this USPS link stops working, search on
site:usps.com 0.00 Rate Box like this. Look for a hit from store.usps.com.

If you are registered with eBay, try getting some free boxes here and let me know how it goes:
http://ebaysupplies.usps.com/usps



SIZE LIMITS -- Escape from a flat rate box.

Internationally, NON-FLAT-RATE PRIORITY costs about as much as the large box, and

gives you sizes up

to 79" long and length plus girth of 108 inches. More costly Express Mail is more limited: 42" long and length plus girth of 79 inches (2013). Sometimes there are country-specific surprises.



Over 108", Priority stops (airplanes get crowded fast) and Standard Post (formerly Parcel Post) is all you have left (trucks have more space). Stay under the 70 lb limit, but other than that, your weight is irrelevant -- you pay the "Oversize Penalty Price" until 130" for length + girth brings your expulsion from the Postal Service altogether. Remember that girth is width + height + width + height.
Check prices online.



70 LB WEIGHT LIMIT

: the maximum box weight, any size, domestic shipment, is 70 lbs.
Pouring the small box full of liquid lead gets you 29 lbs, so I say their weight limit shows an intelligence limit.

You can fill any box with a solid block of aluminum and they'll ship it. (On the large box, leave 1/2" of free space on top.) The medium-sized boxes can be about half-full of solid iron. The large box needs to be under 1/3 full of iron to pass -- solid iron all the way up to the top of the box would be 225 lbs, lead would be 325 lbs., and don't even think of gold. I have a friend who could handle the 552 lb avoirdupois weight if you sent him a large priority box filled with it, but I don't have the $8 million to buy it. (552.5 lbs Au, 14.583 Troy oz per lb Av. With gold at $1000/oz Troy, that's $8M.) Meanwhile the price has gone up from $1000/Troy oz. to $1200/Troy oz. I waste my time with these stupid calculations while everyone else makes another million on gold speculation.


If it's not a flat rate shipment, you can use your own box.
If it's virtually a local shipment, don't use flat-rate.
70 lbs is the limit throughout the USPS, period: Standard Post, Media Rate, and Priority.

Insurance:
Pre-May 12, 2008: insurance up to $500 was available on-line;
up to $5,000 if you presented the package to a Post Office clerk.


2011:

You can buy larger amounts of insurance on line -- $thousands. For some easy-to-steal-and-sell items, you may be forced to get insurance when you fill out the customs form.


Priority "Dimensional Pricing" -- beyond flat rate:
Packages larger than 1 cubic foot traveling far (Zones 5 through 8) are priced by size because such trips use air transportation. Or rather, you use the same old tables that price everything by weight, but you must use an imaginary weight calculated from your package size as 8.9 lbs per cubic foot. This works out to LxWxH in inches divided by 194.

INTERNATIONAL Priority Mail

When it's bigger than a flat, it's either these flat rate boxes or "1st Class Int'l Parcels" below.


1. FLAT RATE ENVELOPE & SMALL BOX (4lbs max -- could be $50 w/o flat rate)


Canada
26Jan2014 $20.55
ROW (Rest Of World)
26Jan2014 $24.75



2. MEDIUM FLAT RATE BOX (20 lbs max -- could be $100 if you didn't have flat rate)


Canada
26Jan2014 $42.25
ROW
26Jan2014 $61.75



3. LARGE FLAT RATE BOX (20 lbs max)


Canada
26Jan2014 $55.75
ROW
26Jan2014 $80.50
some price history

METRIC SYSTEM: 66 LBS MAX
Some countries will go up to 66 lbs
if you go outside the flat rate system and pay $200, even $300 to some places. Starting in 2014, nearly every country in the world refused to carry the United States' Postal Service maximum of 70 lbs, because nearly every country in the world went metric -- Australia converted in the 1970s. 30 kg is a nice round number, it's 66 lbs, so get lost with your stupid "70". "70" what?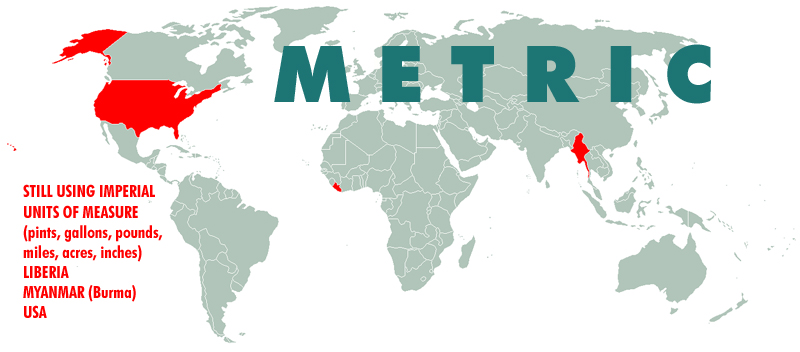 Express Mail -- Does everybody agree I can drop this page

because the prices are ridiculous?
after 26Jan 2014:
$20 for a flat rate envelope, $40 for a little flat rate box, $370.20 to impress someone with a 70 lb carton.
some price history
http://postcalc.usps.gov/
Order flat rate envelopes in cardboard or Tyvek here.

To find the page if they move it again, search on

site:store.usps.com $0.00 express mail box

like this: sample search.
Flat rate, no zones so it does not get cheaper locally, but still cheapest per pound if you qualify.

OK for: books, sheet music, movies and music on CDs, DVDs, educational maps & charts if there's not a lot of text.

Because advertising is forbidden, you must take all magazines out of your box. The books themselves may add only incidental announcements of other books -- as old-fashioned publishers so often did on the otherwise blank end-pages.


No video games (they're media, yes; but educational, no), no hard drives, no blank tapes.

Make it easy to inspect the carton if you open it -- so, if you want to support book bindings, wrap the books tight in "stretch (plastic) wrap" not brown paper. Liquor store cartons are stronger than supermarket cartons, but you have to obliterate anything that makes it look like you're shipping alcohol. (Use up your old aerosol spray cans, or buy a new one in a tan color.)
After 26Jan2014:
Domestic Rates
Up to 1 pound: $2.69 add 48¢/lb, dropping later to 47 & 46
¢
Up to 2 pounds: $3.17 1 CD/DVD in a padded env is $2.50 (4oz) as a small parcel ("standard post").
Up to 3 pounds: $3.65 2 CDs in an env is a $3.04 parcel, so media mail is already cheaper.
Up to 4 pounds: $4.13
Up to 5 pounds: $4.61
Up t0 40 lbs $20.75
70 lbs max $34.55


some price history



Yes, it goes to 70 lbs, see
http://postcalc.usps.gov/
At the Post Office, be prepared to open and reseal the box. If you don't qualify, regular Standard Post (formerly Parcel Post) is double to triple the cost, depending on zone.
To send Media Mail packages ON LINE, go to this unpublicized URL ("Universal Resource Locater" or Web address): https://www.paypal.com/ShipNow (Thank you, JohnD.)
You must be a registered PayPal user (a part of eBay, Inc). You must enter a PayPal user name and password. Normal United States citizens are not allowed to buy Media Mail postage on-line. Corporate customers are privileged to enjoy services that US citizens don't get, even though the USPS is authorized by the Constitution of the United States to serve all its people. Of course, when public access to this URL is shut down, there will be some excuse. But all our parcels are subject to opening for postal inspection, so tell me again what you're afraid I'll mail. Explain one more time why it is up to eBay, Inc. to say whether we, the American people, have the privilege of fully using our own postal system. Keep Media Mail access open -- the Post Office needs the money.
Feb2014: still not available online.

STANDARD POST (formerly PARCEL POST)



To send Standard Post pkgs ON LINE, go to this unpublicized URL ("
Universal Resource Locater" or
Web address): https://www.paypal.com/ShipNow
(Thank you, JohnD.)

You must be a registered PayPal user (a part of eBay, Inc). You must enter a PayPal user name and password.
This page normally comes up only if you just sold something on eBay and need to ship it. We'll see how long public access lasts. Normal United States citizens are not allowed to buy Standard Post on-line. Corporate customers are privileged to enjoy services that US citizens don't get, even though the USPS is authorized by the Constitution of the United States to serve all its people. Of course, when public access to this URL is shut down, there will be some excuse. But all our parcels are subject to opening for postal inspection, so tell me again what you're afraid I'll mail, what you're afraid you can't track.
Explain one more time why it is up to eBay, Inc. to say whether we, the American people, have the privilege of fully using our own postal system. Keep Standard Post on-line -- the Post Office needs the money.
Feb2014: still not available online.
PRIORITY OR UPS: I use flat rate Priority for small stuff, and the brown UPS trucks for heavy boxes (over 5 lbs or so).
http://www.ups.com/dropoff?loc=en_US&WT.svl=PriNav
EVER COLLECTED ANY UPS INSURANCE?
UPS insurance is free up to $100. You can buy more (over $1 per hundred coverage), but you may never collect.
You are warned to have an original receipt for the item, a signed receipt from the guy across the counter when you dropped off the package, perhaps the original complete packaging saved exactly as it looked at the other end, perhaps a police report . . . .

Standard Post (formerly Parcel Post) can be cheaper than UPS if you avoid two pitfalls.

http://postcalc.usps.gov/



AVOIDING THE STANDARD POST BALLOON RATE PITFALL AT 84 INCHES


When you are under 20 lbs (as most gifts and eBay shipments are), then keep the box length plus girth under 84"or you will pay 20 lbs ($38.00 across the country, 2014) regardless of weight.

DON"T JUST DROP YOUR ITEM INTO THE CARTON & THEN FILL IT.
When packing a smaller, tighter-fitting box,

place padding into the bottom of the box first

, THEN add the shipment . . . and stuff the box tight. You want to float the shipment away from the box bottom, away from all the walls.



AVOIDING THE STANDARD POST OVERSIZE PITFALL AT 108 - 130 INCHES


If your length + girth goes over 108 inches, you pay an oversize penalty. Going across country with 70 lbs., your oversize penalty cost is $132.20 when a smaller box would have been only $105.83 (2014).

Once you're penalized with this "dimensional weight" charge, you can pack your shipment up in as large a carton as you want, the price isn't going to change with either your weight (up to 70 lbs) or your size (up to 130 inches length + girth).


At 130", you are expelled from the Postal System. Go directly to UPS or FedEx Freight, do not pass Go, do not pay the penalty.

To preserve your parcel post sanity, use the USPS rate calculator for "package" or "large package".
http://postcalc.usps.gov/

Measure and weigh the carton first, get your two Zip codes.

Old rates across country; 22%/year price increase.
20 lbs $26.23 in 2012; 34.58 in 2013; 38.21 in 2014.
70 lbs $71.84 in 2013, $105.83 in 2014
Penalty rate ("dimensional weight rate") for girth+length>108", across country: $108.23 in 2012, 2013; $132.20 in 2014.
Zone creep: in 2014, low-cost zones 1,2,3 & 4 are declared not available unless you are required by law to make a surface shipment because you declare hazardous items like lithium batteries ("Price List, Notice 123, Effective January 26, 2014; Draft of 28Jan2014). I
do not recall seeing this statement about those zones before.



GETTING YOUR OWN ZONE AND RATE TABLES for STANDARD POST



If you need to work out all the pricing yourself, you need two charts. 1.) You need to go from Zip codes to postal zones, and then 2.) you need a chart of rates per pound (for all those postal zones). I can give you both charts. Translate your

recipient's zipcode into postal zone numbers

here.


POSTAL ZONES FROM ZIP CODES
A personalized chart from my town McLean to ZIP XXXxx
Try http://postcalc.usps.gov/Zonecharts/ (a U.S. Postal Service link) to get a chart like the one below for your own town. This chart works for Priority boxes that are not flat rate, and for Standard Post.



3-digit ZIP Code prefix is 221. The first 3-digits of your destination ZIP Code determine the zone.
(* - Indicates zones eligible for Intra-BMC Rates)

ZIP Code
Prefix


Zone

ZIP Code
Prefix


Zone

ZIP Code
Prefix


Zone

ZIP Code
Prefix


Zone

005

3

254

1*

456..457

3

710..714

5

006..009

7

255..261

3

458..497

4

716..717

5

010..059

4

262..265

2

498..509

5

718

6

060..079

3

266

3

510..513

6

719..729

5

080..087

2

267..268

2*

514

5

730..731

6

088..119

3

270..286

3

515..516

6

733..741

6

120..123

4

287..296

4

520..528

5

743

6

124..127

3

297

3

530..532

5

744

5

128..129

4

298..315

4

534..535

5

745..748

6

130..132

3

316..317

5

537..551

5

749

5

133..136

4

318..319

4

553..561

5

750..768

6

137..154

3

320..342

5

562

6

769

7

155..159

2

344

5

563..564

5

770..784

6

160..165

3

346..347

5

565..567

6

785

7

166

2

349..352

5

570..577

6

786..796

6

167

3

354..355

5

580..587

6

797..816

7

168

2

356..358

4

588

7

820..831

7

169

3

359..361

5

590..595

7

832..838

8

170..176

2

362

4

596..599

8

840..844

8

177

3

363..369

5

600..609

4

845..847

7

178..179

2

370..374

4

610..617

5

850

8

180..188

3

375

5

618..619

4

852..853

8

189..199

2

376..379

4

620

5

855..857

8

200..212

1*

380..383

5

622..631

5

859..860

8

214

1*

384..385

4

633..641

5

863..864

8

215

2*

386..398

5

644..658

5

865

7

216..223

1*

399..410

4

660..662

5

870..875

7

224..225

2*

411..412

3

664..668

5

877..885

7

226..227

1*

413..414

4

669..672

6

889..891

8

228..239

2*

415..416

3

673

5

893..895

8

240..241

2

417..418

4

674..681

6

897..898

8

242

3

420

5

683..693

6

900..908

8

243

2

421..427

4

700..701

5

910..928

8

244

2*

430..436

4

703..704

5

930..986

8

245

2

437..447

3

705..706

6

988..999

8

246..253

3

448..455

4

707..708

5
chart from
http://postcalc.usps.gov/Zonecharts/


You've got the zone number. Now you need a table of charges to that zone for all the weights up to 70 lb max.
That chart is below, and on this page all by itself, from which you can print it out.

NOT YET REVISED FOR 2014, so it's
http://postcalc.usps.gov/
Click image to enlarge (browser must have "scripts enabled")


My waste-of-time look at calculating Standard Post (formerly Parcel Post) costs from Bulk Mail Center (BMC) and Auxiliary Service Facilities (ASFs) is here. These are the mail sorting centers Congress wants to shut down to "save money". These Congressmen want to help us "save the Postal System from financial collapse." Once enough of the sorting centers are gone, the Post Office will never again be able to deliver first class mail by the next day. Delivering an ordinary envelope the next day and "overnight delivery" from corporations like FedEx are not much different, except that one costs $21.05 to $36.05 ("FedEx Envelope" up to 8 oz, 2013) and the other costs 91 cents (3 oz First Class business envelope 2014).

Domestic Money Orders
Up to $500 -- $1.15
$500.01 to $1000.00 -- $1.55,

International Money Order $4.45

Your overseas maximum is $700. The Hong Kong and Shanghai Banking Corp. (HSBC, a British bank from colonial times) had a slightly higher money maximum. They laundered at least $800 million in drug lord and terrorist money into the American economy and banking system, and yet nobody went to jail. The best way to rob a bank is to own one. (No, seriously, that's the book on Amazon, The Best Way to Rob a Bank Is to Own One: How Corporate Executives and Politicians Looted the S&L Industry
William K. Black.)


Domestic Delivery Confirmation ("Signature Conf")
After 22Jan2012:


Sig conf $2.55 for most services

, and available online for $2.10 if the postage was.

Certified mail (proof of being sent and delivered, but no signature): $2.95

, up from $1.15 in 2009; lots of large price jumps here.

Return Receipt (proof they got it): $2.35

(a discounted price if you also buy over $200 in insurance or if you buy Registered Mail for $10.95 minimum. Otherwise . . . )
$3.95 for merchandise.
$2.30 in 2009
Registration

(postal employees sign a register as the item passes each step in its journey)

starts at $10.95,

little changed from $10.60 in 2010. Registration is a prerequisite to adding large amounts of insurance.
Registration + Declared Value Insurance costs

Maximum liability

has been increased to

$25,000

from $5,000 in 2009.
There is no separate "Declared Value Insurance", only "Registration" at some level of "Declared Value".
Express Mail ($100 insurance built in) and Priority are limited to $5,000 -- less for some foreign-country destinations. But not to worry. For $48.50, you can mail a declared value of $25,000 as a registered item. But suppose you hit it big on Antiques Road Show? For your items over $15 million, postage starts at $21,013.50 to persuade the Post Office to carry it (they are not liable) -- you then take the paperwork around to private insurance companies looking for actual insurance coverage. The Hope Diamond was mailed this way. Let me know if you need my address.

Fees vary a lot. Even Express and Priority mail are different (insurance for a Priority shipment costs more than Express). As an example, Express Mail International costs $15.85 for $5,000 of insurance.
CASH TRANSFER


Restrictions to as little as $400/envelope apply to foreign mail. To sell your house & buy one overseas, try a wired bank to bank

transfer

instead.

Banks charge $25 or $50 per transaction. You need bank routing numbers, not just the account number for your deposit. The US government monitored private bank transfers secretly until it got caught (so it got permission and still does it). Government spying is a problem for wealthy Americans. Fortunately, banks offer courier service to wealthy Americans who want to put (or retrieve) hundreds of millions into off-shore, numbered accounts to avoid taxes (funny, what are all those diamonds in your toothpaste tube?). Seriously, does our rich, job-creating class do this? 14,700 American came in for amnesty after a whistle blower unmasked 5,000 of them at the Union Bank of Switzerland (UBS). The whistle-blower was the only one who went to jail, of course. The IRS gets credit for collecting taxes and it needs whistle blowers to find the money. So the IRS awarded the whistle blower with $104 million for recovering billions of dollars in taxes on illegally hidden wealth (the real tax rate at the top can be zero). Meanwhile, the Department of Justice saw to it that the same man was convicted and jailed. I'm sure that made sense to the people who work there, but maybe they could change the name of their Department.


MY TWO BITS:
<rant> There is a choice between keeping our post office simple so that people can use it, and running it to squeeze out every dime. Squeezing out every dime makes the Post Office so complex that you can only use it online with a computer. Today, services change price every year -- "mail services" change price in January, and "shipping services" change price in May. Thanks, guys. Why not change rates every week?
Who chose to do this? Not me. Who gave away power to let rates change without Congressional legislation? Not me. It must be the same Congress that lost the power to declare war (
we fight anyway
), the same Congress that passes laws and then grants retroactive immunity if you break them, the same Congress that tells the people what is "on the table" and what is "not on the table." Funny, I thought I was the one who sent them all to Washington as my representatives. You know, "House of Representatives"? As we watch our Post Office fall apart, could there be a hand under the table, a soft word behind closed doors? Does somebody like what's going on here?
THE JUNK MAIL STORY

: Well, I can send up to a pound of junk mail for about what it costs you to mail just one letter. Search in Google on
"Pound Prices" Periodicals "Advertising Portion"
maybe add

site:usps.com

. Dig it out, it's there. Again, **you** pay for your ounce, they pay less for their pound. And, are you home when the mail arrives? Take a look at the weight your Letter Carrier carries.
The U.S. Postal Service no longer serves the U. S. people. Whether you are working there or just trying to mail a letter, the U.S. Postal Service no longer serves the people of this country.


Dear US Postal Service
, drop the subsidy for big junk mailers and the big corporations that use them. **Then** tell me about the Internet. **Then** cry about fewer ordinary people sending fewer ordinary letters. All of us using this rate page can tell you what it's really like to mail something, but first drop your subsidy for corporations.
Dear Corporations
: don't rail against "big government" while you feed on subsidies at the public trough. It's not polite to talk with your mouth full. Don't tell me about black welfare mothers and Food Stamps until you get off welfare yourself.
Pay enough to give them a profit

, do not bleed my Post Office white. Pay enough, like the rest of us. The Post Office serves the country that I love, and shame on you for trying to take it away from me.
THE SMALL TOWN POST OFFICE I EMULATED

: This Web page was inspired by a similar rate page put up by the local post office in Lafayette, Tennessee. The government Websites were driving me crazy. Finally I found the Lafayette page that told me how many stamps to put on my letter so I could just put it outside and come back in for a cup of coffee. Some guys who work there and one or two of their buddies put up a Web page with the few simple rates that most of us need most of the time. I put up my page to be like theirs. I put up something myself so I could be less formal than the government, and add some common sense, such as, "If it isn't machinable, it costs more--here's what the penalty is."
Then what?
Soon the rates were changing two different times a year. The rate structure was getting complicated. Zones where added for Priority that used to be the same for the whole country. Rates to Canada and Mexico that used to be the same became different. What a headache for everybody. Tennessee gave up. That's right -- the town post office took down their rate page and gave up. I challenge you to find any place that posts the postage rates of the USA -- the ones you need, all on one page. I also apologize for any errors on my page, but at least you can get an overview and the logic -- if there is any -- behind the rules. Maybe I helped you pick the service you want before you went to
http://postcalc.usps.gov/
Maybe you won't stand in line like me only to discover you chose the wrong envelope (and have to go home to fix it).
Our Post Office
is part of our civic society -- it is in all our communities, it serves everyone, all of us in our daily lives, and it is not a corporation. Like many institutions of civic society in our time, the Post Office has been weakened. (By whom? Why?)
The changes that have been made to "save money" and "make the USPS a competitive player" in the "free market" have made the US Postal Service too difficult for most people to use. For anything more than a letter, we all have to go
on
line
or stand
in
line
. Anything else would be quicker than all this complexity -- an email, a fax, anything. The price is bad, the service is worse -- by design.



THE PROFITS THAT WENT INTO THE PIGGY BANK.

The final blow has been a sensible requirement to make the Post Office put money into the piggy bank NOW to cover the retirement benefits of all its employees TOMORROW. The Postal Accountability and Enhancement Act of 2006 (PAEA) sounded sensible at the time, but it forces the USPS to get 75 years worth of future health care benefits for future retirees funded now, in ten years — a requirement imposed upon no other government organization. Humm. Until the Great Recession, the Post Office was making enough profits to fill a sixty billion dollar piggy bank. And 75 years? People retire at age 65, so the Post Office is being forced to save now for the retirement of people they haven't hired yet. Humm.

Then the lies begin. Did you know about the piggy bank? I didn't think so. Did you know it was $50 to $60 billion big? Guess nobody mentioned that either. The Post Office is making profits and saving them to take care of its "family" for the future, but what we hear is that, after the "cost" of feeding the piggy bank, the USPS is a money loser. Bankrupt!! Financial crisis!! Last chance before it's too late!!

It is a clever drama. They're not really lying, just waiting for us to forget. It's simple: require the Post Office to save whatever is extra, and then tell the public, Look, there's nothing extra, they are not smart enough to make profits.

By June 2011, the Post Office had put $20.95B into the Piggy Bank, and run up a $19.50B deficit. Here's the math: $20.95B - $19.50B = $1.45 billion dollars in profit for the Post Office since the 2006 Postal Accountability and Enhancement Act.

So, deficit or a billion in profits -- you decide. Deficit! Deficit!!! Gotta do something fast: Congress has already decided. To "save" the Post Office from running out of money, our national leadership will see to it that the USPS closes more than half its mail processing centers so that overnight delivery of first-class mail is impossible now, and will never be possible again (think Netflix DVDs that will go to FedEx or UPS).

Big government can't run any businesses, they always fail. If they are not failing fast enough, then we help them fail a little faster. Amtrak, the Post Office, they are all the same, they are all money-losers. Give their business to corporations that know how to make a profit.

#3 FedEx $34B in revenues in 2010
#2 brown UPS $50B 2010
#1 U.S. Postal Service $65B 2011

Number One is the USPS, our post office: sixty-five billion in revs -- the 2nd largest civilian employer in the country (over half a million career employees), the largest fleet of vehicles in the world. And when #3 and #2 tear out the profitable parts of the corpse, I'm sure rural Americans will not pay more than the rest of us to get their mail. Even if it costs more, corporations will sacrifice profit to give rural America a fair go and the same chances the rest of us have. It's only fair. And I'm sure all 574,000 USPS employees (2011) will move into the private sector without layoffs. And all the pensions will be protected and nobody will lose their health insurance, and there won't be any office temps and even the contractors won't be forced to drive their own cars because we would never hire contractors just to avoid giving out employee benefits. And don't tell us about any Piggy Banks, and don't regulate us so that we save for our employee's future. Kiddies need a Piggy Bank but we are corporations, we are grown-ups, so don't tell us what cash reserves we should keep on our books.

A token postal service, a cripple that can't fight but can't be killed off completely either, because the Constitution says we have to have something -- that is the future we are being led to as a nation by those with power over us.

Civic society -- our communities and our relations with one another -- can get lost when profit is the only goal. The country -- the welfare of the United States of America, its role in the world, its greatness as a nation -- this is not what counts when profit comes first. In the end, we lose greatness itself when we become preoccupied with profit alone. All of us can count on a future in which the US Postal Service delivers junk mail at reduced rates for corporate clients right up until the day the system vanishes forever. On that day there will be less competition for the corporations that killed it, paid for the funeral in advance, and always wanted the business. Live with it, get with the program. The failure of post offices in every town in the country is the free market at work. So just accept it. And when the banks failed?
--jerry
J. I. Nelson, Ph.D.

</end rant>
(return to top)
home for this Website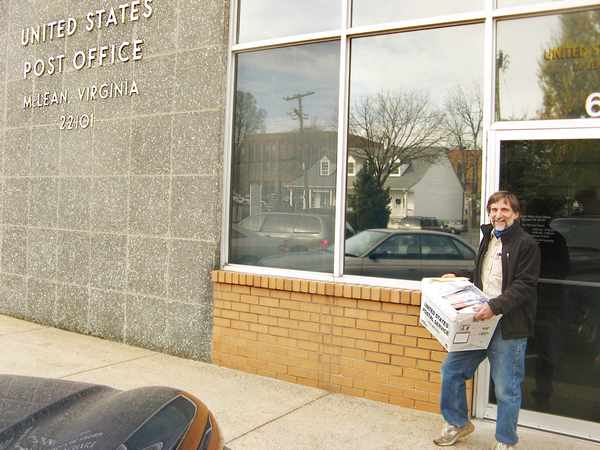 Vacation over.
Back to reality and 35 lbs of mail.
Maybe next time ask if they offer a shredder option.

Revised 29Jan2011 enlarged clarity; and no online purchases anymore 3Mar2011;
15Feb11 bad env penalty still 20 cents ; 17Apr11 rate change; 10Jun11 Flats3oz-vs-1stClass
24Oct2011 70lb limits, on-line access thru PayPal 25OctPkgs; gold. weight; 2Nov links to Parcel Post
23,24Jan2012: Everything. 6Feb12
Jan2013 remove BMC & AFS text to separate pages.
10Feb2013 Oh my goodness, all the internal links were broken! :-( Fix.
30Jan2014: update 1st class, flats, small parcels, Priority envs+boxes, Media Mail, spelling but don't have online prices for Priority

8FebPMtabular internal links, only ParcelPost not revised (note added);ChinaRipOff not written.
10Feb-typos