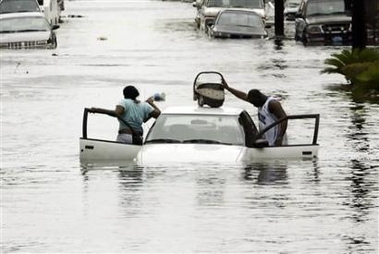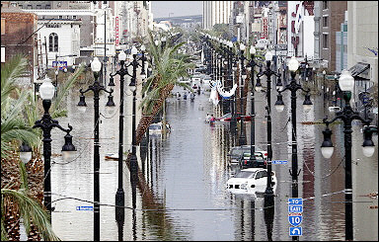 Treme area of New Orleans, day of landfall Canal St the day after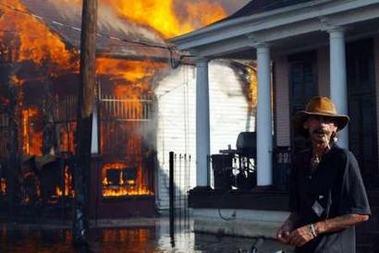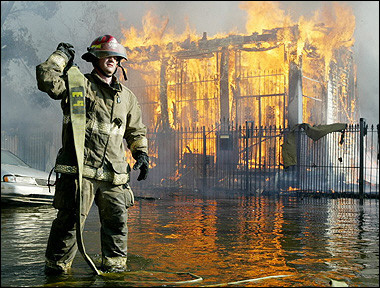 Burning house 7th Ward 6 Sept still no water pressure -- right: unknown.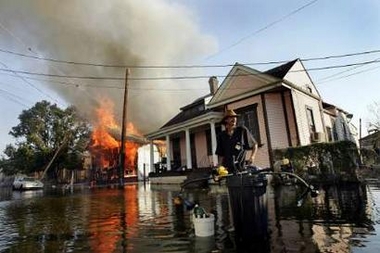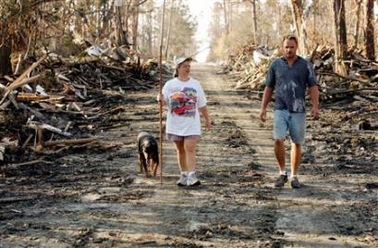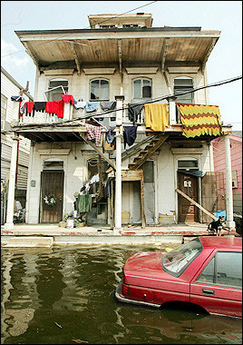 Raymond McCall & Vange Doyle walking on the street where they used to live in Clermon, Mississippi (Tuesday 6 Sept 05).
Right: house hung out to dry in New Orleans.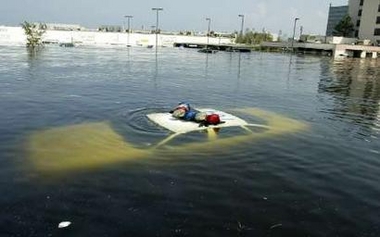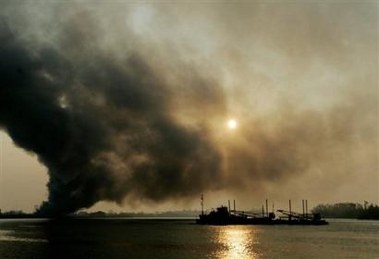 (left) It's a police car. Was.
(right) East side of Mississippi in New Orleans. Friday, 2 Sept -- let it burn itself out said the firefighters.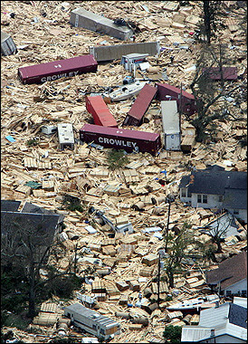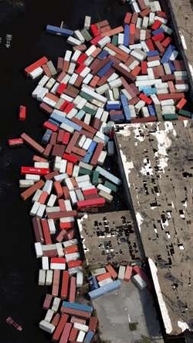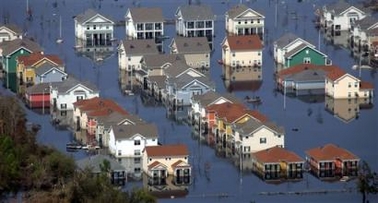 If you don't have 3 pics across, pull the window wider.
Right: Gulf Port, MS. Semitrialers here in this residential neighborhood, similar piles of 40-foot containers in the Port of New Orleans, Saturday, 10 Sept (center). (right) Homes under water 10 Sept.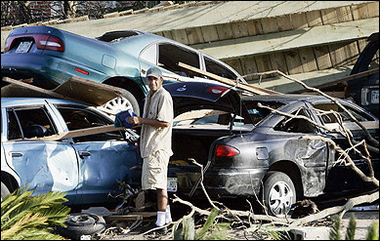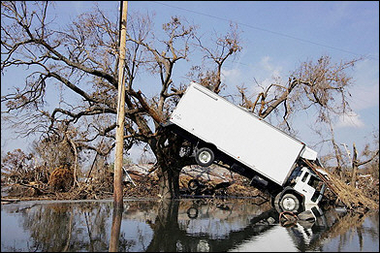 Biloxi, MS left, and Empire, LA right.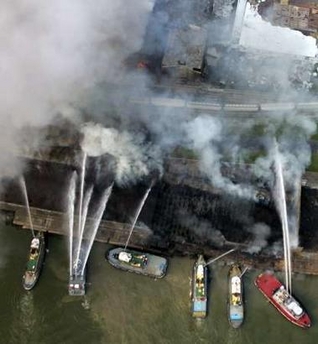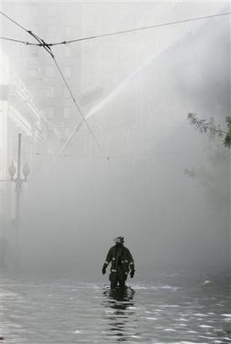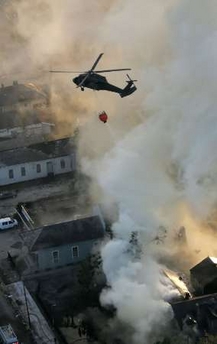 (left)
Industrial fire downtown 2Sept05.
(center):
Downtown New Orleans, 31 Aug 05 -- 2 days later after landfall.
(right)
Dousing house fires by helicopter, 8 Sept.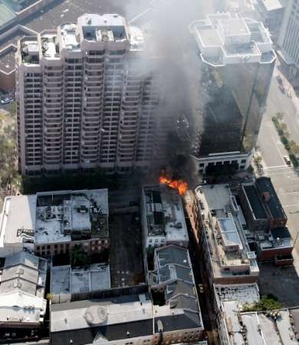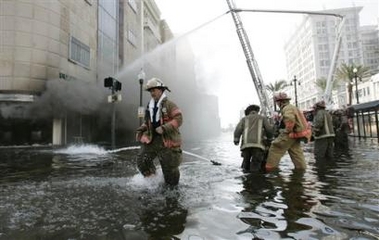 Downtown New Orleans, 2 Sept 05. Right: 31 Aug 05.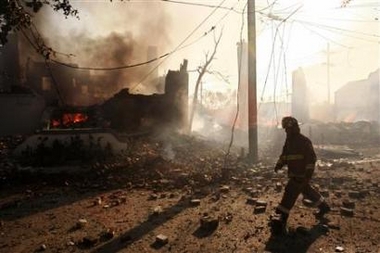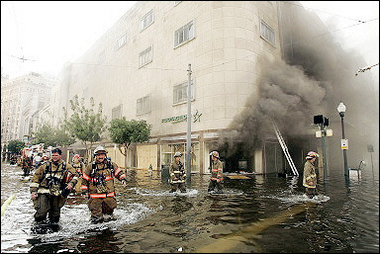 An apartment block burns in the GardenDistrictNewOrleans6Sept05. Fire burns in looted store on Canal Street.
POLICE REPORT
The Garden District is in the 6th Police District. In the initial onslaught, when people were drowning in their homes and dying from lack of medicine and food, two officers from the 6th put guns to their heads and killed themselves. The force dropped from 1750 to 1200. No one knows if the missing are AWOL, injured, or dead. The Chief sleeps in a car; 70% of the force is homeless. The chief, Capt. Anthony Cannatella, wants you to know that none of his 103 officers quit and his force did not cut and run. Mr. Cannatella's boss, New Orleans Police Superintendent P. Edwin Compass III, wants you to know that none of the 40 commanders has left his post. You can visit Capt. Cannatella's force in the riverfront Wal-Mart Supercenter parking lot where they sleep on the concrete or in cars, scavenge for food, cook by fire, and wash their own laundry. They are homeless.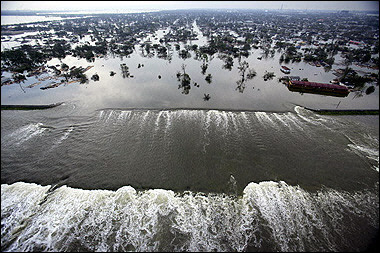 Inner Harbor Navigational Canal levee is topped and breeched.
Max Mayfield, Director of the National Hurricane Center said the head of FEMA (then Michael Brown) and other top federal officials were briefed as much as 32 hours before the storm's landfall that Hurricane Katrina's storm surge was likely to overtop levees and cause catastrophic flooding. "They knew that this one was different," Mayfield said on Monday, 5 Sept. "I don't think Mike Brown or anyone else in FEMA could have any reason to have any problem with our calls. ... They were told ... We said the levees could be topped."
HURRICANE RITA
September 23, 2005, Friday morning

Levee Breach in New Orleans
The Industrial Canal levee was first overtopped by the storm surge from Hurricane Rita, and now has been breached again. The Industrial Canal connects Lake Pontchartrain and the Mississippi River. New Orleans was 90% drained, so this is a real setback. Amazingly, even after all that people experienced and saw with Hurricane Katrina flooding in this part of town, people are refusing to evacuate. Governor Kathleen Blanco advised those refusing to leave to write their social security numbers on their arms with permanent ink. This is the sea surge ahead of landfall, which is expected tonight.

(Note: HOME and END keyboard keys will jump you around within the page,
and the bowser's BACK button on top will jump you to your previous page.
In a modern browser, CONTROL-+ increases the font size each time you tap it.)

Rev 13Aug2011 better links