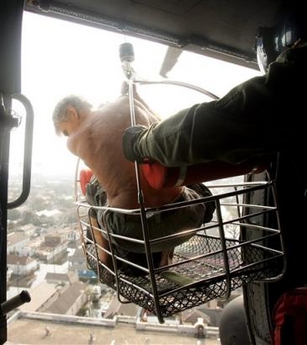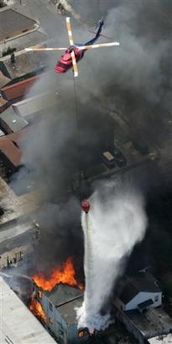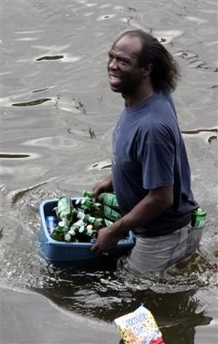 Left: 2 Sept 05; center 6 Sept; left 30 Aug 05 the day after.
US Navy Lt. David Shand and Lt. Matt Udkow thought they'd done the right thing. They left NAS Pensacola on a logistics mission -- provide much-needed supplies to military installations along the hurricane-ravaged Gulf Coast. They ended up rescuing more than 100 civilians stranded by floods. Instead, the New York Times reports, they were "chided" for deviating from their assigned mission. more
(use browser BACK button to return) (If link fails, Google the entire 'Net for a duplicate copy of article "Navy Denies Disciplining Helo Pilots --Fri, 09 Sep '05 -- They Left On A Logistics Mission And Ended Up Rescuing More Than 100 Civilians".)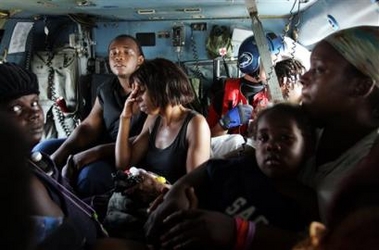 Helicopter evacuates 11 on Sat 3 Sept to airport.
Major food and water deliveries, and military-supported rescues
from the New Orleans Convention Center and the Superdome
both began on Friday, 2 September, judging by photo dates.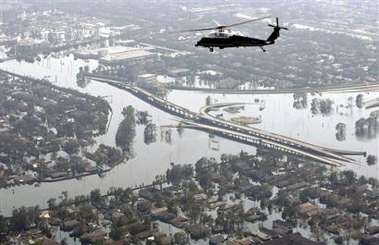 President Bush in Marine One makes his first visit to New Orleans on Friday, 2 Sept (Day 5).
Although obviously another authorized aircraft was aloft to take this photo,
relief flights were ordered out of the air.
The grounding of all flights with relief supplies and medical victims
whenever the Presidential helicopter was aloft
has not been widely reported.
Bush used the trip to ask Gov. Blanco to place all Guard units under Washington's control, and was rebuffed.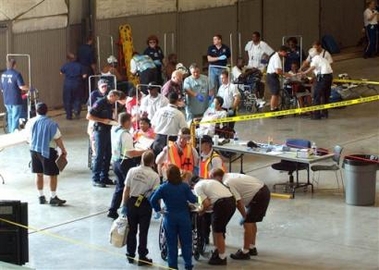 Everyone is white in this image provided by U.S. Navy of the
Naval Air Station Joint Reserve Base in Fort Worth, Texas, on Thursday, Sept. 1, 2005.
New arrivals are stabilized and oriented by local Fire and Rescue personnel,
local Veterans Affairs personnel, and other medical services
until they can be sent on to even cleaner and more orderly
local emergency and medical centers.
(AP Photo/U.S. Navy, Photographer's Mate 1st Class Andrew Rutigliano)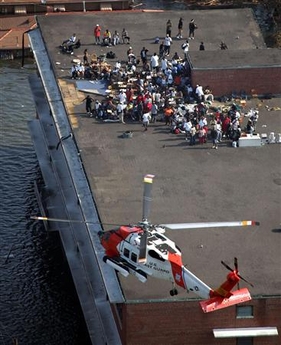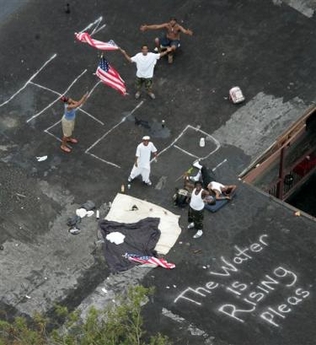 Left: Friday 2 Sept: the Coast Guard copters beat the military services and Reserves.
Right: Thursday, 1 September.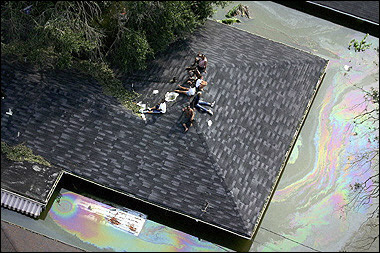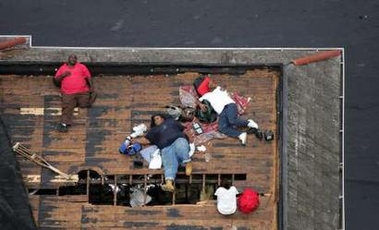 The water is polluted with the gasoline from thousands of storage tanks
(3 at most gas stations, called Regular, Super and Premium, right?), plus cars and boats
Right: to get to your roof for rescue, first you have to tear a hole in it.
The person upper left is disabled (missing one leg). (Thursday, 1 Sept. 2005).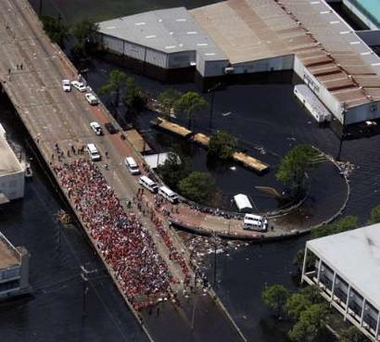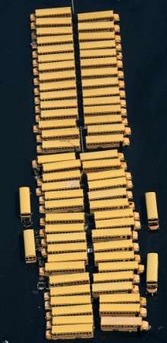 (left) Prisoners held on partially submerged highway, Wednesday, 31 August. Anybody think of this contingency?
Published photos of these submerged school buses have appeared alongside attacks on local officials for failing to evacuate their own citizens (photo 10 Sept).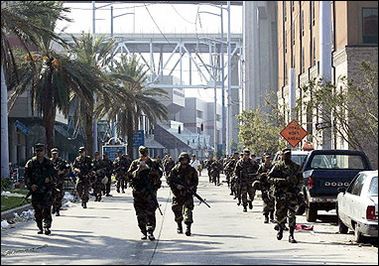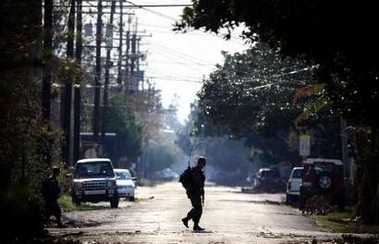 (left) Natl Guard troops make it to downtown New Orleans, Sunday, 4Sept.
(right) Troops on Friday 9 September in the Garden District.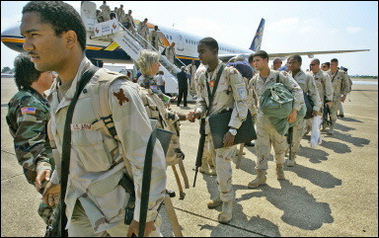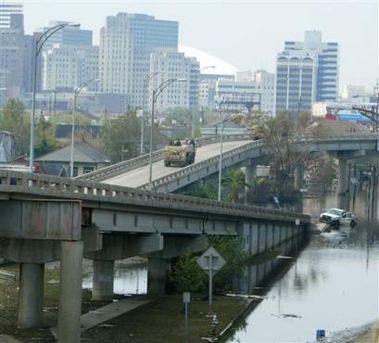 (left) Louisiana National Guard deplane on return from Kuwait (left Thursday, 8 Sept). It was not clear if the were to find and fix their own shattered homes and families or somebody else's.

"Mississippi troops are refused leave to help families"
Guard troops return home to wreckage left by hurricane
Dallas News from Wash Post:
Search on this text if link no longer works:

Scores of Mississippi National Guard troops in Iraq who lost their homes to Hurricane Katrina have been refused 15-day leaves to aid their displaced families, according to members of the Guard.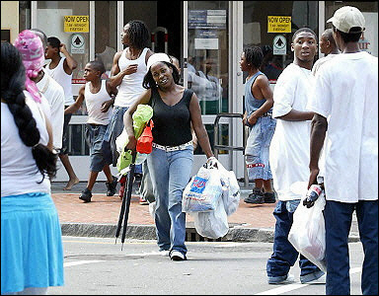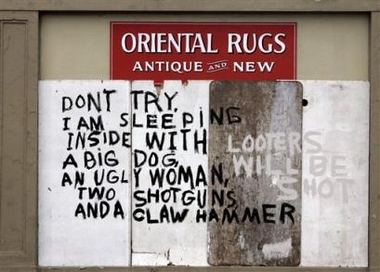 "Looters are black."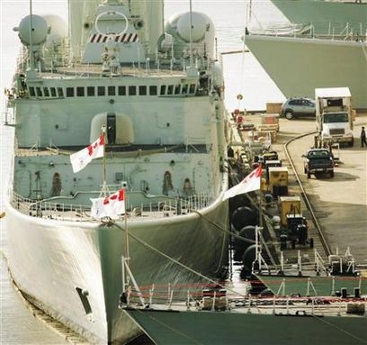 Halifax, Nova Scotia, Saturday, 3 Sept 05.
The Canadian destroyer HMCS Athascan loads up with supplies for Katrina victims.
Canada sent this destroyer, 2 frigates and a coast guard ship.



MORE PHOTOS: OTHER FOREIGN AID TO AMERICA




The United States pre-positioned no vessels with supplies in the area.
A captain on his way home to Virginia from Naval exercises in Panama detoured into the Gulf,
followed the storm in towards land, and then sat idle, awaiting orders that did not come for days,
with the 600 beds on his hospital ship empty.

Chicago Tribune, 4 September: The USS Bataan, a 844-foot ship designed to dispatch Marines in amphibious assaults, has helicopters, doctors, hospital beds, food and water. It also can make its own water, up to 100,000 gallons a day. And it just happened to be in the Gulf of Mexico when Katrina came roaring ashore.
The Bataan rode out the storm and then followed it toward shore, awaiting relief orders. Helicopter pilots flying from its deck were some of the first to begin plucking stranded New Orleans residents.
But now the Bataan's hospital facilities, including six operating rooms and beds for 600 patients, are empty. A good share of its 1,200 sailors could also go ashore to help with the relief effort, but they haven't been asked. The Bataan has been in the stricken region the longest of any military unit, but federal authorities have yet to fully utilize the ship.
...
A 135-foot landing craft stored within the Bataan, the LCU-1656, was dispatched to steam up the 90 miles of Mississippi River to New Orleans. It took a crew of 16, including a doctor, and its deck was stacked with food and water. The craft carries enough food and fuel to remain self-sufficient for 10 days. [JIN: it was ordered to return to the mother ship when close to New Orleans, so no relief supplies were ever delivered to the people of New Orleans.]
--end excerpt, full text:
http://www.chicagotribune.com/news/nationworld/chi-0509040369sep04,1,4144825.story?coll=chi-news-hed\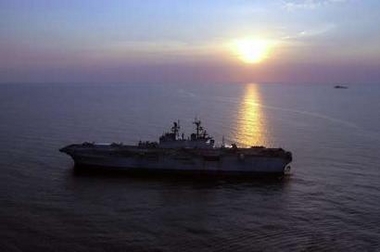 The Bataan, whose captain chose to to follow Katrina in to New Orleans, but then sat idle.
On Day 8 (Monday, 5 Sept), the Navy rushed to release this official photo with an official caption to the media (Reuters). The USS Bataan is termed an amphibious assault ship (it is "LHD 5" of 7 such ships in the "Wasp class"). It is said to be completing its 9th day of Katrina relief service. anchored off Gulfport, MS. There is no mention of the 600 hospital beds, the production of 100,000 gallons of water a day, the 1200 troops aboard or the 135-foot LCU-1656 landing craft that could be lowered into the water to take them ashore. I have only seen photos of top officials using the USS Bataan as a conference room; e.g., the commander of the Mexican troop detachment went to the Bataan to confer on strategy.
--Official Navy Photo. Reuters, Davit Fitz.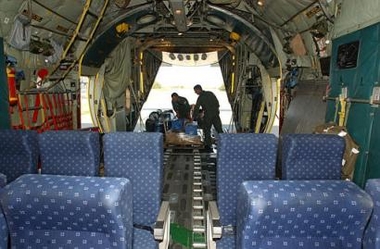 C-130 takes on meds and sleeping bags, Thursday, 1 September,
at Air Station Cape Code in Bourne, MA.


(Note: HOME and END keyboard keys will jump you around within the page,
and the bowser's BACK button on top will jump you to your previous page.
In a modern browser, CONTROL-+ increases the font size each time you tap it.)

Rev 13Aug2011 better links