IF BUSH FLIES, YOU DON'T
Jerry
jerry-VA@speakeasy removethistext dot net
Rev 11Sept05; 22Aug06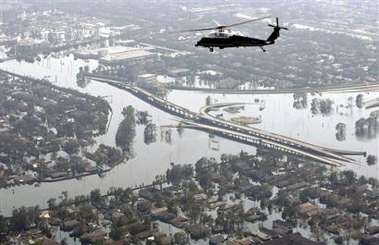 SUMMARY:

no helicopter flew any patients or food while Bush visited New Orleans Louis Armstrong Airport on Friday 2 Sept.
Full report at mediamatters.org
, 6 Sept 05
Citing Rep. Charlie Melancon's (D-LA) chief of staff, a September 3 New Orleans Times-Picayune article reported that crews were unable to deliver three tons of food for hurricane survivors in Louisiana's St. Bernard Parish and Algiers Point on September 2, as "air traffic was halted because of President Bush's visit to New Orleans." The food, secured by Melancon and Bob Odom, Louisiana's agriculture commissioner, "baked in the afternoon sun as Bush surveyed damage across southeast Louisiana," according to the Times-Picayune. A September 2 Associated Press article reported the difficulty Melancon had in contacting Bush regarding federal aid for refugees in St. Bernard and Plaquemines parishes and also noted Melancon's claim that the restriction on air traffic hindered getting aid to those parishes. According to the AP:
In St. Bernard and Plaquemines parishes, just south of New Orleans, victims of the hurricane are still waiting for food and water and for buses to escape the floodwaters, Melancon said. And for the entire time Bush was in the state, the congressman said, a ban on helicopter flights further stalled the delivery of food and supplies.

"I thank the president for his visit today, but it was more show than substance," Melancon said. "Frankly, we needed action days ago."
Another September 2 AP article cited a paramedic who reported that helicopters transporting sick and injured refugees to a makeshift treatment center at New Orleans' Louis Armstrong International Airport were "stopped" upon Bush's arrival, though the AP did not indicate the duration or effect of their grounding. According to the AP: "Helicopters flying patients in for treatment were stopped Friday when President Bush arrived. But the president didn't enter the airport, which swelled with armed guards during his visit, [paramedic James] Teague said."

--end
(Note: HOME and END keyboard keys will jump you around within the page, and the bowser's BACK button on top will jump you to your previous page. In a modern browser, CONTROL-+ increases the font size each time you tap it.)
Rev 13Aug2011 better links